Alumni
Bugged: MSU Department of Entomology newsletter
Award opportunities
Check out these alumni award opportunities available to Entomology alumni. (Newly added: Distinguished Alumnus Award)
News of alumni and retirees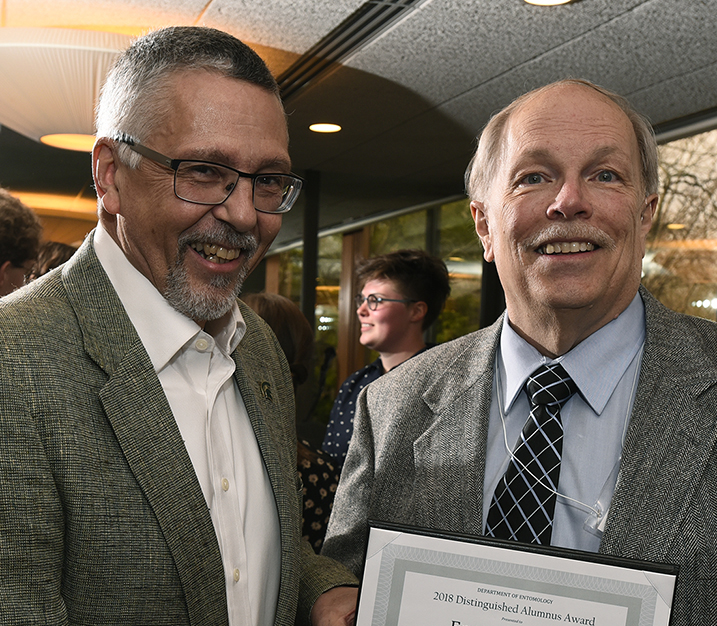 Ernie Bernard is our latest featured alumni and the 2018 recipient the department's Distinguished Alumni Award. Read more about Bernard in the Alumni Profiles section.
Knute Gundersen (PhD 2018, Rufus Isaacs) was hired as a senior scientist for Lifescale Analytics, a life sciences consulting firm in the Research Triangle Park, and is on contract working for Bayer U.S. in their product development division. Gundersen says job-searching grads looking to transition to industry are welcome to contact him. "I'd be happy to help them in their job search!"
Adam Ingrao (PhD 2018, Zsofia Szendrei) has been hired for a new position with Michigan State University Extension. This summer he began work as MSU Extension's veterans liaison and agricultural entomologist. He has offices on campus and in the Upper Peninsula.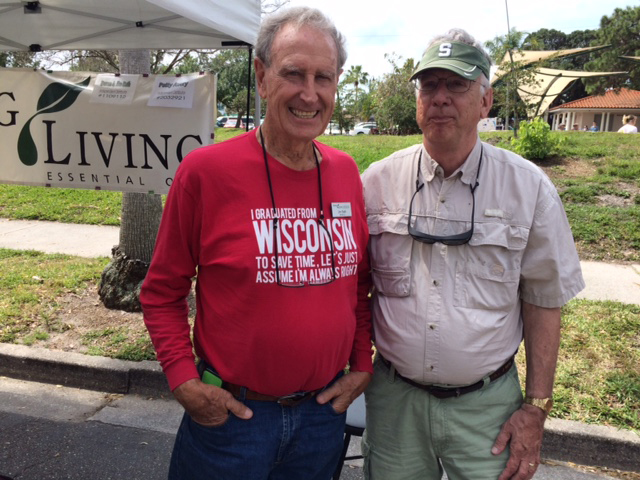 Surprise meet-up of past department chairperson Jim Bath and alum Tom Dudek at Jim's wife's booth, Venice Farmers Market in Florida.
We love to hear from our alumni
Please send us your news - promotions, job changes, life milestones and just general fun interactions with entomology. Images are welcomed, too. News can be sent to entnews@msu.edu or:
MSU Department of Entomology
Michigan State University
Natural Science Building
288 Farm Lane Room 243
East Lansing, MI 48824
If you'd like to share your email address with us, we'll send you an email link to future Bugged newsletters.