Facilities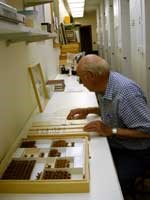 The Arthropod Research Collection is currently housed on the fourth floor of the Natural Science Building in Collection Rooms 401a, 443,450, 451, 452, 454, and nearby offices. The pinned collection is housed in approximately 5,000 Cornell drawers in 205 metal cabinets. The alcohol collection is housed in vial racks in 15 metal cabinets. The slide collection is housed in wooden slide cabinets. A small library containing a selection of taxonomic journals and reprints is maintained in room 401, but more recent and complete holdings are present in the main MSU Library nearby. A small exhibit area in the hallway outside room 401, currently holds a display on Lepidoptera. In addition, the Bug House on the first floor of Natural Science has excellent displays as well as live specimens for viewing by the general public.
The ARC is open by appointment to all interested researchers, societies, and the public. Contact the Collection Manager to arrange for visits. Workspace and microscopes are available for researchers using the collection. Displays and exhibits are limited in the main collection area. Public education about insects is more readily available through the live examples and exhibits in the Bug House (for further information, call 517/355-4662). Temporary parking permits are available from the Collection Manager for visitors, but parking in the immediate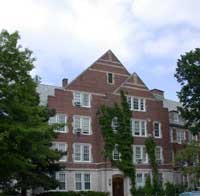 vicinity of the Natural Science Building is often limited. There are a few metered parking spaces near the east end of the building, some metered parking in the nearby MSU Grand River parking ramp, and there is large public parking ramp nearby in East Lansing.