Webinar: Leveraging the USDA Local Food for Schools Program with State-Level Local Food Purchasing Incentives
September 22, 2023 2:00PM - 3:00PM
---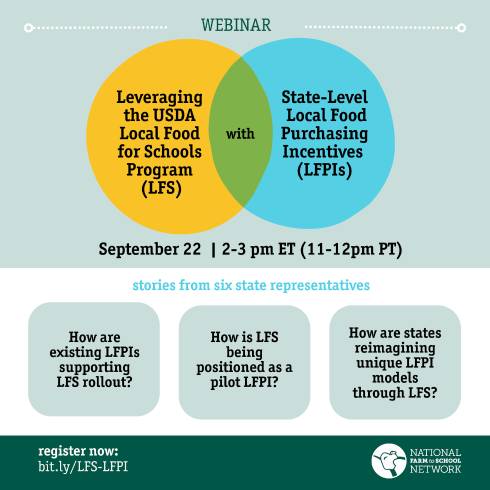 Join the National Farm to School Network and MSU Center for Regional Food Systems on September 22 from 2-3pm ET (11-12pm PT) for a dynamic 60-minute public webinar to discuss the intersection of the USDA Local Food for Schools Cooperative Agreement Program (LFS) and State-Level Local Food Purchasing Incentives (LFPIs). This webinar will be divided into three sections, each featuring panelists representing states across the nation:
Topic

Hear from:

How existing LFPIs supported the implementation of LFS and/or how LFS was used to expand existing LFPIs

Jaime Malnar
Michigan Department of Education
Rick Sherman
Oregon Department of Education

How LFS is being positioned by states as a pilot for permanent state-level LFPI investment

Monica Pacheco
Connecticut Department of Education
Eliana Pinilla-Ryhal
The Common Market (representing Illinois)

How some states reimagined LFPIs through unique LFS models, such as directly contracting with producers instead of schools

Erica Lamson
Washington State Office of Superintendent of Public Instruction
Jessica Patrolia
Rhode Island Department of Education
Explore as our panelists uncover innovative strategies, exchange success stories, and chart a course for navigating LFS and LFPIs in the future.
This webinar series is part of a collaborative project between the Michigan State University Center for Regional Food Systems and the National Farm to School Network. Participants can expect more LFPI resources and additional webinar opportunities in 2023.
Please contact Cassandra@farmtoschool.org with any questions.
---