2016 Michigan Good Food Summit Celebrated State and Local Successes in Building a "Good Food" System in Michigan
Nearly 500 people gathered to connect, learn, and collaborate in order to advance health and economic development through Michigan food systems from farm to fork.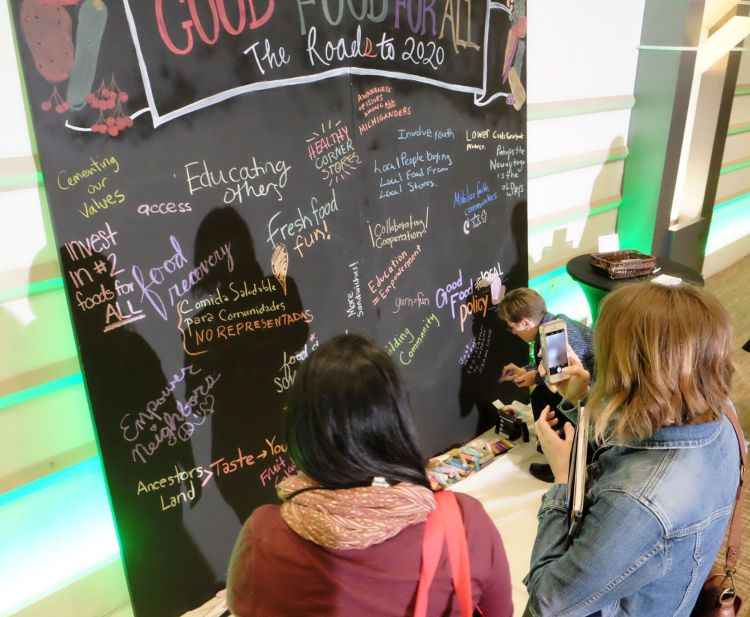 FOR IMMEDIATE RELEASE
East Lansing, Michigan – People from across diverse sectors gathered at the fourth biennial Michigan Good Food Summit on Friday, October 28 to celebrate state and local successes, engage with sector-specific breakout tracks, network with others from around Michigan and across the food system, and hear stories about successful Michigan collaborations. The theme of the 2016 Good Food Summit was "Good Food for All: The road to 2020."
"It's been exciting to watch the Good Food Summit grow over the years," said Kathryn Colasanti, Michigan State University Center for Regional Food Systems Specialist and Summit Chair. "We're fortunate to have the opportunity to come together as a state every other year to learn from and connect with one another. And I think the fact that this year was our largest event yet is a reflection of how much the Good Food movement has grown – and continues to grow – in Michigan!"

Highlights of the 2016 program included:
Keynote address by Sen. Debbie Stabenow
More than 15 panel sessions, workshops, and lightning rounds, including:

Bringing Local Meat into the Good Food Dialogue panel session (Business & Entrepreneurship track)
Bridging the GAPs and Beyond in Food Safety (Farmer & Producer track)
The Many Facets of Food Justice: What is it? workshop session (Food Access, Food Justice, & Equity track)
Developing and Building Organizational Capacity for Youth Involvement (Engaging Youth track)
Farmland Conservation Model for Beginning Farmers and Local Food Networks panel session (Policy track)
Evaluating Food Systems Change through Stories: A Hands-on Workshop (Organizational Development track)
"As we start talking about the next farm bill," said Sen. Stabenow in her keynote address, "we need to recognize how national food policy conversations have evolved and look for innovative food solutions like corner store initiatives, kitchen incubators, and food business accelerators. And have new conversations about ways to reduce food waste and mitigate climate change."
See quotes, photos, and video tweeted by Summit participants with #2016GoodFood.
The Michigan Good Food Summit is a keystone event in Michigan's statewide work to advance the Michigan Good Food Charter. The Michigan Good Food Charter is a policy roadmap for building a Michigan food system that produces Good Food. In the terms of the Charter, "Good Food" is food that is healthy, green, fair, and affordable. Learn more about the Michigan Good Food Charter at michiganfood.org and like the Michigan Good Food Charter on Facebook and Twitter.
The Michigan Good Food Summit was hosted by MSU Center for Regional Food Systems at the MSU Kellogg Center.