Announcing the latest in a series of food access studies in Michigan communities
Healthy food access challenges in northeast and northwest Lower Michigan are described in two new reports from the MSU Center for Regional Food Systems.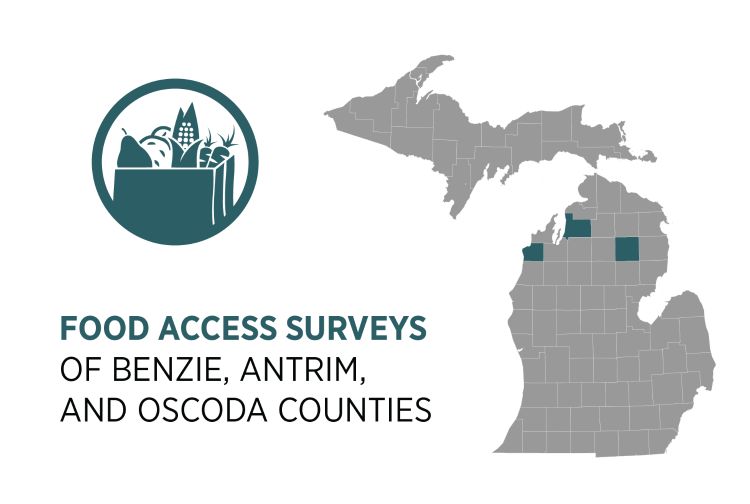 Any community interested in understanding residents' food access can use these examples of studies that provide local insights as well as information that can be compared with other communities statewide through the Michigan Good Food Charter Shared Measurement Project.
The reports provide data and graphics that show challenges to accessing healthy food in three rural Michigan counties – Benzie, Antrim, and Oscoda. The reports also offer recommendations for improving healthy food access in these communities.
Explore and share the reports with your networks!
When Healthy Food is Out of Reach: Food Access Survey in Northwest Lower Michigan
Striving to Meet Food Needs: Food Access Survey of Oscoda County, MI
---
Please help us spread the word! Forward this message and share on social media. Click here for images you can include in social media posts.
Healthy #foodaccess is a challenge for many residents of NW and NE lower Michigan. New reports from @MSUCRFS describe these challenges with data and graphics. @MiGoodFood @grndwk
Local learnings about healthy #foodaccess that can be compared across several Michigan communities. See the latest in the @MiGoodFood shared measurement series. @MSUCRFS @grndwk
---
The northwest Lower Michigan study was completed in partnership with The Food and Farming Network and The Local Food Alliance. The Oscoda County study was completed in partnership with District Health Department No. 2.
Funding was provided through the Michigan Good Food Charter Shared Measurement Project, which is made possible by the W.K. Kellogg Foundation.