$4M grant awarded for research on Nigerian and Tanzanian food systems
Saweda Liverpool-Tasie wins $4M grant from the Bill & Melinda Gates Foundation to continue agrifood value chain research in Nigeria and Tanzania.
The five-year, four-million-dollar grant from the Bill & Melinda Gates Foundation will fund collaborative research on micro, small, and medium enterprises (MSMEs) in Nigerian and Tanzanian agrifood value chains. Saweda Liverpool-Tasie, an Associate Professor in MSU's Department of Agricultural, Food, and Resource Economics (AFRE), will lead the research team in studying several specific value chains—such as fish or tomatoes—in depth.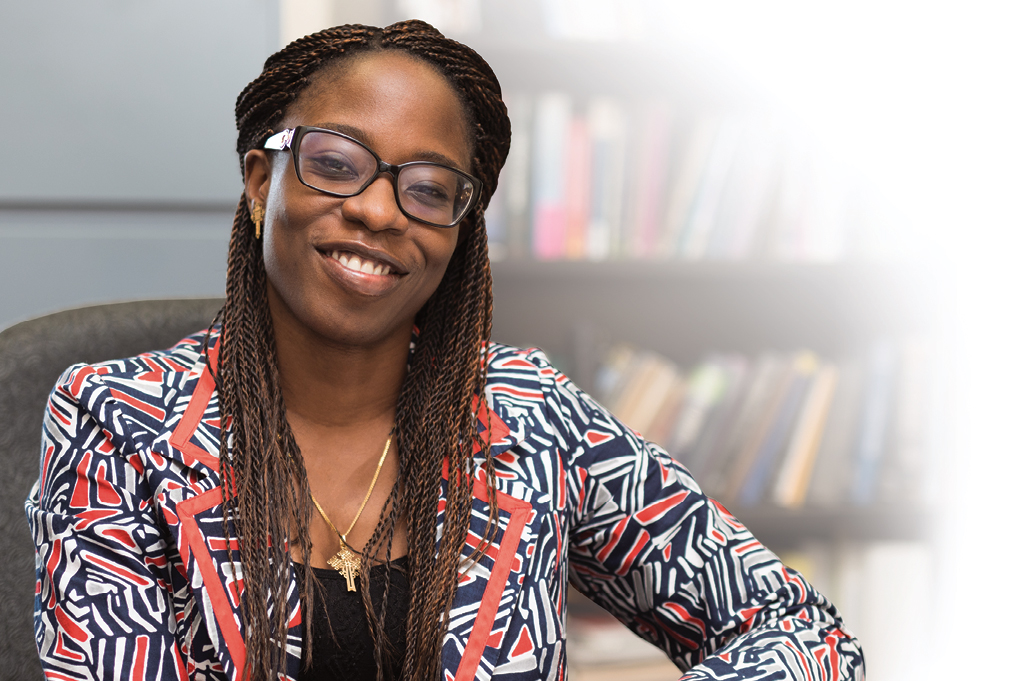 "I am really excited about the grant," said Liverpool-Tasie. "It enables us to go further in our work on understanding how the midstream of food supply chains in Africa is contributing to the rapid transformation of food systems on the continent and the implications for farmers upstream as well as consumers downstream. In this project, we will be paying particular attention to how MSMEs along food supply chains can be supported to increase the availability of affordable, safe, and nutritious foods."
MSMEs provide food security, access, stability, and sustainability for the African region. An estimated one fifth of all employment in sub-Saharan Africa is created by MSMEs, and the businesses are often owned by low-income households. By targeting these groups for research and intervention, not only will this research project improve general access and food security, but it can also raise the living standards of those operating at various nodes along commodity value chains. Previously, research and policy discussions of these smaller enterprises have been limited, even though MSMEs comprise most of the wholesale, logistics, processing, and retail segments of the value chain. Liverpool-Tasie's research will provide crucial insights for policymakers, industry, and donors.
Ayala Wineman, Senior Research Fellow at the MwAPATA Institute and Co-Principal Investigator explained, "Another important aspect of this project is our active stakeholder engagement, co-creation of the project with our team in Nigeria (and starting next year in Tanzania), and capacity strengthening built into as many aspects of the project as possible. We intend for it to be wholly collaborative, with the aim of building connections and local capacities that will continue even after the project is completed."
Capacity strengthening and collaboration with governmental and research institutions in low-income countries is a core mission for MSU Food Security Group (FSG) researchers. By working side-by-side in the field with partner faculty, students, and stakeholders, MSU faculty build powerful relationships with local scholars. For example, through the previous work of Liverpool-Tasie and MSU AFRE faculty, Thom Reardon, between 2016 and 2018, over 50 masters and PhD students were trained in Nigeria on topics including data collection and analysis methods and presentation of results for journal articles.
"The collaborative actionable research program will study the structure, conduct, and performance of these value chains, the experiences of MSMEs, and implications for food and nutrition security." Liverpool-Tasie stated, "We will leverage on a three-pronged research approach that will enable us characterize the macro and meso environment within which these MSMEs operate, alongside structured micro-econometric analysis that helps us understand their behavioral response to this environment and its implications for food and nutrition security. Alongside the above knowledge-based objective, a second equally important objective of this project is to conduct a wholly collaborative exercise, built around the co-creation of research and incorporating participatory methods throughout."
Dr. Liverpool-Tasie was recently appointed to the Board for International Food and Agricultural Development (BIFAD) by President Biden. Her work focuses on reducing poverty and increasing access to nutritious food through improving smallholder productivity and welfare within the changing markets of sub-Saharan Africa. She has won numerous awards for her work, including the John K. Hudzik Emerging Leader award and, in collaboration, the 2017 AAEA Bruce Gardner Memorial prize for applied policy analysis.
Gender will be an ongoing focus throughout the research on MSMEs in agrifood value chains, examining patterns in business systems, differing challenges for men and women, and what potential interventions may need to be customized to be inclusive for both genders. Women are often the owners of MSMEs, and gender equality and customization in research is critical for the overall success of the work. The project will also strive for equal gender representation in the research team.
The interdisciplinary team of African and American faculty and students will work together through the entire process from research design and data analysis to the dissemination of outputs, including peer reviewed articles co-written by MSU and partnering faculty. Policy briefs, pamphlets, manuals, and even short videos or radio programs will be used to disseminate findings. Accessibility for local stakeholders is crucial to long term success and uptake of results, so findings will also be translated into African languages such as Hausa, Igbo, and Kiswahili.
Dave Tschirley, co-director of the Food Security Group said, "I can't think of anyone better to be leading this cutting-edge research. Saweda has an ironclad commitment to top quality rigor in her research, to a focus on real policy relevance, and to doing her research and outreach jointly with local partners in a way that helps them build their own capacity. We're delighted that the Gates Foundation has recognized her world class talent and commitment to doing things the right way."