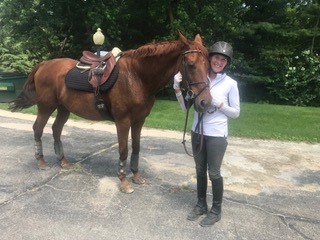 Located on 100 acres just south of Michigan State's main campus, the MSU Horse Teaching and Research Center (HTRC) has a long history of breeding high-quality purebred horses, and has been a part of Michigan State University since its founding in 1855. The HTRC is used for teaching, research and extension/outreach programs. The upper barn complex includes an indoor arena and classroom where a number of horse classes are taught.
Over the years, the HTRC has been home to world caliber Belgians, Percherons and Quarter Horses. Several draft horses remain at the farm today to facilitate the draft horse classes offered as electives. For the past six decades, MSU has focused on breeding purebred Arabians, which began with WK Kellogg's donation of the Arabian stallion Amidore in the 1940s. As such, MSU has one of the oldest continuous Arabian horse breeding programs in the United States.
Approximately 35 Arabian broodmares are part of the breeding program, which produces Arabians combining type, conformation and athleticism. Students then train, show and sell the offspring. The HTRC is managed by Paula Hitzler, and employs up to 12 students at any given time.
"The MSU Horse Teaching and Research Center is known for producing high-quality Arabian horses and using those well-bred horses to teach the next generation of equine industry leaders," Hitzler said. "MSU has been ranked in the top 25 breeders of national champion Arabian horses for the past several years and this year will be no exception. In fact, MSU bred the most national champion horses at this year's Arabian Sport Horse Nationals."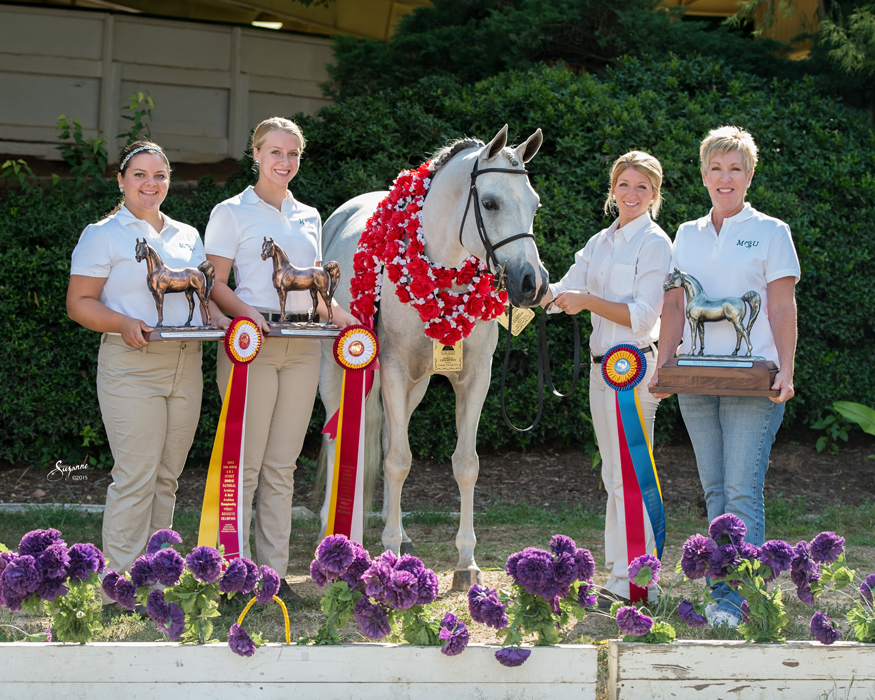 MSU geography alumna Ruth Sotak, of Chicago, wishes she would have known about the horse facility when she was a student at MSU in the 1980s. Sotak explained that she found out about the HTRC just four years ago.
"Going to Michigan State was very important to me because of the variety of educational programs offered." Sotak said. "Isn't it interesting that the one thing I really wanted in my life, I didn't know Michigan State offered — the horse farm."
"A few years ago, I was on the advisory board of the MSU geography department. During one of my advisor retreat trips, the MSU Horse Teaching and Research Center was mentioned. I called and asked for a tour. John Shelle (retired Department of Animal Science faculty member and past manager of the HTRC) met my husband and me. John spent about three hours with us."
Sotak was so impressed with the facility and the horses that she made the decision to include the Horse Training and Research Center in her estate plans.
"Donations like this are vitally important for the long-term viability of the MSU equine program and its teaching, research and extension mission," Hitzler said.
Sotak established two planned gifts, one for general support of the HTRC and the second to support the Preservation of the Arabian Horse, an endowment to enhance the Arabian breeding program at MSU.
"This is a specific endowment to be used for the enhancement of the Arabian breeding program at MSU," Hitzler explained. "This is a perfect endowment for the Arabian Horse enthusiast that would like to see MSU continue breeding high-quality Arabian horses."
Giving to the MSU horse facility was the perfect fit for Sotak.
"Previously, I had no interest in supporting MSU. My husband and I have no children. I wanted to do something after meeting John and Paula," Sotak said.
"There's often young people interested in horses and they don't have the opportunity to work with high-quality talent," she explained. "This is something I would have wanted to do at the university when I was a student there."
Sotak grew up in Ann Arbor and came from a long lineage of University of Michigan graduates and professors. Her love for horses began as a small child, sparked by a horse owned by a neighbor. However, as a child, allergic reactions to animals would frequently aggravate her asthma.
Sotak received a bachelor's in geography from MSU and went on to the University of Pennsylvania where she earned a degree in regional science. For more than a decade, she worked at AT&T where she ran a power supply business. She then attended the Massachusetts Institute of Technology (MIT) and worked in energy trading for the next decade. Sotak recently retired from the hedge fund business.
Today, Sotak has become an avid equestrian, overcoming her allergy and pursuing her lifelong dream of having a horse.
"Horses saved my life," Sotak said. "I had gone through cancer and came out on the other side. I was pretty wary about life in general.
"Horses saved my life because they gave me something in my life to pursue and be engaged in. I've especially appreciated what I've learned. The horse comes first. It makes you less selfish and provides a sense of responsibility."
Sotak started helping some friends at ranches and slowly became more accustomed to working and riding horses.
"Starting to ride horses as an adult is not typical – it is scary. It gave me something to care about. It gave me a goal and a group of people to meet. Horses taught me hard work and dedication to an animal. It gives you purpose in life."
Today, Sotak rides a Thoroughbred horse and regularly competes as an eventer. According to the United States Equestrian Federation, eventing is an equestrian triathlon. The Olympic sport is comprised of three phases: dressage, cross-country and show jumping.
"The sport of eventing was born from cavalry testing their horses. What I really like about eventing is that there are three very different skills for horses to learn. The equipment is different for each discipline.
"I like eventing because it is three different sports and there is lots of camaraderie."
After learning about horses and various aspects of the horse industry over the past few years, Sotak has a great admiration for the horse program at Michigan State.
"I have an appreciation for the methods used at MSU for the training of the horses – the breeding approach, training approach and the auction," Sotak remarked. "This gives opportunity for people to be able to acquire these fine horses and it gives students a tremendous opportunity to have responsibility in the process of selling them. It's not just selling the horses to people who are the wealthiest, but selling to people who are truly interested."
MSU's HTRC is the site of the majority of the horse classes taught at MSU, both in the Department of Animal Science Equine Program and the Horse Management Program. The annual student sale is also conducted at the HTRC. These auctions are incorporated into the Animal Science and Horse Management programs, and give students the opportunity to experience all aspects of marketing, from horse preparation to sales ring design and advertising.
"The operation cost of a laboratory such as the MSU Horse Teaching and Research Center is very high and in these economic times, donations are more important than ever," Hitzler said.
"The MSU community is blessed to have such a wonderful facility. The MSU HTRC will have 60,000 visitors a year. Most of those visitors are families that live in the greater Lansing and East Lansing area," Hitzler continued.
The MSU Horse Teaching and Research Center is located 4 miles south of the Michigan State University campus on Collins Road just off US127, and is open to the public from 8 a.m. to 5 p.m. daily.