AFRE Alumnus Invited as a Panelist for the Universal Food Forum
Nick Allen was a panelist at the 2023 Universal Food Forum where they discussed food distribution, retailing, and the challenges that have occurred in recent years with supply chain shock.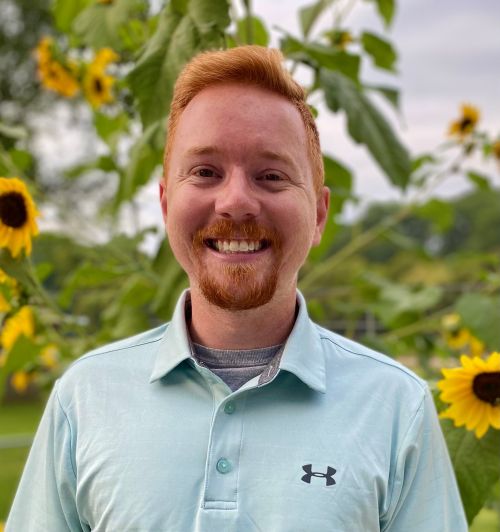 The global food system has been impacted by climate, conflict and COVID in recent years. As a result, it's imperative that various groups come together to address these problems moving forward to ensure a food system that is efficient. On July 12, 2023 Michigan State University hosted the Universal Food Forum (UFF) where university leaders, government officials, and industry leaders collaborated in various discussions on the global food system. Nick Allen, an alumni of AFRE's Food Industry Management (FIM) program, was panelist at UFF to share his perspective on the food supply chain.
Allen has worked for SpartanNash for the past 12 years in various capacities, but has been working in the food supply chain space for the past three years in his role as product development manager. He and his team members take on creative freedom to address underdeveloped areas where SpartanNash inventory can expand or improve.
"It's almost like a three-pronged approach," Allen said. "We look at competition and make sure that we have a good match equally across the category. We attend trade shows to speak with our independent suppliers, and we see what the innovation is for upcoming year. We also have our own internal third tier, which is our own internal goals and needs that are our own consumers demand from us. These three tiers help make sure that we can deliver all the way across the company."
SpartanNash has been a competitive company in the grocery industry for more than 100 years and locations in every state. As a company, SpartanNash supplies independent stores, serves as a grocery wholesale supplier, provides value-added services, and has 12 OwnBrands in the private label space.
Allen was brough on as the product development manager for the team that works with SpartanNash's OwnBrands. In his role, Allen works with his team members to ensure that the SpartanNash line of OwnBrands offer a wide range of high-quality products that are equal or better than the national brands to give customers both variety and value.
According to Crop Life America, the UFF's goal is to "show the inherent nuance and complexity of today's agricultural and food systems and learn more about the unique perspectives from a variety of stakeholders." As a result, Allen was invited to UFF to share his perspective and insight on a panel discussion.
Allen's panel addressed the topic of food distribution, retailing, and the challenges that have occurred in recent years with supply chain shock.
During 2020 when COVID impacted stores and the food supply chain, Allen was a store director for SpartanNash. He noticed the panic buying and store shelves being depleted. When he transitioned into the wholesale side of SpartanNash to observe supply chain shocks, he continued to notice challenges and takeaways within the supply chain.
Allen shared, "Some of the main points I made was having an extremely lean on-time supply chain model is hard to work with in this day and age because there's so many more disruptions than there used to be when everything was more predictable."
The model referenced by Allen is the just-in-time (JIT) model. Using JIT, companies purchas enough inventory just to get to the next delivery, and then hope it's depleted almost to zero without actually running out.
Allen continued, "Through COVID, we obviously saw that that did not work. All retailers learned that having a little bit more safety stock built into our plan and having a better understanding of lead time with our suppliers really is key to making sure that we don't run out of product for our customers. That was a main topic I discussed on the panel."
The UFF offered Allen several key takeaways including a larger perspective to the complexity of the food supply system, different approaches to his work in the office, and networking with many great minds in the agricultural industry.
Allen is an alumnus of AFRE's class of 2017 and received his degree in Food Industry Management. Prior to graduation, Allen worked with SpartanNash through high school and college. For the past 12 years, Allen has thoroughly enjoyed his time with SpartanNash and has a strong appreciation for the innovation his position and team bring to the company.
He also encourages other AFRE alumni to stay engaged with the next generation as well.
"There were many other professors that had industry folks come in, and it was just very impactful for me to hear their firsthand experiences, how they develop their careers, how they develop both professionally and personally," Allen said. "We should all want to share that with the future students and the future industry leaders. I just love to give back anyway that I can because we got a lot out of the program and we should try to give it back in any way that we can from since the program was so impactful for us."