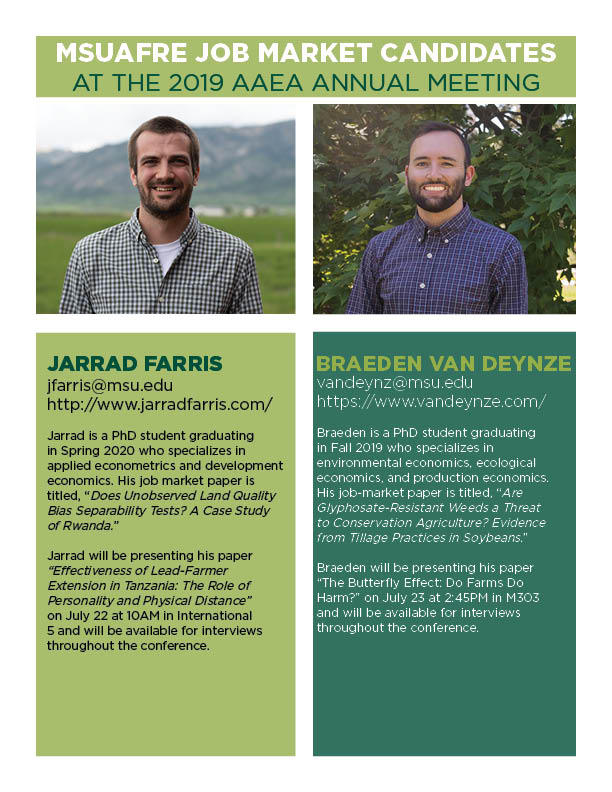 AFRE is pleased to announce our PhD job-market candidates for Summer/Fall 2019: Jarrad Farris and Braeden Van Deynze! Both of their information can be found below and on the AFRE Job Candidate web page.
The candidate's areas of specialization can be found under each job candidate's web page as well as links to their personal websites, where you can find further information about their interests and qualifications. Our candidates have fantastic skills in economic modeling, statistics, surveys, field experiments, program evaluation, teaching, and extension. Their interests span a wide range of socially relevant fields in applied economics, including agriculture, regional and international development, and energy and environment. These candidates are ready to make an immediate impact in academia, industry, government, and the nonprofit sector.
"We are very excited about our cohort of job market candidates," said job placement committee cair and AFRE assistant professor Melissa McKendree. "Both Braeden and Jarrad are well prepared for their future careers and will have a positive impact on the Agricultural and Applied Economics profession. We can't wait to see their success in future endeavors!"
Please share this page widely among your professional network—and let us know if you are aware of any job opportunities at your institution or elsewhere that would be a good match for our students.