Several AFRE faculty members received departmental awards for their excellence in teaching, research, extension, service, and lifetime achievement at the annual AFRE meeting on May 11, 2018.
Excellence in Teaching: David Ortega
Dr. David Ortega hit the ground running in the spring of 2014 teaching both FIM 335 Food Marketing Management and FIM 460 Retail Information Systems – two critical upper level undergraduate courses. He has repeated that schedule five times now and shows no signs of slowing down. David gets very high student reviews in both courses, which is important since these courses are two of the three or four core courses that differentiate our Food Industry Management major from our other two majors. In his continuing commitment to undergraduate instruction, David, along with Brent Ross and graduate student Danielle Kaminski presented a poster at MSUs Teaching and Learning Spring Conference on "A Client-Based Market Research Project in an Undergraduate Food Marketing Management Course" analyzing the success and satisfaction of a major undergraduate FIM project. Additionally, David mentored an undergraduate Food Industry Management senior, Espoir Tuyisenge, who won first place in the undergraduate agriculture and animal science poster presentation competition for his research on, "Collective Action and Coffee Productivity in Rwanda's Specialty Coffee Sector." In his short time here, David has served as the major professor for 3 MS students and is currently the major professor for 2 MS and 1 PhD students. For his contributions to the undergraduate and graduate programs, David Ortega was awarded AFRE's 2018 Award for Excellence in Teaching.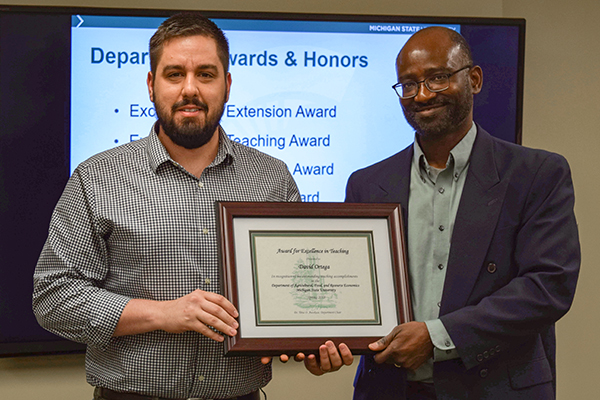 Excellence in Research: Mark Skidmore
Much of human activity takes place by individuals working separately or in cooperation, and all relying on a shared support structure. Shared support structure is after all a major reason why we are a department and why, in turn, this department relies on university-level support structures. Ever since our ancestors concluded that city walls were worth the effort, local government support structures have allowed their residents to prosper. However, local governments do not always function at their potential. Our department has developed great strength in practically-grounded scholarship of local governments, with intent to secure and improve their performance. One important theme in this area is that of understanding what determines community resilience and capacity to recover from a shock or failure, be it a bankruptcy or a natural disaster. This is an important question with implications far greater than abandoned housing and physical infrastructure because people too are tied to communities and localities. Over the past decade and more, through prominent journal publications, book chapters, a book, presentations and interactions with front-line local government managers, Dr. Mark Skidmore has worked with colleagues to develop a widely regarded and integrated program focused on learning lessons from the past. For the relevance and sustained excellence of his published research and for the impact that this research is having, Mark Skidmore was awarded AFRE's 2018 Award for Excellence in Research.
Outreach/Extension: Matthew Birbeck
Matt Birbeck has been a champion and architect of the MSU Product Center's Food Processing and Innovation Center (FPIC) since the idea was first conceived. He has played a key role in the FPIC's design, business planning, fund-raising, equipment acquisition and ultimate construction. He also has successfully promoted it to prospective clients. Since becoming the FPIC Director in July of 2017, he has overseen the vicissitudes of its construction process, led the effort to stock it with state-of-the-art food processing equipment, and managed the search for its first Production and Operations Manager, with the help of the FPIC Team. In March of this year, the FPIC opened its doors and welcomed its first client. For his unwavering vision, determination and hard work in making the FPIC a reality, Matt Birbeck was awarded AFRE's 2018 Award of Excellence in Outreach/Extension.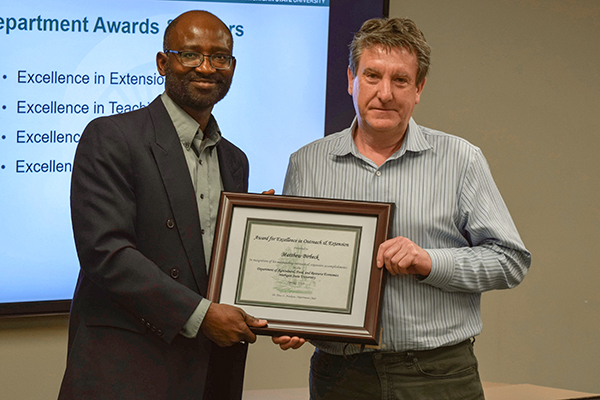 David B. Schweikhardt Service Award: Chris Wolf
Dr. Chris Wolf has had an at your service attitude since he joined the department in 1997. He jumped right into our undergraduate program, teaching Introduction to Farm Management on an extension/research appointment as we were short an instructor and has been a key figure in our undergraduate program in the farm management area since. When bovine tuberculosis hit Michigan's white-tailed deer, which affected livestock production, Chris jumped right in saying they can't be much different than a dairy cow, right? Chris is a very successful researcher and extension specialist, serving both the growth of our profession and the well-being of Michigan's and the nation's dairy industry. Chris has served on many national and departmental committees, including just being elected to the Department Advisory Committee – a role he has served in before. Recently, Chris has served on a number of very successful and important AFRE search committees, bringing in top notch new faculty and took on the role of Co-Director of AFRE's Telfarm Program. For his unwavering commitment to AFRE, Chris Wolf was awarded the David B. Schweikhardt AFRE 2018 Award for Excellence in Service.
Lifetime Award for Distinguished Service: Bob Myers
An award given only once every few years, the Lifetime Award for Distinguished Service was awarded to Dr. Robert Myers, for his renowned scholarship and teaching, as well as his dedication to the department as Associate Chairperson and Graduate Program Director. Bob has been working tirelessly — through a myriad of structural and staff changes — to increase the quality and visibility of the department's graduate programs. Recently named a Fellow of the AAEA, Bob turned his attention to his administrative role in 2017 and has already made great strides for the graduate program.