Agricultural Opportunities for Michigan Women through Networking and Education
In 2012, a group of female farmers approached Michelle Napier-Dunnings, executive director of Michigan Food and Farming Systems. Through discussion a new network has grown, devoted to addressing the specific needs of female farmers in the state.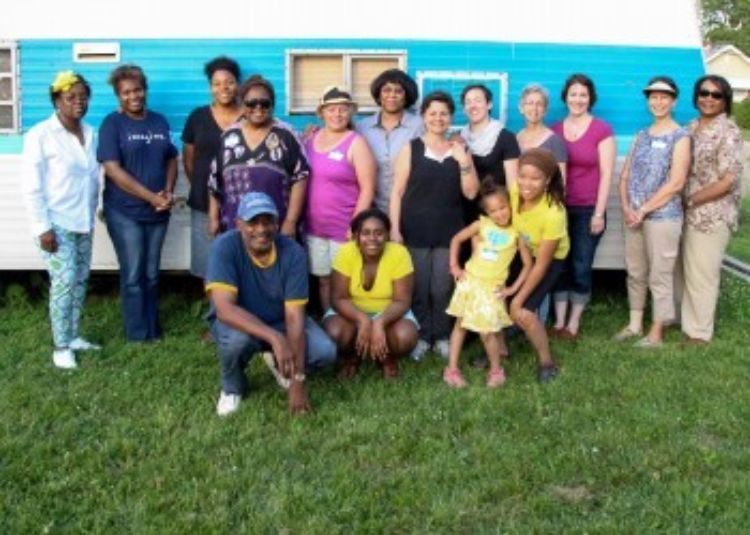 By Katy Joe DeSantis, Michigan Good Food Charter Intern
In 2012, a group of female farmers from Genesee County approached Michelle Napier-Dunnings, executive director of Michigan Food and Farming Systems (MIFFS). Through discussion a new network has grown, devoted to addressing the specific needs of female farmers in the state. MIFFS has worked with the MSU Center for Regional Food Systems (CRFS) to provide funding for the facilitation of a Women-In-Ag (WIA) Network. This network serves to help women in agricultural professions work together to encourage each other and develop new solutions to existing problems faced by them and others.
"We wanted to start small and make sure we are keeping the producers at the center of the network so that we can listen to the people farming in urban, rural, and suburban areas to understand what they need to create environmentally sustainable and economically viable businesses," Michelle states.
According to the USDA, as of 2007, there are almost one million female farmers in the US, and from 2002-2007, Michigan alone saw a 17.6 percent increase in women in agriculture.
Shakara Tyler, Underserved Farmer Development Specialist at MSU's Center for Regional Food Systems (CRFS), believes that although women farmers are now perceived to be the fastest growing farming population in the U.S., they have always been key players on family farms and other enterprises and are just now beginning to receive more recognition for these roles.
In order to begin developing conversations about common experiences for women in agriculture, women in the Flint area were asked about what they like and dislike about being a female farmer. The answers varied, with some women agreeing that they enjoy skill development and self-sufficiency, connecting with the land and the collective power and solidarity that being a woman farmer offers. Dislikes included dealing with gender bias as a farmer, not being taken seriously and the difficulty of acting as both a homemaker/mother and a farmer.
Members of the Women-in-Ag Network attend a composting workshop. Image courtesy of Rory Neuner.
"The network is a social system that supports all the roles that these women play," said Napier-Dunnings. "They are businesswomen, workers, moms, wives and community members, and this is a network that supports the whole spectrum of who they are."
After initially meeting and discussing what it means to be a female farmer, the group has since shifted its focus toward figuring out how to support each other using the network. For example, many of the women were interested in different ways of keeping their physical bodies healthier while weeding, planting, and performing other manual labor on their farms, so one member subsequently initiated a workshop for the group using yoga to help with the physical and emotional stress of farm life.
Although men are welcome to any of the Women-in-Ag Network trainings, MIFFS wants to make sure that they are being responsive to what the women are requesting, and are striving to bring female-specific trainings to the group. The group has requested direction and education from other women on techniques that are specific to their bodies and their lifestyles.
"Women as nurturers have intrinsic tendencies to care for the land," said Tyler. "In an effort to promote more cultural competence for the recruitment and retention of women farmers, women must have emotional and physical support from other women."
In addition to the network, to further support female farmers in the Genesee County area, MIFFS partnered with CRFS, Michigan State University Extension (MSUE), the Community Foundation of Greater Flint, Genesee County Schools and a team of women farmers to create a Women-In-Ag Collective Farming Center in Flint. This Center provide a facility where women who want to scale up their production businesses or want to learn about them can come and work on the Center's farm.
Not only will the farm serve as a space for the women to learn new techniques of production, but it will also provide knowledge of the whole system approach of getting the food from farm to table with various partners.
"We are creating a guaranteed market for what we grow prior to kicking off the farm, therefore those who want to participate as members of the collective farm are agreeing to engage in that business model in order to learn how to have a successful, environmentally-friendly business," Napier-Dunnings said.
So far, the Network is producer-centered, and is working to reflect the demographics and requests of women in Genesee County. Both Tyler and Napier-Dunnings stated that the group has already heard from women in other parts of the state who are interested in connecting and/or starting another regional initiative.
"Our hope is that a statewide network that is composed of women from a variety of racial and ethnic backgrounds, farm scales, and farm types will further increase the collective impact women farmers play in transforming the food system," Tyler said.
For more information on the Women-in-Ag Network or to support MIFFS in their efforts to empower women farmers, click here.