Alternative Spartan Break
Early in March 2022 when many students opted for well-deserved relaxation retreats, Anna Dunnebacke had a different plan in mind.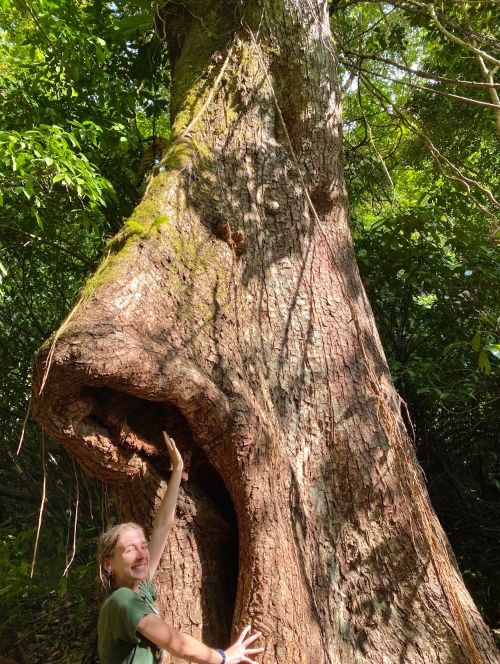 Early in March 2022 when many students opted for well-deserved relaxation retreats, Anna Dunnebacke had a different plan in mind. The Forestry and Fisheries and Wildlife student opted to participate in Michigan State University's Alternative Spartan Breaks program. Since 1991, Alternative Spartan Breaks has been leading students around the world, providing opportunities to create positive change in the world and exposure to a variety of cultures and life experiences.
Dunnebacke decided to take a once-in-a-lifetime opportunity to travel to Costa Rica to volunteer with like-minded peers who are passionate about the environment, community service and adventure.
Her group stayed at a beautiful community-run lodge called Nacientes Palmichal, which has a mission to educate people on the importance of water in forests, nature in daily life, and environmental education. The goal of the lodge is to selflessly protect the water quality for the entire 50,000-person region.
Funding is generated at Nacientes Palmichal by providing a beautiful place to stay and enjoy the beauty of Costa Rica, the Cloud Forest, and the local people and food. Unfortunately, since the pandemic, Nacientes Palmichal has lost a lot of visitors and funding from local tourism. While Dunnebacke's group was there, they helped restore a few of their more run-down rooms. They experienced the lodge both as visitors and volunteers so they could provide advice on how to market their assets, and things they could add to appeal to more tourists.
"One thing that really stuck out to me about this place was just how passionate the owners and founders were about their mission," Dunnebacke said.
Everyone she met had great respect for the environment, and they were willing to spend a lot of time running the lodge. Since funding has been so scarce recently, many of them work unpaid.
"It was incredibly refreshing to see so many people from the community come together to work toward a common goal that does not solely benefit them," Dunnebacke said.
The entire region benefits by conserving a reliable source of clean water, which also benefits the environment, by preserving this rare type of forest and all the species living inside it. Dunnebacke is grateful to have also benefitted from the experience, having lived a unique experience that she can learn from and share with others.
Dunnebacke says she feels so lucky to have been part of this trip because she, too, has a great passion for these special and unique ecosystems that contain massive amounts of biodiversity in plant and animal species.
"It was so rewarding to physically see the impact we made on this community and hear how grateful they were for our help. I have learned so much from this experience, and I hope that I can apply what I have learned about community and sustainability to my own life," she said.
Dunnebacke is currently double majoring in Forestry and Fisheries and Wildlife and is interested in forest conservation and the benefits of forests to humans and communities. She hopes to attended graduate school where she will get more experience in research, eventually hoping to focus on conserving an animal species that relies on forests to survive.
"Let's make a forest! Hagamos un bosque!" – Anna Dunnebacke