Human Dimensions of Forests
Emily Huff, Associate Professor of Human Dimensions of Forestry, is hard at work developing solutions to a variety of environmental challenges involving forests and how people interact with them.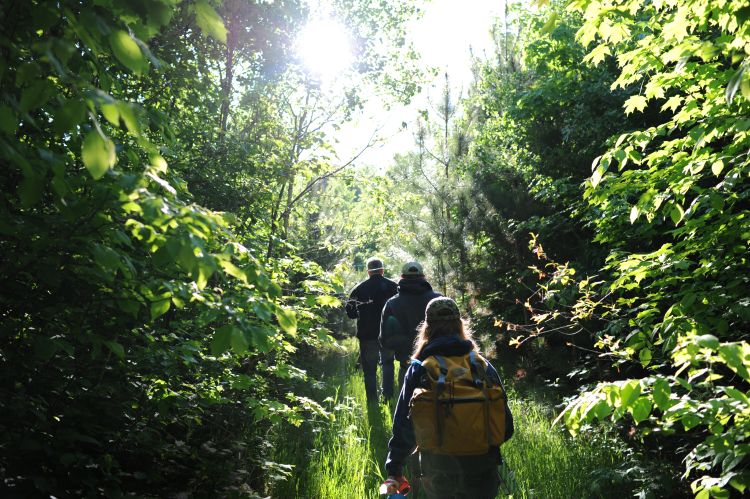 Emily Huff, Associate Professor of Human Dimensions of Forestry, is hard at work developing solutions to a variety of environmental challenges involving forests and how people interact with them.
To understand the problems and work towards improvement, according to Huff, conflicts over forest resources can be categorized in two ways: conflict over the land use designation itself, i.e. should this be a forest?, and conflict over how the forest should exist, i.e. should it be managed, protected, or something in between?
Individual values, attitudes and beliefs underpin these conflicts and subsequent decisions. Some humans have predominantly biospheric values and feel forests should exist in their own right, while others possess anthropocentric values and believe they exist, at least in part, for the services they provide to humans.
These services includes filtering water, providing habitat for game, and opportunities for recreation. In the U.S., forests are owned and therefore managed by a wide range of people and organizations with an equally wide range of motivations and objectives, further complicating a unified strategy for the nation's forest resource.
"The nation's private forest landowners play such an important role stewarding forests, so I try to understand their decisions and support their conservation and management. I currently serve as the President of the Michigan Forest Association – a membership organization of primarily private forest landowners – which is a wonderful way to see how research can translate directly to practice."
Huff also directly integrates research and Extension or outreach. One example focuses on harvested wood products. To utilize wood products more efficiently, Huff, along with a tri-state team of forestry professionals, received a grant from the National Institute for Agriculture RREA (Renewable Resource Extension Act) Program titled "Building Woodshed Maps for Industry, Extension, and Woodland Owners in the Great Lakes States."
These "woodsheds" can be described as the spatial footprint of wood availability and feasibility of transport around primary wood. The RS & GIS center at MSU is a partner, to develop a user-friendly map that will help landowners, professionals, and industries see potential opportunities and effects of a changing marketplace for wood products in Michigan, Wisconsin, and Minnesota.
The hope is that this mapping and modeling effort will be the basis for future research that represents models of new wood products, new facility siting, and changes in landowner willingness to supply certain products and materials.
In addition to modeling the economic reality of wood products, it is important to understand if organizations support new markets for wood products, said Huff. Mass timber has gained traction recently as a long-term carbon storage opportunity in the built environment that is also aesthetically appealing to architects and inhabitants.
In a recent project, Huff interviewed leaders from over twenty non-governmental environmental organizations and discovered that the majority were at least provisionally supportive of mass timber as a concept and as a tool for decarbonizing the built environment.
A few organizations wanted to see additional life cycle data that considered how the wood used in these projects was grown and managed. This information will help policymakers understand where support lies and what potential concerns may prevent this stakeholder community from embracing and advocating for mass timber as a step to combat climate change.
Showcasing the broad range of ways in which human dimensions helps us understand forest management is another newly funded project in the Yukon Territory of Canada. In this "Navigating the New Arctic" planning grant from NSF, Huff and her colleagues are working with tribal leaders and local community members to understand which research questions will help their communities adjust to abrupt environmental changes.
For example, a glacier that used to feed Kluane Lake has receded far enough that it now flows down the other side of a mountain range. There will be a stakeholder workshop that discusses the potential to effectively merge traditional ecological knowledge and western ways of science to tackle problems like these and questions the community identifies.
Despite all of the challenges Huff studies, forests are receiving more attention with the renewed interest and focus on climate change at both the federal and local levels, providing the opportunity for more policies to be enacted to protect and conserve this critical resource. Moreover with the COVID-19 pandemic, outdoor recreation has been critical to many families as we adjust to a sharp drop off in indoor social activities.
"Now more than ever people are rediscovering how much they value forests, understanding that we must continue to protect them to enjoy them," said Huff.