Ecotek Lab at MSU
MSU Forestry is continuing to build its partnership with Detroit-based science research organization Ecotek Lab, now providing hands-on lab experience to high schoolers once a month.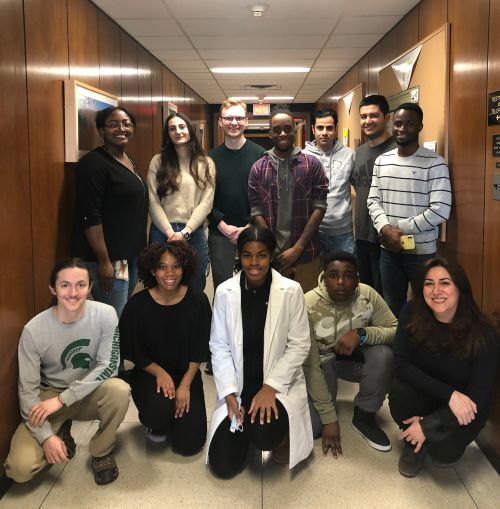 MSU Forestry is continuing to build its partnership with Detroit-based science research organization Ecotek Lab, now providing hands-on lab experience to high schoolers once a month.
MSU Forestry is a proud collaborator of Ecotek Lab, understanding the importance of diversity in natural resources and providing opportunities and connections through which Detroit youth can pursue higher education careers in natural resources and sustainable bioproducts.
Ecotek Lab, a recruiting partner of MSU Forestry since 2019, is a research and innovation laboratory made up of aspiring student scientists and engineers from major urban centers.
"This partnership provides a unique opportunity to expose Detroit's youth to educational and career development opportunities in natural resources and sustainable bioproducts. This integrated program of experiential learning, academic training and mentoring can increase the likelihood of students applying for, undertaking and completing STEM-based undergraduate degrees," said Justin Kunkle, MSU Forestry Director of Undergraduate Studies.
Ecotek scientists, made up of middle and high school students, explore challenging projects and areas of study, preparing them for college-level advancement and providing a foundation for a rewarding career in the scientific world.
"I started the lab back in 2005 with the expectation that kids in urban communities didn't necessarily get an appreciation for innovation. They would consume what came out of companies and labs but they wouldn't necessarily appreciate what that meant to really do it on their own," said Dr. Keith Young, CEO and Founder of Ecotek Lab.
Dr. Mojgan Nejad, Associate Professor of Green Bioproducts in the Department of Forestry, hosts Ecotek students in her lab once a month, where lessons are taught by her graduate students.
"Each time they come to the lab, we teach them how to make different bioproducts . For example, using lignin to replace petroleum-based polyols in rigid and flexible foam applications or making fully biobased adhesive and biocomposite," Nejad said.
MSU Forestry is currently home to three Ecotek alums, with a fourth enrolled for the upcoming Fall 2022 semester. Dyllan Nelson, joining the forestry program in the fall, is grateful for her time at Ecotek.
"Ecotek has really helped me build my opportunities and introduced me to so many people. Without Ecotek, I wouldn't have this opportunity [at MSU], and I'm thankful for it," said Nelson.
Nelson said her favorite part of coming to Dr. Nejad's lab has been learning about natural sciences and how she could apply the lessons to her everyday life. She has taken an interest in bioproducts and potential for different applications of bioproducts.
"I really love the campus and the community I've met so far. I'm just really excited to come here in the fall," said Nelson.
Ecotek alum and forestry senior, Davien Graham, initially explored the program on behalf of his younger brother, Alexander.
"When I heard about [Ecotek], I knew I had my little brother who was, in my eyes, smarter than me, at his age. So, I was thinking it would be a better idea if he was able to do it. So, I initially went to an interview to ask Mr. Young to let my brother be a part of the program," said Graham.
Young instead took a liking to Graham and his scientific background, offering him a position in the lab for his remaining year of high school with his brother joining the lab afterwards.
Kayla Young has been a member of Ecotek Lab since she was in second grade. She saw a lot of students come and go, and as a result was able to learn a wide variety of disciplines.
She has particularly enjoyed learning from the graduate students in the labs and the experiments and equipment they have shared.
"We were going to find the density of [lignin-based] foam, how to make it, cooling, that was really cool," said Young.
Reflecting on her time at Ecotek, Young says she would definitely recommend the program.
"When you go to Ecotek, Dr. (Keith)Young doesn't teach you about what's going on now, he's teaching you about what's going on in the future, and what's going to happen," said Kayla Young.
The Department of Forestry is proud to continue this important partnership with Ecotek, and is continually looking for pathways for students to make connections and to provide learning opportunities in our programs and facilities.
"We really appreciate the partnership with Ecotek," said Dr. Richard Kobe, Chairperson of the Department of Forestry. "While MSU can bring new opportunities to Ecotek students, the students also contribute greatly to our program with their enthusiasm, curiosity and insight."
"Partnerships are core to who we are in fulfilling our land-grant mission. Meeting people where they are at, providing solutions that face a multicultural society and providing opportunities to develop the next generation of talent," said Dr. Quentin Tyler, Associate Dean and Director for Diversity, Equity and Inclusion. "Our Department of Forestry continues to be a leader in inclusion, equity, diversity, outreach and engagement. We are equally excited and proud to partner with Ecotek Lab in Detroit in providing a space and place for today's dreamers to become tomorrow's leaders."