Books, pencils and school meals: Putting kids first
Making Michigan school meals an essential part of the school day.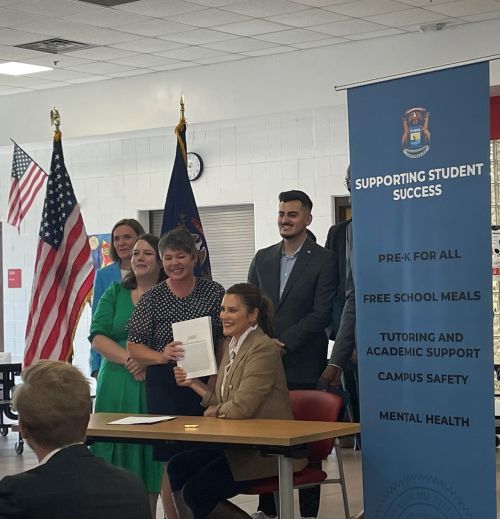 A school cafeteria was a fitting place for Governor Gretchen Whitmer to sign the Michigan State School Aid budget for the 2024 fiscal year. Referred to as "historic," the budget includes funding for all Michigan public pre-K to 12th graders to eat school breakfast and lunch at no cost. Known as the Michigan School Meals program, Michigan is currently among a list of nine states in the nation to recently support universal school meals.
During the COVID-19 pandemic, the federal government made school breakfast and lunch available for free to all public school students throughout the nation. This benefit expired in September 2022, and schools returned to usual protocol with families either paying full, reduced or no cost, based on household income thresholds.
School nutrition programs, like the National School Lunch and Breakfast Programs are among federally assisted programs that operate in public, nonpublic and residential care settings in Michigan. The U.S. Department of Agriculture provides funding and oversight to the Michigan Department of Education who administers the programs to eligible schools in Michigan.
Melanie Brummeler, interim assistant director for the Office of Health and Nutrition Services at the Michigan Department of Education describes Michigan universal meals as a "silver lining" of the pandemic.
"The pandemic showed that we can do things differently and we can do better," said Brummeler, a registered dietitian who has been working in the field of school nutrition for 20 years. She describes the opportunity to offer universal meals to Michigan students as a "once-in-a-lifetime opportunity."
With nearly 1.5 million children in Michigan, the impact of the Michigan School Meals program on children's health and nutrition security is big and comes with a host of benefits. According to Brummeler, one of the biggest benefits is that universal meals promote health equity and acknowledges the essential role school meals play in supping good nutrition and academic performance.
"Offering universal meals levels the playing field," she said. "Students can opt to eat or not, but everyone has the option to fill their tummies and be ready to learn. Universal meals is a way of putting kids first and making school meals another part of the school day, just like bussing and books."
Additional benefits of universal meals include the following:
An estimated savings of $850 per student per academic year among Michigan families.
Strengthens school food service budgets due to increased participation.
Academic performance.
Enhanced food and nutrition security.
Reduces stigma associated with eligibility for free or reduced-price meals.
Federal legislation known as the Healthy Hunger-Free Kids Act of 2010 enabled a number of policy changes aimed at improving the nutritional quality of food and beverages served to children through federal food assistance programs. The passage of this legislation has resulted in healthier snacks, beverages and meals in schools with some research finding school meals to be more nourishing compared to lunch brought from home.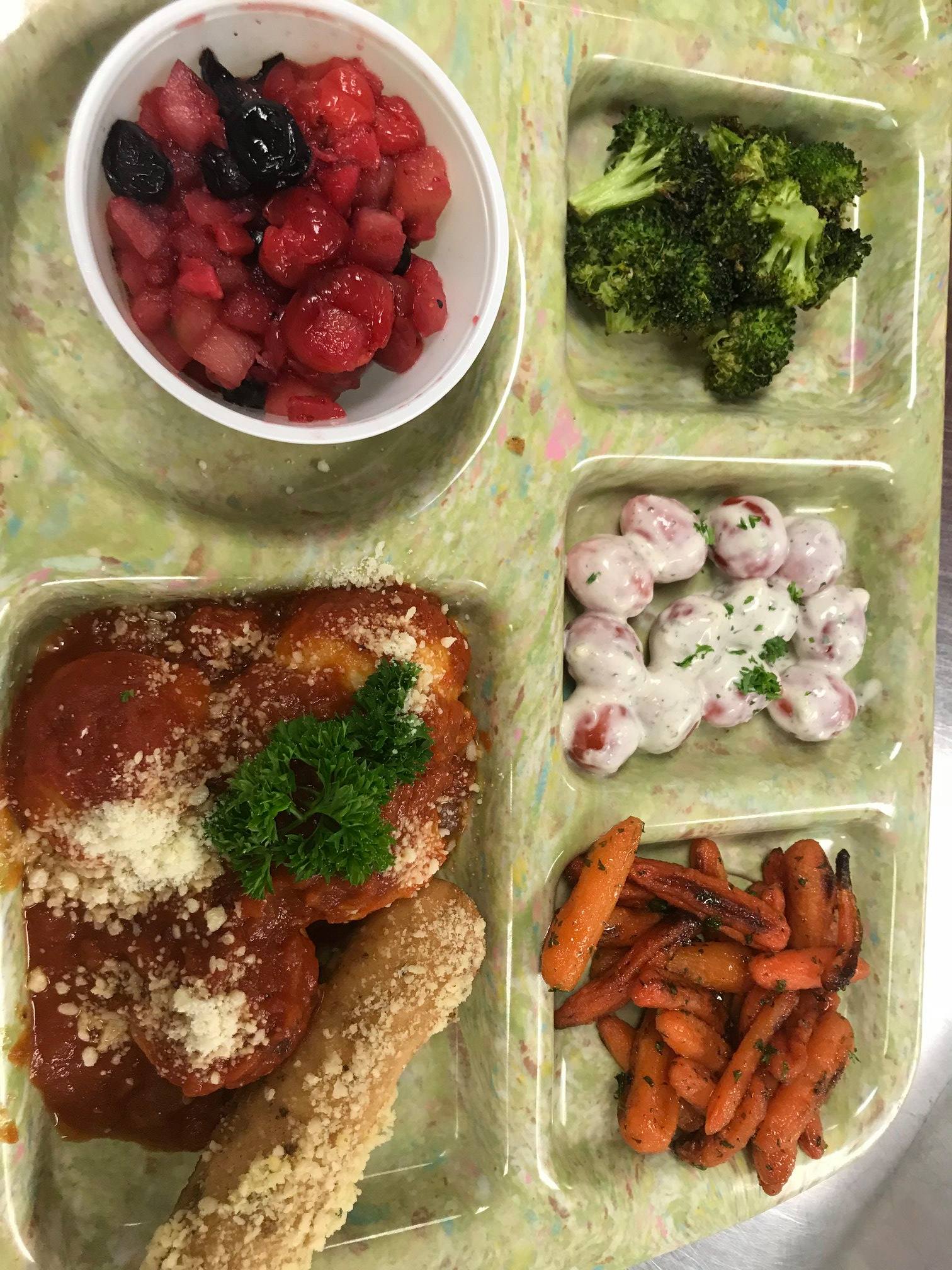 Jenna Noffsinger, the food service director for Frankfort-Elberta School District, has observed the benefits of universal meals in her schools that serve approximately 550 students. Noffsinger said there has been an increase in participation just two weeks into the school year and acknowledges the role school meals play, especially for students from families with limited resources.
"I know there are kids over the weekend that do not eat," she said. "At least we are able to offer two free meals/day during the week. We have a food pantry at our school and weekend backpacks for some, but school meals for all is open for everyone . . . it feels like more of a safe zone."
For several years, Noffsinger has been purchasing local food for her meals with the support of Michigan's 10 Cents a Meal matching grant. She said she sees how increased meal participation can assist in increasing her budget and continued ability to purchase more local produce.
Noffsinger also acknowledges the health of school meals compared to what she often sees students bringing from home.
"Our meals include whole grains, fresh produce, low-fat milk and are low in sodium," she said. "Our meals offer more nutrition and energy that will last throughout the day. I see a fair amount of chips, energy drinks brought from home."
Universal free meals in Michigan are guaranteed for this school year, but not yet permanent. Legislation has recently been introduced that would make no cost meals permanently available in Michigan. Noffsinger hopes elected officials realize the importance of nutrition in children's lives.
"Free school meals benefit every family and Michigan farmers," she said. "Families can use the money elsewhere and helps take the pressure off busy families to pack a meal while offering a sense of stability."
Brummeler encourages families to thank their local school kitchen staff and food service directors, encourage children to participate in meals, and find out what's being served.
"Parents might be pleasantly surprised," she said.
Regarding this work, Brummeler is most proud of her team at the Michigan Department of Education.
"It's been an exciting challenge and opportunity and truly, once in a lifetime especially if universal meals become permanent," she said. "It's exciting for me to be a part of this. It's once in a lifetime to impact so many."
The Michigan Department of Education offers detail on the Michigan School Meals Program on their website.
Michigan State University Extension partners with the Michigan Department of Health and Human Services to provide Supplemental Nutrition Assistance Program Education, or SNAP-Ed. SNAP-Ed focuses on good nutrition, stretching food dollars, living physically active lifestyles and engaging partners to build healthier communities. MSU Extension is proud to offer coaching on strengthening dietary quality of school meals.