CANR Alumni Association president-elect provides Give Green Day matching gift
CANR Alumni Association president-elect Valerie Wright contributed a $5,000 match for CANR's 2021 Give Green Day.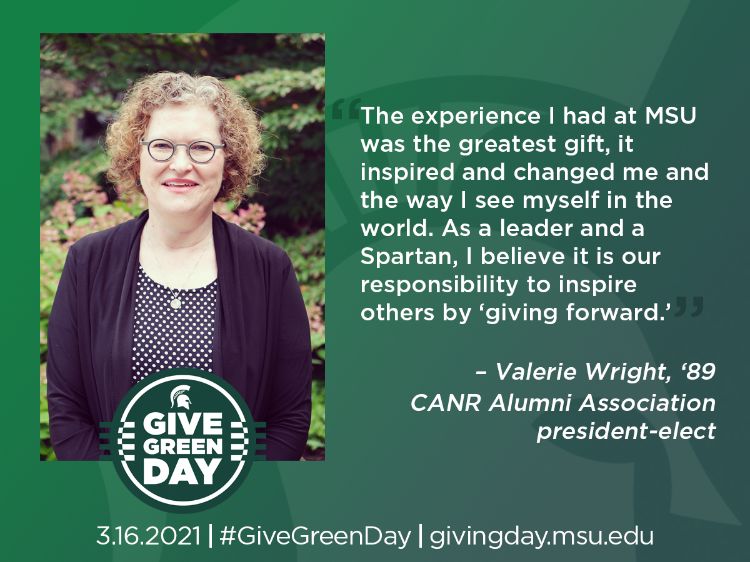 College of Agriculture and Natural Resources (CANR) Alumni Association president-elect Valerie Wright has participated in previous Give Green Day campaigns as a donor. But this year the '89 interior design alum took things to a new level wanting to make a larger impact.
She decided to step-up and set an example by challenging other alumni and peers to contribute. If the college met its $10,000 fundraising goal, Wright would give $5,000.
"Sometimes, the timing is just right and this year it was. The past year has allowed many of us to reflect on the important people in our lives and our purpose," Wright said. "MSU has played an important part in my life and I believe my experience at MSU shaped who I am today and how I am in the world. It was just simply time to make that more visible and intentional with a financial gift."
Give Green Day is Michigan State University's annual day of giving – 24 hours to give and make a difference to impact current and future Spartans. Give Green Day began in 2016 coinciding with the global day of giving, Giving Tuesday, just after Thanksgiving. In 2021, MSU moved the celebration to March.
Over the years, Wright has seen the CANR Spartan community support students and the collective impacts of working together. During 2021 Give Green Day, CANR Spartans, including Wright, generously gave $20,658 to the CANR Dean's Strategic Initiatives Fund, exceeding the initial $10,000 goal. With an additional $2,620 in university matching funds and bonuses, more than $23,000 was raised in the 24-hour period to support CANR students.
"As leaders and Spartans, part of how we show our support for students, the faculty, for our college, and for our fellow alumni, is by simply being able to give in this way," Wright said.
"The experience I had at MSU was the greatest gift, it inspired and changed me and the way I see myself in the world. As a leader and a Spartan, I believe it is our responsibility to inspire others by 'giving forward.'"
The 2021 CANR Give Green Day helped to grow the CANR Dean's Strategic Initiatives Fund. This is the fund used to address emergency requests across the college, the one used to create new opportunities to ensure that the college is a leader and at the forefront of change, and the one that provides essential resources that will make a difference in the lives of students.
"Once you know and understand what and where the needs are, it is hard to ignore," Wright said. "We must do what we feel comfortable doing in helping each other, especially our students. Someone ahead of me gave so that I can give now, so that someone behind me can give and so on. We are connected by this invisible link forward and behind us."
Each year there are numerous emergency funding requests that come to the CANR Dean for review. Over the last year, the COVID-19 pandemic has revealed a greater need for flexible funds, like the CANR Dean's Strategic Initiatives Fund, which can be used to support students during a crisis.
CANR students have faced significant challenges and we have seen a record number of students needing emergency assistance to address food and housing insecurity, issues with technology to complete coursework, and emergency travel funds to return home.
A CANR Alumni Association (CANRAA) board member since 2017, Wright currently serves as president-elect and will assume the presidency in fall 2021. An active board member, Wright has volunteered at a variety of CANR alumni events, including AutumnFest and Golfing for Scholarships, and has served on the CANRAA scholarship committee, among various other roles for the board.
Wright is appreciative of the opportunity to serve the college as an alumni board member.
"I believe the decision was made for me or perhaps by divine Sparty intervention. I had been wanting to be more involved at MSU, but was not aware of how that might work. I was contacted by an outreach person a couple of years ago after I responded to something in one of the alumni publications from the college. We met for lunch a couple of times and something just clicked. I do not even remember the actual details anymore but am just so grateful to be connected and able to serve in this way," she said.
Why do alumni, like Wright, give back and continue to serve MSU? Simply put, she said she loves the college and her time at Michigan State.
"It is not one thing, and it is everything. For me, MSU, the College of Agriculture and Natural Resources, the School of Planning, Design, and Construction, and interior design as a major, are all part of MSU as a sense of place," Wright said.
"It profoundly shaped me and raised me from the very shy and introverted person who entered as a freshman to the confident and curious senior who graduated. The experiences, the classes in my major of interior design and outside of my major such as astronomy, Shakespeare, and Honors English. It is the professor, who until he passed away a few years ago at 90, visited my projects. It is Wharton Center and the library and studying at Conrad.
"It is serving with fellow alumni to give forward. It is interviewing students for scholarships and hearing their dreams and aspirations. It is talking with best friends today who were roommates yesterday. It is being on campus as an adult and still feeling that certain feeling in your heart and in your head that has been a part of you since you were a student."
Wright received her bachelor's degree in interior design from the School of Planning, Design, and Construction, where she also currently serves on the Interior Design Alumni Board. She is principal and senior interior designer at Diekema Hamann Architecture and Engineering. Diekema Hamann is a multi-dimensional architecture and engineering firm focused on creating spaces that help people lead healthier, more fulfilling lives. Wright is active in her local community and served 13 years as a Kalamazoo Public Library trustee.