CANR International Programs Office names two new Global Scholars
Eric Benbow, Saweda Liverpool-Tasie join program designed to enhance global engagement of early-career scholars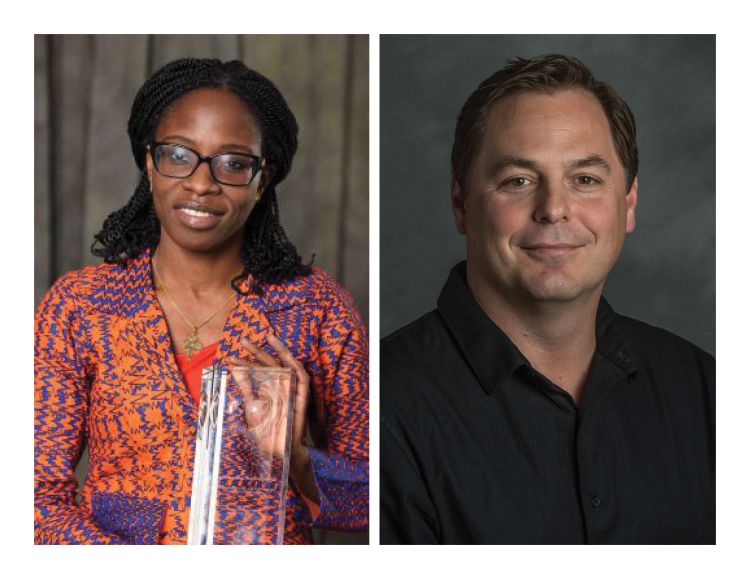 EAST LANSING, Mich. – Two MSU researchers have been named Global Scholars through the Michigan State University College of Agriculture and Natural Resources (CANR) International Programs Office.
Eric Benbow and Saweda Liverpool-Tasie will join the Global Scholars Program, which aims to enhance engagement of early and mid-career faculty members in international programs, said Karim Maredia, director of CANR International Programs.
"Eric Benbow and Saweda Liverpool-Tasie fit the early to mid-career researchers we are looking at for the program," Maredia said. "We are excited about having them join the Global Scholars and the new perspectives they bring into the program."
Eric Benbow
A researcher and associate professor in the MSU Department of Entomology, Benbow describes himself as a community ecologist, "studying how complex communities contribute to ecological systems and understanding these communities can be used in various applications in medicine, disease and environmental management."
One of his key areas of research is on black soldier fly as an alternative protein source for livestock feed and aquaculture.
"I've been doing some of that work already in Malawi, and as part of the Global Scholars, what I would like to do is expand that to Asia, or areas of Central America or northern South America to continue to expand the breadth of potential black soldier fly in offsetting costs for livestock feed," he said.
Implementing black soldier fly into organic waste management is a fairly novel method in which the black solider fly consumes and converts organic waste matter, like food scraps, restaurant scraps market waste, spent grains, and even manure, into its own biomass.
"Not only does this reduce pathogens, it also produces a product, which is essentially larvae that have converted that organic waste into its own. We then feed the larvae to chickens, aquaculture, swine, or whatever, depending on where you're at in the world and what the major livestock is, to offset the cost of feed stock," Benbow said.
Within the Global Scholars Program, Benbow said he plans to explore the viability of this method with countries around the world.
"We are trying to understand the organic matter resources of the respective area, the waste resources it has, where that waste is going, and if it makes sense for that location to do additional research on black soldier fly to determine if this method could influence growth and development of the ultimate product, which is the alternative fish food or livestock food."
Benbow said the Global Scholars Program will assist him with the resources and collaborations necessary to not only conduct the black soldier fly research, but also expand programming and learn from researchers around the world.
"The Global Scholars Program, I think will provide huge opportunities that would otherwise not be available to our faculty, especially for mid-career and early-career faculty. I think the modest resources and the connections that the program affords will certainly make huge impacts for both external funding in the future and also on local and regional economics and agriculture," he said.
Maredia said Benbow's work of using insects as protein and food sources for livestock helps to bring unique perspectives to solving global food security issues.
Saweda Liverpool-Tasie
An associate professor in the Department of Agricultural, Food, and Resource Economics, Liverpool-Tasie focuses on emergent issues related to smallholder productivity and welfare within dynamic and transforming food markets in sub Saharan Africa and alongside poorly functioning markets in the region.
Her research on poverty and international development has taken her to several places in the USA, along with Ethiopia, Nigeria, Sierra Leone and The Gambia.
"It feels really great to be part of the Global Scholars program this year," Liverpool-Tasie said. "I look forward to engaging with other scholars and others in CANR and beyond under this platform. I believe the program will provide an opportunity for me to share my work and also build my network of scholars and development practitioners with a like-mind."
Liverpool-Tasie will work on research aimed at supporting policymaking and capacity building. The bulk of her previous and current research is internationally based. She has published more than 50 peer reviewed publications on issues related to international development and has over 15 years of experience with the design and implementation of research studies involving primary data collection and analysis across Africa, including studies in Ethiopia, Niger, Nigeria, Tanzania, Malawi and Zambia.
"My goal is to conduct and support applied research with key relevance to policy makers, development practitioners and other academics," Liverpool-Tasie said. "My research approach is collaborative with a strong emphasis on strengthening capacity to do excellent research in agricultural and applied economics in developing countries. I believe this is absolutely necessary to support the policy making process with credible evidence-based policy recommendations."