Celebrate National CSA Day!
Are you an adventurous eater, looking to try new produce? Was part of your New Year's Resolution to eat more vegetables? Do you dread fitting weekly grocery store trips into your busy schedule? If so, consider joining a CSA!
February 24, 2017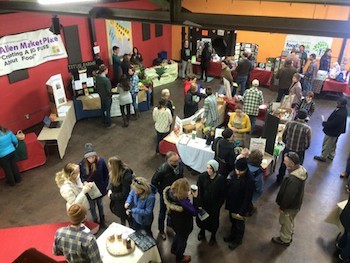 By: Rachel Kelly, Michigan Good Food Team Member


Are you an adventurous eater, looking to try new produce? Or maybe part of your New Year's Resolution was to eat more vegetables? Do you dread fitting weekly grocery store trips into your busy schedule? Or perhaps you would like to know the people who grow food for you and your family?


If you answered yes to any of these questions, consider joining a CSA! CSA stands for "community supported agriculture." The basic concept of a CSA is that individuals or families purchase a portion or "share" of a farmer's crops at the beginning of one growing season and then receive their share of produce weekly throughout that season. In honor of national CSA day today, here's a little more about CSA's:


CSA's have many benefits – for the farmer, the shareholder (or "member"), local communities, and the environment. By selling shares in advance, farmers can better plan what to grow and cover the costs of farming as well as earn a living wage. Shareholders receive fresh, healthy produce each week, build relationships with the people who grow their food, can pick up their share from a convenient location (rather than having to wander around the grocery store), and get to enjoy a variety of produce—some of which they may not have tried before. Buying locally also benefits communities, since each dollar spent at a local business triples the amount returned to a local economy, according to the American Independent Business Alliance (https://www.amiba.net/resources/localhero/). CSA partnerships also drastically reduce food miles, there is minimal to no product packaging and most CSA farmers implement sustainable growing practices.

CSAs are growing in popularity nationwide and across Michigan. Garrett Ziegler, MSU Extension Community Food Systems Educator, is working to promote CSA's in West Michigan.
"We have seen a growth in the CSA model and are attempting to reach a wider audience with the program," says Zeigler. "This has included promoting CSA pick-ups at local business/worksites as well as increasing access to CSA shares for low-income populations through a CSA to Pantry program. We really see CSA as a model for providing healthier local food options for west Michigan residents and support small-scale sustainable food production."
There are some common questions that people ask when contemplating whether or not to join a CSA. While not an exhaustive list, a few of the frequently asked questions are:
What comes in my share?
This varies throughout the growing season and depends on where your CSA farm is located geographically. Some CSA farms provide details about the kinds of produce you can expect during each month of the growing season (for example see Michigan State University's Student Organic Farm).
Will I be able to use all of the produce I receive in my share?
Many CSAs offer quarter or half share options for individuals, small families, or people who just want to try out a small share before committing to a full membership. Some CSAs allow you to split shares with others. Still, CSA members should be prepared to cook meals at home using what they get in their weekly share. By choosing the right sized share, planning meals ahead of time, and being willing to try new recipes, shareholders can expect to finish their produce each week and perhaps even expand their culinary skills!
What if I get produce I don't like?
Oftentimes there are ways of preparing vegetables, like roasting or grilling, that can transform a vegetable from unliked to a new favorite. CSA farmers are often good resources for ideas about how to prepare the foods they grow, and the internet has an endless number of recipes to try.
Rita O'Brien, Allen Market Place Associate Director and Hunter Park GardenHouse Director in Lansing, Michigan says, "My CSA customers have told me that being in the Hunter Park GardenHouse CSA has helped them & their family to eat healthier, they've tried new foods that they otherwise wouldn't have selected, and have become better cooks with the recipes and preparation tips that we provide."
Is it expensive?
CSA shares are often cheaper on average per week than buying produce from the supermarket! Purchasing a CSA share can at first seem expensive because CSA shares are purchased up front and cover many weeks. Also, CSA produce is typically picked and delivered to customers on the same day so it's fresher than most grocery store produce. Joining a CSA encourages members to plan meals, so there is less chance of excess or unnecessary purchases at the supermarket.
I would love to sign up for a CSA – how do I find one near me?
Start by Search Local Harvest's directory - http://www.localharvest.org/csa/ - to find a CSA near you. If there are no local farms offering CSA options, gather a group of like-minded individuals and either suggest a CSA arrangement to a nearby farmer, or arrange for people to take turns picking up CSA shares at the closest farm that does offer it.
If you live in Michigan and would like to sign up for a CSA, you're in luck! There are multiple upcoming CSA fairs where you can meet multiple farmers, learn about their CSA programs, and sign up to become a shareholder. Here are a few:
5 Healthy Towns CSA Fair – serving Chelsea, Grass Lake, Manchester, Stockbridge and Dexter
Sunday, February 19th, 2017 1-3pm
128 Park St., Chelsea MI 48118
Grand Rapids CSA Fair
Saturday, March 25th 10am-1:30pm
in the Downtown Market banquet room from 10am-1:30pm
Allen Market Place CSA Fair
Sunday, February 26th, 12-4pm
Allen Market Place, 1629 E. Kalamazoo St., Lansing, MI 48912
https://www.facebook.com/events/419574058384347/
For more information about CSAs, check out Local Harvest and the Fair Share Coalition online.