Celebrating one year of the 988 National Suicide and Crisis Lifeline
The 988 Suicide and Crisis Lifeline has accomplished a lot in its first year and has plans for continual improvement.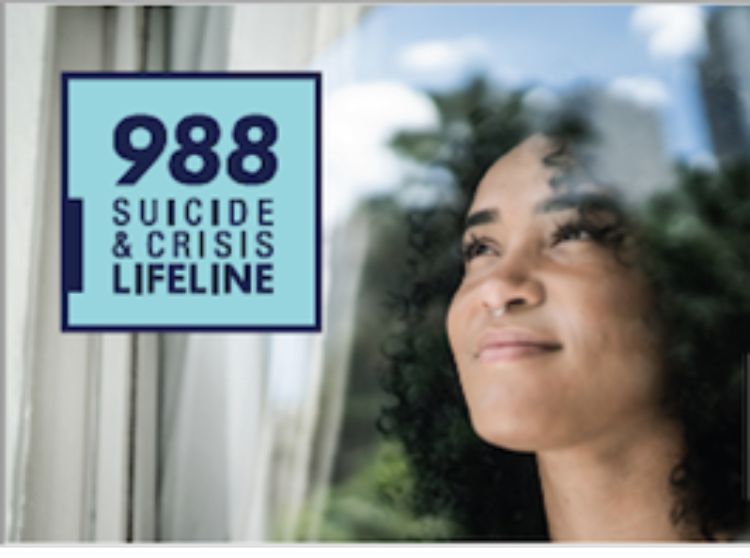 What is 988?
Vibrant Emotional Health and Mental Health America reported that in 2020, Congress passed a bill that required the Federal Communications Commission to implement 9-8-8 as the national number for suicide prevention, substance use and mental health emergencies. This service launched one year ago this month and is known as the 988 Suicide & Crisis Lifeline. 988 is a free, nationwide resource that can be reached over the phone, via text or through online chat for immediate 24/7 access to trained mental health crisis clinicians. More is written about 988 in the following articles:
Why is 988 important?
Far too many Americans experience mental health distress without the accessible, affordable, and stigma-free care and support needed for healing and recovery. There is a pressing need for both emergency and ongoing mental health services in the United States, and 988 is one part of the change taking place to ensure that more people have access to care when and where they need it. The latest statistics from the Centers for Disease Control and Prevention for 2021 speak to the reality of the situation:
One person in the U.S. died by suicide every 11 minutes, totaling over 48,000 deaths.
American Indian, non-Hispanic Black and Alaskan Native people saw suicide rates increase significantly.
Suicide rates have almost continually increased since the year 2000.
Resources like 988 can support millions of people with their mental health, recovery, as well as help connect people to local resources.
The first year of 988
In its first year, 988 services have improved upon the existing National Suicide Prevention Lifeline (NSPL). According to the Substance Abuse and Mental Health Services Administration (SAMHSA) and Vibrant Emotional Health, In 988's first year, almost 5 million calls, chats, or text messages were made. This is double the number of calls or texts compared to 2021, when only 2.5 million calls were made to the NSPL. The increase in contacts could be due to a number of factors, but some of the likely causes are that more individuals know about 988 than the previous NSPL line and more individuals feel comfortable contacting 988 for help.
In addition to an increase in use, the experience for individuals using the 988 service has improved. According to SAMHSA, the average response time across all methods of communication started at over 2.5 minutes and has since decreased to 35 seconds. This means that currently when people contact a 988 crisis counselor, they no longer have to wait as long for a response which can lead to better outcomes.
SAMHSA's timeline on 988 also supports that some communities are having a better experience with 988 due to the addition of a LGBTQIA+ young adult specific crisis line. This specialty subset of 988 adds to the existing military veterans crisis line and Spanish-speaking crisis line.
Where is 988 headed?
It is anticipated that 988 will continue to grow rapidly beyond this first year. SAMHSA, the organization that operates 988, has shared its vision for the future for someone experiencing a mental health concern:
Someone to talk to. A 24/7 staffed line for those in or presumed to be experiencing a mental health emergency to call (988).
Someone to respond and support. Mobile Crisis Response (MCR) teams made up of behavioral health professionals and trained peers who can respond instead of law enforcement.
Someplace safe to go if needed. Access to facilities other than hospital emergency rooms that can provide mental health crisis stabilization services.
According to SAMHSA, 988 is funded primarily through the federal government with plans to invest at the same level in the coming year. States and territories are expected to contribute leveraged grants and Medicaid funds that will aid in the long-term sustainability of the line and the vision for the continuum of services mentioned above. In the meantime, there are some exciting new increased supports to celebrate on this one-year anniversary:
What can I do to promote 988 and mental health?
As the 988 Suicide and Crisis Lifeline continues to expand in reach and impact, it is important that everyone becomes familiar with the resource. SAMHSA has created a free 988 partner toolkit with a variety of marketing materials to promote 988 through print, radio or social media. The Michigan Crisis and Access Line also has Michigan-specific materials available to be printed or shared online. They detail when to call 988, contrast 988 vs. 911, show a state coverage map, and describe what to expect upon contacting the lifeline. Sharing information about 988 with our family, friends and community members can help them get the support they need.
As we reflect on the first year of the 988 Suicide and Crisis Lifeline and celebrate its success, it is important to know that there are many things we can do to support the mental health of our communities on top of promoting 988.
This includes continuing the conversation about mental health to decrease stigma and helping to connect our friends and family to appropriate self-care activities and professional care. Many individuals know someone whose life has been affected by a mental health crisis, yet may not know how to help support that person.
MSU Extension provides Mental Health First Aid (MHFA) and Youth MHFA training, which teach adults how to help the people in their lives who may experience mental health challenges. MHFA is an evidence-based program that can teach anyone how to recognize and safely respond to the signs and symptoms of a mental health challenge or crisis. MSU Extension also has other programs that can help boost resilience and teach skills to help manage mental, emotional and social well-being.