What to expect when connecting with the 988 Suicide & Crisis Lifeline
Know what to expect if you or someone you know connects with the 988 Suicide & Crisis Lifeline.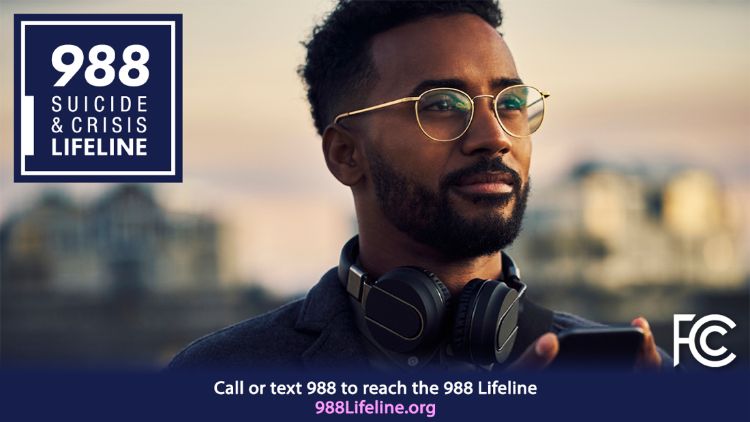 The 988 Suicide & Crisis Lifeline, known also as the 988 Lifeline, is a free nationwide hotline available 24/7 for anyone experiencing emotional distress or a suicidal crisis. This lifeline is active everyday for calls, chats or texts from anyone who needs support, whether for substance use crises, mental health-related distress or suicidal thoughts or behaviors.
You can also call, text or chat if you are worried about a loved one and unsure how to support that person or where to get help. The 988 Lifeline offers the same compassionate care and accessible support as the existing National Suicide Prevention Lifeline, only with an easier-to-remember number: 988.
While the 988 Lifeline number and 911 emergency number look similar, they serve different purposes. There are certain situations in which 988 crisis counselors will work with 911 first responders to help a person in crisis. You can learn more at 988 Suicide and Crisis Lifeline Launched and 988 Frequently Asked Questions.
What can you expect when you call?
The average wait time is seven minutes or less for calls, texts and chats.
According to the National Suicide Prevention Lifeline, when you call 988, there will first be directions on accessing the right line for your needs. You can dial 1 for the veterans' crisis line, dial 2 for the Spanish line, or dial 3 for specialized support for LGBTQIA+ youth and young adults (under the age of 25).
You can choose one of these lines if they apply to you. If not, then there will be a brief pause, and your call will automatically be routed to a trained crisis counselor based on your phone number's area code. Some music will play during the wait for the call transfer. The average wait time for a phone call is under one minute.
What can you expect when you chat?
If you chat with the 988 Lifeline online, you will be asked to voluntarily answer a short questionnaire about the crisis and your contact information. The average wait time for a response once the questionnaire is answered is less than three minutes.
What can you expect when you text?
If you text the 988 Lifeline, you can expect to answer a short questionnaire like the one described above. The average wait time for a response is about seven minutes. More information about these wait times can be found in the 988 Crisis Jam video. Please know that your wait time for calls, texts, and chats may be shorter or longer than the average depending on call, text or chat volume and the number of 988 counselors in your area.
Whichever option you choose to connect with a 988 counselor, you will be assisted. You do not have to experience a crisis alone. There is hope for feeling better and recovering from mental health and substance use challenges with the right support and resources. Find more information about hope for recovery from SAMHSA.
Opportunities to connect
Michigan State University Extension also offers a variety of programming and resources to support yourself or loved ones undergoing mental health distress. MSU Extension offers programs such as Mental Health First Aid, which can teach you how to support someone who is experiencing a mental health challenge or crisis.
For those in the agriculture industry and their families, resources and information can be found at the Managing Farm Stress website. This includes access to teletherapy services, the free virtual training Rural Resilience and much more.