Colton Schlitters loves horticulture because he can work outside and have a positive environmental impact
Horticulture student Colton Schlitters plans to work in the landscape and nursery industry upon graduating in May 2020.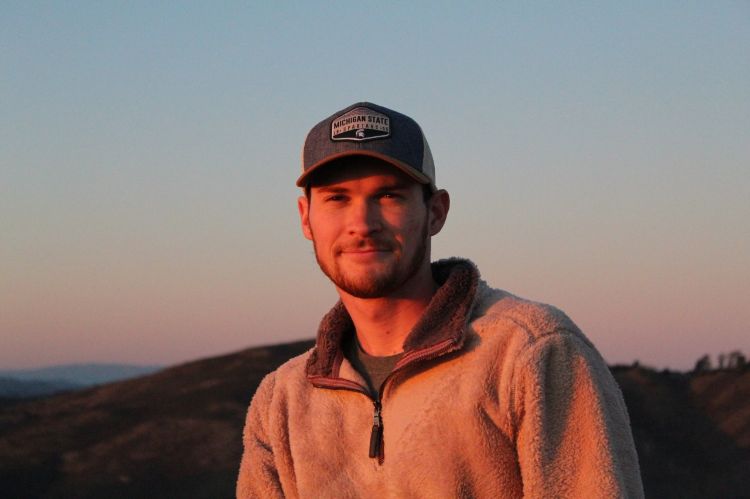 Featured Student: Colton Schlitters
What is your horticulture concentration and graduation date?
I am focused in landscape design, construction, and management and I will be graduating in May of 2020.
How did you first get interested in horticulture?
I started as a kid helping my dad with our vegetable garden for years. I was in school for physical therapy for my first few years of college, and then I decided that being inside and doing paperwork wasn't really something I was going to enjoy for the rest of my life. So I started looking around at different areas and lining up my interests trying to pinpoint a career. The major interests were being outside, building, and having a positive environmental impact. I started working at a local nursery and landscape company and loved it. The owners, both MSU graduates, loved to teach people about plants and landscaping and I became a sponge for information.
What is your ideal job?
My ideal job is to work in the landscape and nursery side of horticulture. I would like to continue working in the field as a foreman and start transitioning to a landscape designer and pursue a career in design and sales.
What makes horticulture a unique industry with diverse career opportunities?
Horticulture is unique because of how broad of a field it is. When I first started going to MSU for horticulture, everybody's first two questions to me were "What does that mean?" And "What can you do with a degree like that?" I think it is so diverse because you could work on a green roof that provides a farm to table restaurant with their fresh vegetables, or you can work in wholesale production greenhouses, or you can climb trees as an arborist.
What would you say to encourage other students to explore horticulture?
A main point that always gets people interested is talking about the amount of open jobs in the field. There are so many opportunities to grow in this industry as well as make a difference in the environment. It doesn't have to be as drastic as changing your major or switching your career path to explore horticulture. You can start off simple with a few houseplants and care guides to follow, read more about the industry opportunities, or just pick up some horticulture textbooks and get a deeper understanding of what horticulture is.