CSUS Faculty Spotlight: Lissy Goralnik
Dr. Lissy Goralnik shares her exciting journey to CSUS and how her field of study found her.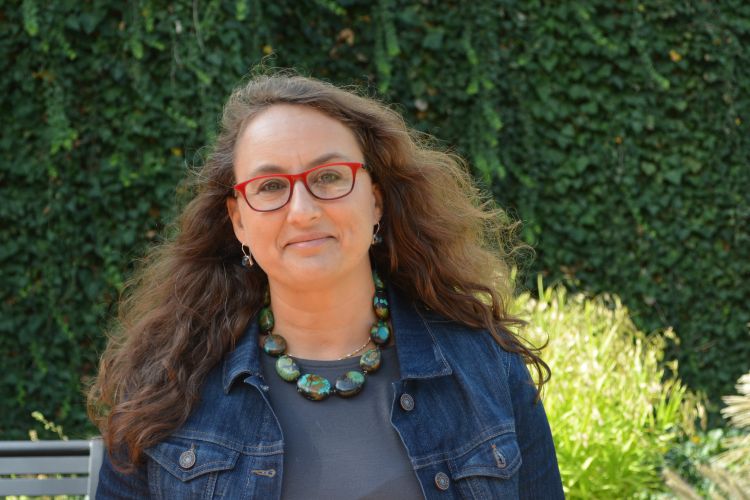 Name:
Departmental Home:
Department of Community Sustainability
Title:
Assistant Professor
What year did you join MSU?:
January 2017 as faculty
Jan 2012- May 2013 as a Visiting Assistant Professor in Lyman Briggs College
Fall 2007 – December 2011 for my PhD
Educational Background (undergraduate and graduate program):
Stanford University, BA English
University of Idaho, MFA Creative Writing
Michigan State University, PhD Fisheries and Wildlife
Oregon State University, Postdoctoral Scholar, Forest Ecosystems and Society
Hometown:
St. Louis, Missouri
Field of study or area of interest:
I'm a qualitative social scientist and work at the intersection of experiential learning, environmental ethics, and community engagement, with a particular focus on place relationships. I'm interested in the ways that connections to place - the sentimental, practical, psychological, and social meaning that places hold - catalyze care and responsibility for landscapes, communities, and the interplay between them. I work across several sustainability and conservation contexts, including urban agriculture, environmental education, natural resources restoration, community development, and art-science integration.
Why did you choose to pursue your area of interest or field of study?
I suppose it found me. I was an English major in college and spent my summers in the mountains, then after college moved to a mountain town where I focused on building my outdoor resume. After that I moved to San Francisco and worked as a naturalist with school groups during the year and led wilderness leadership courses in the summer out West. It was great, but I missed writing, so I took a night class, then went back to school for creative writing in Idaho. There I tried to bring my outdoor life into my writing classroom through the books we read, and writing life into the field by sharing poetry on my courses. But I was forcing it, and I realized that to tell the kinds of stories I wanted, I needed more science. So I went back to school. For my PhD I developed a field course in Isle Royale National Park, which bridged place-based ecology, environmental ethics, and nature writing. Essentially, I was studying the impacts of place-based interdisciplinary engagement on stewardship and care for the natural world. And that's been the core of my work ever since. I still write a bit of nonfiction, but my creative life primarily informs my work with artists and writers in the field now. During my postdoc I began studying arts and humanities integration at ecological field sites and visited a program in Fairbanks, Alaska, where I met my collaborator, Mary Beth Leigh. Neither of us knew then how impactful that trip would be. But here we are, a decade later. We now co-facilitate the Fairbanks program, have a long-running research partnership, and consult for other programs.
What is one exciting thing you're currently working on?
I work with the Long-Term Ecological Research (LTER) network to explore the integration of arts and humanities at ecological field stations. I study why creative work has emerged at these science-focused sites, what it contributes to the work at the sites, and the nature of place-based interdisciplinary dynamics. Most of my recent work is with program I co-facilitate in Fairbanks, Alaska, called In a Time of Change. It's affiliated with the Bonanza Creek LTER site and the University of Alaska Institute for Arctic Biology. Through yearlong art-science residencies that explore themes related to the far North (boreal forest dynamics, climate change, fire), we investigate how place experience impacts artists' understanding of place-based science, perception of the scientific process, and creative process. We also host touring exhibits of the art-science work the residents create, and at these events we investigate the ways art-science exhibits impact audience attitudes about science, place relationships, and emotional engagement with environmental issues. Our last show opened to an audience of several thousand in fall 2022 at Arctic Fest, a new biennial art, science, Indigenous knowledge, and innovation festival in Fairbanks my colleagues started. The exhibit is currently touring Alaska through 2025, and we will collect audience surveys at each show. I interviewed participating artists and scientists during Arctic Fest, which I'll write about this fall, and we're working on a book about the program that will launch in fall 2024 at the next Arctic Fest.
What's the best part about your job?
I love working in and with the community. I get to spend time with artists, writers, farmers, educators, nonprofit organizers, natural resources agents, local governments, museums, and state and federal agencies to do place-based projects, and that's really fun and worthwhile. I love sharing this work with my students, either through field trips and projects in CSUS 301 and CSUS 445, or through my graduate students' collaborations with community organizations like the Greater Lansing Foodbank Garden Project and the Northwest Initiative Mobile Farmers Market. I also just love mentoring and learning with the graduate students in my group. They are doing such awesome and meaningful work, and it's exciting to share that process of discovery with them, learn about what they are reading, prime their curiosity, and grow ideas together.
What is one of the most impactful things you've done as a scholar at MSU?
Don't kill me, but the social scientist in me wants to ask: impactful how and for whom? For me? For my students? For my scholarly fields? For the community? How about this: One of the most enriching projects I've done at MSU was a collaboration with artist Jae Won Lee and designer Kelly Salchow MacArthur on plastic waste. My students in CSUS 301 hosted several plastic waste collection events and then worked with the Broad Art Museum and the MSU Recycling Center to develop community programming about plastic waste and artmaking. They also created a super successful (and exhausting!) plastic waste artmaking event at the DEQ Earth Day celebration for 2000 K-6 grade students. That summer I went on a retreat with Jae Won and Kelly at a cabin in the Oregon Coastal Range hosted by the Spring Creek Project for Ideas Nature and the Written Word. We spent a week cooking, hiking, developing our project, and making art with waste my students had collected on campus. During the next year, with the help of undergraduate researchers and artists, we had a collaborative exhibit that opened at the SCENE Metrospace gallery in East Lansing. Jae Won conceptualized and created the art; Kelly designed the exhibit, the posters, and the signage; and I sourced the material, crafted the text, and evaluated the exhibit experience. I loved seeing a project through so many stages, working with so many different campus and beyond-campus groups, and building a really special collaboration, and this project bridged so many of my interests, including undergrad education, community engagement, interdisciplinary collaboration, social science, and art-science events.
Who is an influential or inspiring person in your life or career?
Oh, I love this question. Do we just get one? Robin Wall Kimmerer, because she walks the talk, is as kind as she is wise, and was a nurturing mentor in my early career who straddles the lines of science, ethics, creative arts, and outdoor wonder so gracefully. Also, writers like Annie Dillard, who captivated my young mind and pushed boundaries in her work to make us think hard about what nature is and how we ought to relate to it. Thinkers like Joanna Macey, who models the balancing act of intellect and awe while both loving and grieving the world and doing the hard work to heal it. And poets like Mary Oliver who bring beauty and attention into our everyday lives. Also, all the learners and seekers and wanderers and dreamers whose adventures and wonder in the places I love remind me why we do the work we do.
When you're not working, what do you do?
Parenting my adorable toddler and snuggling my tiny dog, driving cross-country, camping, hiking, cooking, watching British TV. Singing along to earnest folk music. Playing with dolls and stuffies, taking long walks to the playground, and listening to audio books. Drinking too strong tea. Hanging at the farmers market. In my not-so-past-life, lots of sailing and backpacking.
What's the best advice you've ever received?
Write a personal mission statement to guide you when you make decisions about where to invest your energy, when to say yes, and when to draw boundaries.
Do you have any thoughts or advice to share with students?
Don't be afraid to take the circuitous route and be open to the possibility of surprise. There is no right path, and lots of ways to get where you're going, and where you land might not be where you thought you were headed in the first place. Follow your curiosity. It knows the way.