Does all food need a label?
Learn why food labels are required on food and what to look for if you are buying local.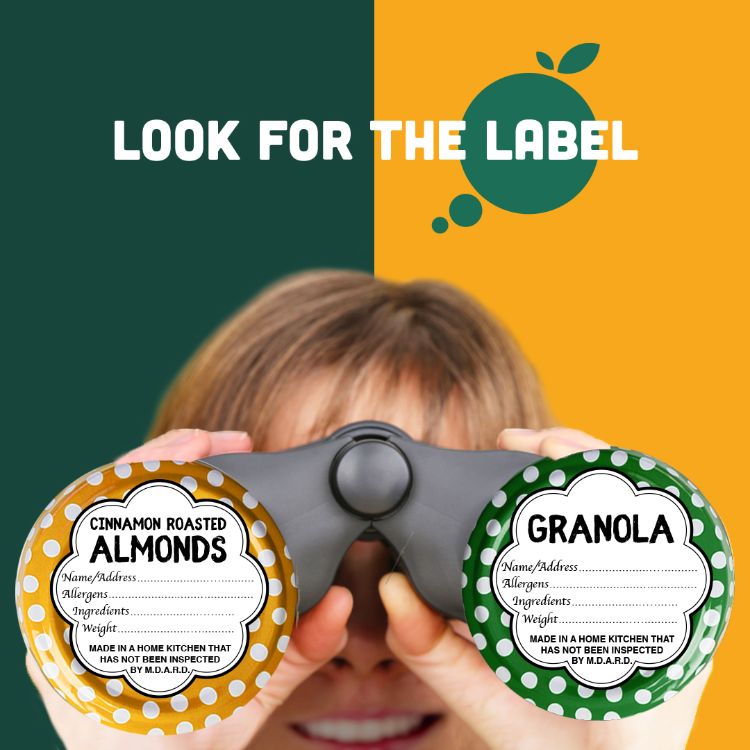 When purchasing food at the grocery store, it's expected to have a food label. At the farmers market, does that expectation change? The labeling of produce is voluntary; this is an exception. But what about the local vendor selling their homemade jam? Or cookies? Because we are talking about items that are not sold in a grocery store setting, do they still have to follow the same laws that commercially produced food products follow?
The answer is yes. The Food and Drug Administration (FDA), the branch of government responsible for helping keep our food safe, provides regulations and guidance on food labeling. Food items that are allowed to be made and sold from one's home without a license are called cottage foods. These foods fall under the Michigan Cottage Food Law. Each state may have their own law and there could be differences of what is allowed from state to state. Some of the items that are allowed in Michigan include bread, cookies, candy, popcorn, candied nuts and dried herbs. A complete list can be found at the Michigan Department of Agriculture and Rural Development's website.
Salsa, for example, is commonly found at a local farmers markets. But it is not a cottage food; therefore, a license is required to make and sell this. Regardless of whether the food you are purchasing is a licensed food or a cottage food, a label is required. While FDA oversees labels of licensed food, MDARD establishes the standards and guidance for the requirements of a cottage food label.
Essentially, there are five components necessary on the label of a licensed food product:
The statement of identity
The product's net weight
Manufacturer's address
Nutrition facts (there are some exemptions to requirements for the nutrition facts)
Ingredient list, which includes allergen labeling
Michigan's Cottage Food Law label requirements are very similar. The main difference is they do not require the nutrition facts to be listed, and they have to include a disclaimer that it was "Made in a Kitchen Not Inspected by the Michigan Department of Agriculture and Rural Development."
Food labels are important in order to allow customers to make informed choices about the food they buy. The label provides the information one needs to contact the manufacturer. Label laws are intended for your safety and protection. Without them, who would you, or a regulating agency, contact if there is a problem with the food? If you have an allergy to an ingredient, you may not know if the product contains the allergen unless they are listed on the label. Labels can also help one make informed choices for optimal health. The following is an example of a cottage food label:
MADE IN A HOME KITCHEN THAT HAS NOT BEEN INSPECTED BY THE MICHIGAN DEPARTMENT OF AGRICULTURE & RURAL DEVELOPMENT
Famous Chocolate Chip Cookie
Sweet Treat
456 Candy Lane
Anywhere, MI 82232
Ingredients: Enriched flour (Wheat flour, niacin, reduced iron, thiamine, mononitrate, riboflavin and folic acid), butter (milk, salt), chocolate chips (sugar, cocoa butter, butterfat (milk), Soy lecithin as an emulsifier), walnuts, sugar, eggs, salt, artificial vanilla extract, baking soda
Contains: wheat, eggs, milk, soy, walnuts
Net Wt. 3 oz (85.05 g)
So, the next time you purchase food from the farmers market, look for the label.
More information on Michigan's Cottage Food Law can be found on the MSU Extension website.
Follow our Think Food Safety page on Facebook and Instagram.