Dual BLA/MED degree spurs advances in design innovation and scholarly research
In 2011, the MSU Board of Trustees approved the Dual Degree BLA-MED pathway (Bachelor of Landscape Architecture and Master of Environmental Design).
The landscape architecture program of study at Michigan State University is the oldest offered in the United States, beginning in 1898. Since its inception, landscape architecture at MSU has held a national reputation for producing quality graduates through supporting and enhancing the university's foundations in the land grant mission, professional programs, liberal education, community engagement, and scholarship.
The 1960s educational model, consisting of of skill development at the professional bachelor's level and research development at the master's level, no longer serves to create the design professionals needed to compete in today's workplace. Professional design degrees such as landscape architecture require a strong blend of skill development, critical thinking, and creative application — what we call today "scholarly research activity."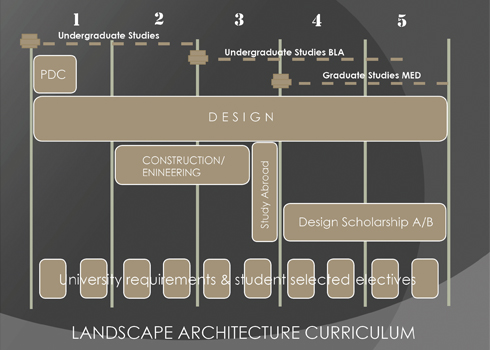 In 2011, the MSU Board of Trustees approved the Dual Degree BLA-MED pathway (Bachelor of Landscape Architecture and Master of Environmental Design). The joint degree maintains the core strength of the accredited BLA and integrates advanced learning and scholarship through the MED. The curriculum is infused with a depth of disciplinary knowledge and real-world applications with community and professional engagement. The dual degree places MSU as a leader in professional school education, balancing marketplace demands with advancing knowledge.
To achieve this vision, the BLA and MED degrees are seamlessly integrated into one program of study. The curriculum is structured along an "integrated course model," with increasing complexity as students progress through the years.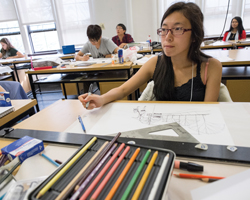 Design and creative thought lie at the center of the curriculum, expressed as a 10-course design studio sequence. The sequence begins in year one with two-dimensional abstract design principles, then progresses through the design process, detailed site design, site planning, master planning, and regional design before culminating in a graduate- level thesis and studio work. Construction runs concurrently alongside the central design thread during years two and three. An eight-week study abroad experience is integrated into the course sequence in the spring of year three.
The LA study abroad program started in 1978 and historically the majority, if not all, of the students have chosen to participate. Study abroad creates a transition point for students to the graduate course work and real- world application of knowledge and skills. Graduate-level courses in Theory, Methods, and Seminar run concurrently with the central design thread in years four-five. The student experience is enriched with 14 credit hours of self-selected electives and 54 credit hours of collateral, liberal, and general education courses.
Twenty-three (23) students have completed the dual-degree pathway between 2013 and 2017, and their scholarly research areas are as varied as the LA profession itself.
Visual Quality in a Rocky Mountain Environment. Kathleen Barry. 2017.
Perceptual Barriers to Therapeutic Landscapes in Healthcare Settings in Mid- Michigan. Emaley Baxter. 2015.
Perception of On-Premise Commercial Sign Regulations: A Comparison Between Designers and Non-Designers.Maleah Beatty. 2016.
Urban Wildlife Habitat: A Design Study of Green Infrastructure as Bird Habitat in Downtown Chicago.Nicholas Blok. 2017.
Design Thinking: Exploring Creativity in Higher Education. Janelle Bouchard. 2013.
Virtual Officing Trends in the Practice of Landscape Architecture.Doug Boyer. 2013.
Investigating the Landscape Design at Frank Lloyd Wright's Palmer House. Juliana Cerra. 2014.
The Perception of Time Waiting in Theme Park Queue Lines. Ellen Daniels. 2016.
Correlating Patterns in the Urban Landscape: Biophilia and Landscape Configuration. Kim Dietzel. 2016.
An Evaluation of Design: Low Impact Development vs. Traditional Design on a Site in Los Angeles, California. Morgan Haffey. 2017.
Lost Space and Artialised Space: Analyzing Photographic Representations in Paris. Xiao Hou. 2017.
Similarities and Dissimilarities of Landscape Artists. Na Li. 2016
The Parallel Worlds of Park Masterplanning: A Case Study of the Development of Belle Isle, Detroit, Michigan. Hanbing Liang. 2017.
Learning Impacts of Cooperative and Traditional Internship Experiences. Katie Ling. 2016.
Assessing the Visual Quality of the Maxton Plains Alvars. Emily Prieskorn. 2016.
Reclaiming River Rouge, MI: An Ecological Approach. Rory Q. Hgde. 2013.
The Impact of Color on Children's Behavior. Bridget Safferman. 2015.
Public Preference for Winter Recreation and Willingness to Pay. Aaron Senchuk. 2017.
Perception of Hard and Natural Shorelines on Inland Lakes in Michigan. Marlena Smith. 2016.
Evaluating the Low Impact Development Performance on Different Design Scenarios. Hongwei Tian. 2016.
Assessing the Perception of Campus Green Space in Reducing Stress for Students at Michigan State University. Cresha Wee. 2017.
Cross Cultural Comparative Study of Burial Sites. Haoxuan Xu. 2017.
A Cluster Analysis Comparison for Classical Chinese Gardens with Modern Chinese Gardens. Yiwen Xu. 2015.