Landscape visiting scholars
Over the last 10 years, more than 20 visiting professors have come to the MSU Landscape Architecture Program to spend six to 12 months working with LA faculty and experiencing the United States.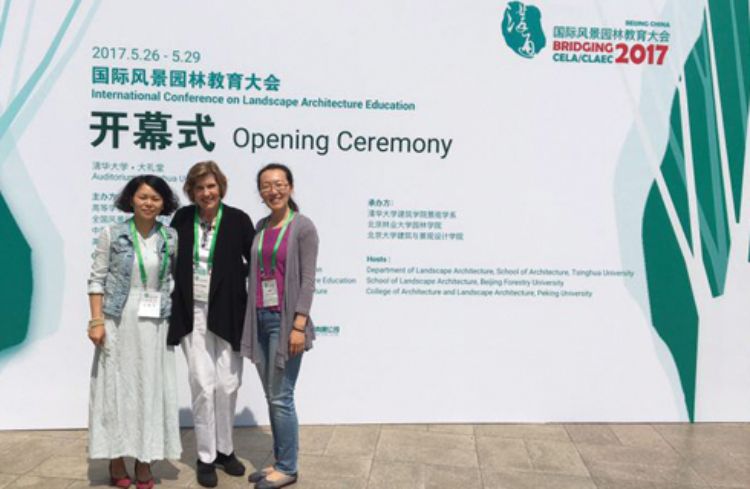 International perspectives, cooperation, and engagement have been important to me since I was a six-year-old boy living in Canada, when my mother's friends were Americans at the University of Alberta who either traveled to Africa to study people and animals, or who played music in concerts around the world. In high school, I had friends from India, Pakistan, United Kingdom, Malaysia, and Japan.
Entering academia, I always envisioned a very active international atmosphere. But in the beginning, such activity was limited and timid. At the University of Minnesota, all of my (very capable and kind) landscape instructors were Caucasian men from Minnesota or Wisconsin.
The MSU Landscape Architecture Program fared a little better with international participation because of Tom Hazletts's FASLA international aspirations, Professor Mezga's collegial relationship with professors in Poland, Warren Rauhe's professional activities with Turkish colleagues, and Dr. Westphal's interactions with Swedish professors. In addition, a few international students from Japan, South Korea, and Ireland enrolled in the LA program at MSU. But starting in about 2005, the intensity and level of activity began to increase.
MSU is often recognized in world rankings as a top-100 university. Numerous American universities have such a distinction, and academics and administrators from around the world desire to learn and gain experience from such exceptional institutions.
Most of the prestige and position for which universities around the world are constantly scrambling comes from obtaining research grants and publications. In this age of electronic and digital information, universities can be compared and evaluated, and American universities in the Big Ten have done well.
Over the last 10 years, more than 20 visiting professors have come to the MSU Landscape Architecture Program to spend 6 to 12 months working with LA faculty and experiencing the United States. The visiting scholars have come primarily from China, with others from Turkey and Japan. In addition, there are frequent visits to the MSU LA Program from faculty in France and Portugal.
Visiting scholars are impressed with the international composition of the School of Planning, Design and Construction. The school has professors from Australia, South Korea, Turkey, India, China, South America, and Egypt.
Many universities around the world are not truly internationalized, employing mostly professors from their own countries. It may be difficult for some nations to use its tax revenues to fund a position held by someone from another country, and so academic positions are a little bit like internal employment opportunities for smart, talented people. Not everywhere is like that, but comparatively speaking, American universities are much more diverse.
Compared to LA programs around the world, I believe that Big Ten-affiliated LA programs are more focused on knowledge-building and research, especially for graduate students. Such university-wide attention has helped to keep many Big Ten schools in the top 100 rankings. According to the US News & World Report's Best Global Universities for 2016, the top Big Ten universities rank as follows:
School Rank
University of Michigan 17
Northwestern University 25
University of Wisconsin 29
University of Minnesota 38
University of Maryland 40
Ohio State University 43
University of Illinois 47
Penn State University 56
Michigan State University 78
Rutgers University 82
Purdue University 90
This is an impressive showing among the 14 schools of the Big Ten—most countries do not have any of their universities in the top 100, and the Big Ten has 11.
The LA program at MSU has a long history, and landscape architectural academics from around the world inquire about opportunities to collaborate in order to interact with our faculty and to learn more about teaching methods and conducting high quality research. Much of the MSU LA program may have been strongly focused on the State of Michigan in the 1960s and 1970s, but now it is the combined focus on the world and the State of Michigan together that enriches the academic atmosphere at MSU.