E. B. Hill and the Farm Management Roots of MSU Agricultural Economics
The history Elton B. Hill, a Michigan pioneer in the science of farm management and co-founder in 1949 of the Michigan State College Department of Agricultural Economics
The department we know today as Agricultural, Food, and Resource Economics grew from two roots. The root in farm management helped Michigan farmers to prosper by treating their farms like businesses. The root in market economics helped them to anticipate prices and the effects of public policy. This article tells the story of Elton B. Hill, a Michigan pioneer in the science of farm management and co-founder in 1949 of the Michigan State College Department of Agricultural Economics. We "stand on the shoulders of giants," wrote Sir Isaac Newton. E.B. Hill was one such giant.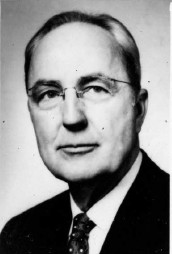 E.B. Hill completed his bachelor's degree at Michigan Agricultural College in 1915. He was part of a Michigan on the cusp of change, change in which he would play a major role. He studied in a spanking new Agricultural Hall, the second structure on campus built with steel girders. Visitors to M.A.C. mostly travelled by trolley or by horse-drawn carriage.
Agriculture in 1915 in Michigan—indeed in America—looked much as it had in the 19th century. Although R.E. Olds had begun building automobiles in Lansing in 1901, motorized tractors were unknown on Michigan farms, which relied on hard labor by farmers, mules, and horses.
The concept of scientific agriculture was radical, but beginning to take hold at M.A.C. and elsewhere. During E.B. Hill's undergraduate studies, M.A.C. conducted its first farm management research on the cost of milk production. Hill completed his Masters of Agriculture degree at M.A.C., while working as a farm management extension agent. At the time, George Warren at Cornell University was running a state-of-the-art program in farm management based on farm record analysis. Hill went to study there, completing his Masters of Science degree in 1927.
Armed with the latest learning in the field, in 1928 E.B. Hill was named chairman of the new Department of Farm Management at his home institution, now called Michigan State College. Farm management focused on individual farms and how to improve farming decisions. E.B. Hill and his peers studied costs of production. They encouraged farmers to keep careful accounts to enable identifying what made some farms more successful. Hill's personal specialties included understanding what made for successful farms and identifying ways to transfer farm estates from one generation to the next. He and his faculty peers made frequent farm visits. His popular course on "Successful Michigan Farms" (Farm Mgt 404) put students on busses to visit leading farms and learn from their managers. Hill and his Extension colleagues also led tours by farmers to learn from other farmers about innovative management.
While E.B. Hill's department focused on profitability for individual farms, M.S.C.'s Department of Economics housed other faculty who studied agricultural prices and markets. During the Great Depression, farmers faced collapsing prices, making an understanding of markets and policy particularly important. Good farm management decisions depended not only on costs of production and improving productivity, but also on the prices received for farm products. The study of farm management and agricultural prices had been driving mergers of faculty elsewhere, at places like Cornell and University of Wisconsin. In 1949, M.S.C. followed suit, merging joining the faculty from Hill's Department of Farm Management with the price analysts from Economics into a new Department of Agricultural Economics under new leadership.
E.B. Hill's leadership in farm management continued to thrive under the new structure. The focus on farm record keeping that enabled farmers to compare their performance with that of similar farms became deeply engrained. In 1964, Michigan State University made history by offering the nation's first computerized service for farm record analysis. That year TelFarm (Today's Electronic Farm Records for Management) won the U.S. Department of Agriculture Award for Superior Service to Agriculture.
By the time that E.B. Hill retired in 1964, the farm management insights of Hill and his colleagues had helped to guide Michigan farmers through massive transformations in farming. The nation had undergone two world wars and the Great Depression. Hill had written scores of articles and extension bulletins. The department he took over in 1928 with 11 staff members had grown to 50. By 1964, most Michigan farms relied on tractors, synthetic fertilizers to boost crop yields, and pesticides to protect those yields.
While E.B. Hill's contributions were greatest in farm management applied to the research, teaching, and extension, he was professionally active at both the national and international levels. In 1942, before M.S.C. had even created a Department of Agricultural Economics, Hill was elected Vice President of the American Farm Economics Association at the national level. He was also among the pioneers in what became a hallmark of MSU agricultural economics: international engagement. He began with study tours to Europe during the 1930's to learn from farm economists there. During 1938-39, he served as Acting Head of the Department of Agricultural Economics at the University of Puerto Rico at Rio Piedras.
Today's MSU Department of Agricultural, Food, and Resource Economics bears a name with new adjectives that reflect a broadened mission from E.B. Hill's original Department of Farm Management. But we continue to learn from farm records through the TelFarm program and business records more broadly, gleaned around the world. What we are today continues to draw strength from the root extended by E.B. Hill and his farm management colleagues.
___________
NB: Most of the historical details here come from Elton B. Hill's history, "Then & Now 1906-1972: A Pictorial History of Agricultural Economics at Michigan State University," which can be found online at https://www.canr.msu.edu/afre/about/history.