East Michigan vegetable update – May 20, 2020
There were one or two good planting days in the last week. Now growers are waiting for some drying conditions.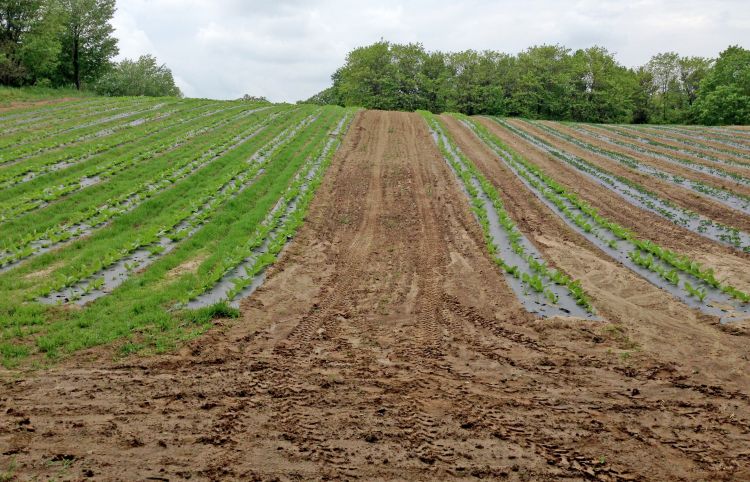 Weather
Frequent and heavy rainfall over the weekend has impacted growers in the Saginaw Valley region with flood conditions. Most of the region is a historical floodplain, now under annual bare soil cultivation, and it does not take much for that water to fill the network of ditches leading to the Bay and back up into fields and basements.
Most would agree they got more than they wanted and are now waiting for fields to dry out for continued planting. The warm temperatures in the low 70s/80s and the sun is concerning for those with flooded fields that are already planted. On one hand, those are good evaporation conditions, but on the other hand, there is too much water on some fields and the warmth will do more damage to young plants than good. Soil crusting may be an issue for some unemerged crops in some areas with enough water to evaporate off.
Up to 8 inches were received on the north and west side of the Bay, beyond the reach of any Michigan State University Enviroweather stations. Midland County is in a state of emergency with both the Edenville and Sanford dam failing on the Tittabawassee River. Residents west of Eastman Road and south of US-10 are evacuating.
Table 1. Rainfall accumulation and hours of rain from the region from May 12-19, 2020.

Station

Rainfall total (iches)

Hours with rainfall

Emmett

1.64

49

Fairgrove

2.61

39

Flint

2.85

47

Frankenmuth

2.67

43

Freeland

4.00

45

Kinde

2.92

38

Lapeer

1.90

37

Linwood

4.86

45

Munger

error

error

Pigeon

2.67

37

Romeo

2.24

42

Sandusky

2.04

34

Verona

2.34

39

Average

2.73

41.25
You can find more detailed weather information for your area by visiting the Enviroweather station closest to you:
Plasticulture effects after a big rain
One disadvantage of plasticulture is that when a field is 60% plastic beds, that means the remaining 40% is responsible for soaking up the water after a heavy rain. These fields will take longer to drain and hillside growers will sometimes see erosion and bed destruction from water moving through the channels creating by the plastic beds. Rye strips between plastic rows can reduce the erosion potential and can help soak up some of that water. However, rye is not very tall right now.
Preemergence herbicides after a big rain
One of the most important factors that affect the success of preemergence herbicides is the separation of the crop roots from the top 0.25-inch of soil where the herbicide is applied. With big rain events, we often see two effects: reduced weed control and increased crop damage. Basically, the layer of herbicide is moved down into the rootzone of our crop plants (damage) and out of the top quarter where it controls most annual weeds (loss of control).
Soil crusting after a big rain
Soils can form a hard crust on the surface after being saturated and evaporating. It is important for seeded crops to have this crust softened up by very shallow tillage between the rows, or light irrigation, though it may seem counterintuitive to irrigate a crop that was just underwater.
Vegetable crops
Last Wednesday, May 13, growers were firing away transplanting tomatoes, cole crops and seeding sweet corn across the region. Some rhubarb and asparagus picking has begun but there have not been good planting or bed prepartaion conditions since then.
Potatoes are in various stages of planting. Note, the winter was mild enough to not kill potatoes that were left in the field and some cull piles. So, good practice would be to kill these once they emerge to prevent any unmanaged plants that could carry late blight disease to new potatoes and tomatoes this year.
Label updates for Michigan vegetables
Command 3ME herbicide can be used on broccoli transplants now as of 2020 within 48 hours of transplanting. The crop may bleach and then grow out of it.
Four 24c labels for chlorothalonil have been approved for Michigan potato growers to increase their total application per year to 16 pounds active ingredient up from 11.25 pounds active ingredient. The labels with this new max rate are Bravo Weather Stik, Bravo Zn, Echo 90DF and Echo 720. The reason for the special label on multiple brands and formulations of the same active ingredient is to give growers options if or when one trade named product sells out.
Great Lakes Vegetable Producer's Network
MSU Extension is participating in a live, weekly roundtable discussion during the growing season for commercial vegetable producers in the Great Lakes and Midwest region. Join us! We broadcast live via Zoom at 12:30 p.m. ET/11:30 a.m. CT every Wednesday from the first week of May to the first week of September. You must register to be a part of the live audience. If you have a pressing vegetable production issue that you would like discussed, simply email it, along with your phone number, to greatlakesvegwg@gmail.com.
On-tap for next week, May 27: Pumpkin planting secrets revealed!
Please contact me at phill406@msu.edu or 616-901-7513 with questions, concerns, or to schedule a farm visit. You can also send plant materials to MSU Plant & Pest Diagnostics.