Empowering farmers, scientists in developing countries with new knowledge and technologies
Karim Maredia, the director of agriculture and natural resources international programs for CANR, has used his background in entomology and international development to help people all over the world.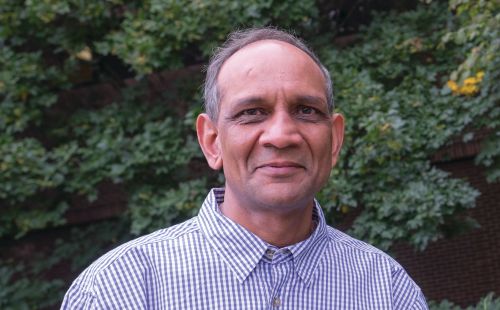 When Karim Maredia began his career as a research scientist in 1986, he was helping plant breeders create insect-resistant crops at the International Maize and Wheat Improvement Center in Mexico.
A formal training in agriculture prepared him to flourish in the field, but it was his informal introduction to pest management many years before that opened his eyes to farming challenges in developing countries.
As a child, Maredia, a professor in the Michigan State University Department of Entomology, used a broom to keep birds and insects away from harvested grains at his family's home in a rural Indian village. It wasn't the most formal version of integrated pest management, but he used the available resources.
"Farmers in developing countries simply don't have access to many of the tools and support services we do in the U.S., and it's one of the main reasons the productivity on their farms is low and they remain in poverty," Maredia said. "They resort to either doing nothing to treat insects and diseases, or they rely on ineffective measures."
Using his entomology background as a foundation, Maredia has spent his three-decade career helping others. Over that time, he's become one of the world's chief facilitators of agricultural capacity building — bringing plant biotechnology and policy knowledge to countries in Africa, Asia and Latin America.
Maredia has received funding from a variety of sources, including the Bill & Melinda Gates Foundation, U.S. Agency for International Development, the U.S. Department of Agriculture, the Food and Agriculture Organization of the United Nations, the Rockefeller Foundation and the World Bank among others.
In 2019, Maredia was named director of agriculture and natural resources international programs and senior global scholar for the MSU College of Agriculture and Natural Resources (CANR). His primary responsibility is to develop and maintain relationships with international partners, while positioning MSU faculty to deliver their expertise to areas in need.
Within CANR, he has launched a global scholars program that provides faculty abundant opportunities, including guidance and mentoring in international teaching, research and outreach. These scientists are addressing issues, such as food security and resource sustainability. The inaugural global scholars were named in January 2020.
"We're fortunate that MSU is home to some of the foremost experts in international development, agricultural systems and natural resources," Maredia said. "Our initial scholars cover a wide range of topics, from sustainable bioenergy systems to fisheries and soil health."
Maredia also serves as director of the MSU World Technology Access Program (WorldTAP), which delivers training on integrated pest management, food safety, biotechnology, intellectual property and technology transfer. Over the past 20 years, the WorldTAP team has led nearly 100 international training programs for more than 2,500 people from 80 countries.
In 2019, Maredia was tapped to lead MSU's portion of a multi-institutional project in Egypt alongside MSU AgBioResearch Director Doug Buhler. With funding from the U.S. Agency for International Development, a team from several universities is working to develop a Center of Excellence in Agriculture at Cairo University.
Like many African nations, Egypt faces an abundance of agricultural challenges. The project aims to equip Egyptian scientists with the skills to promote sustainable agriculture through mitigating climate change, plant diseases and pests, while bringing new technologies to the field.
"We've been collaborating in Egypt for more than 20 years," Maredia said. "MSU has provided me with the opportunity to establish relationships all over the world, and there is still much work to do. In the coming decades, we need to increase food production dramatically to meet the growing demand. That means establishing sustainable agricultural systems now."
This article was published in Futures, a magazine produced twice per year by Michigan State University AgBioResearch. To view past issues of Futures, visit www.futuresmagazine.msu.edu. For more information, email Holly Whetstone, editor, at whetst11@msu.edu or call 517-355-0123.