Empowering Michigan's Food Advocates: MLFCN's Legislative Education Day
Local food council members convened at the state capitol for advocacy training and to meet with lawmakers at event coordinated by the Michigan Local Food Council Network
At the new Heritage Hall in the Michigan State Capitol building, dedicated food council members gathered to hone skills needed to transform Michigan's food landscape. The Michigan Local Food Council Network (MLFCN), a part of MSU's Center for Regional Food Systems (CRFS), hosted a Legislative Education Day event on September 27, 2023 to provide an opportunity for local food councils and other network partners to engage lawmakers about needed food policy action. Eight councils from across the state attended the day-long gathering, as well as parent advocates from the Feeding MI Families project.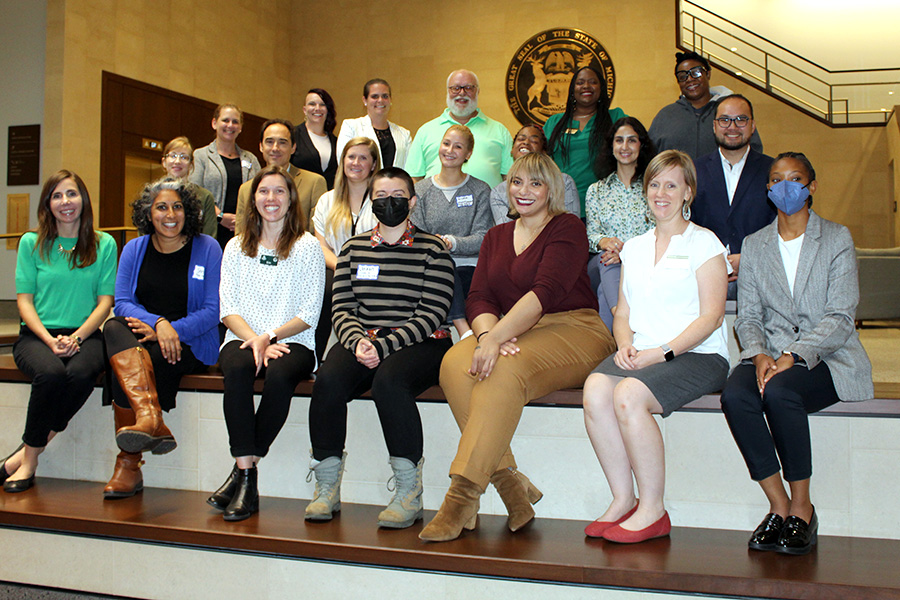 "Increasing the reach and power of Michigan community voices is one of the most powerful tools we have towards ending hunger, promoting sustainability, and increasing equity," said CRFS Director Jahi Johnson-Chappell. "The MLFCN team continues the Center for Regional Food Systems's long efforts towards a more socially and racially just food system in Michigan, grounded in supporting our residents to express their own expertise and experiences as effectively as possible."
Building Local Food Advocacy Capacity
Local food councils include representative community members and stakeholders across multiple sectors of their local food system. These community-driven groups champion local, and even statewide and federal, issues and policies impacting their regional food systems. The MLFCN supports these councils in Michigan by helping them advocate for their communities effectively. This includes building capacity to develop and implement local food policy goals.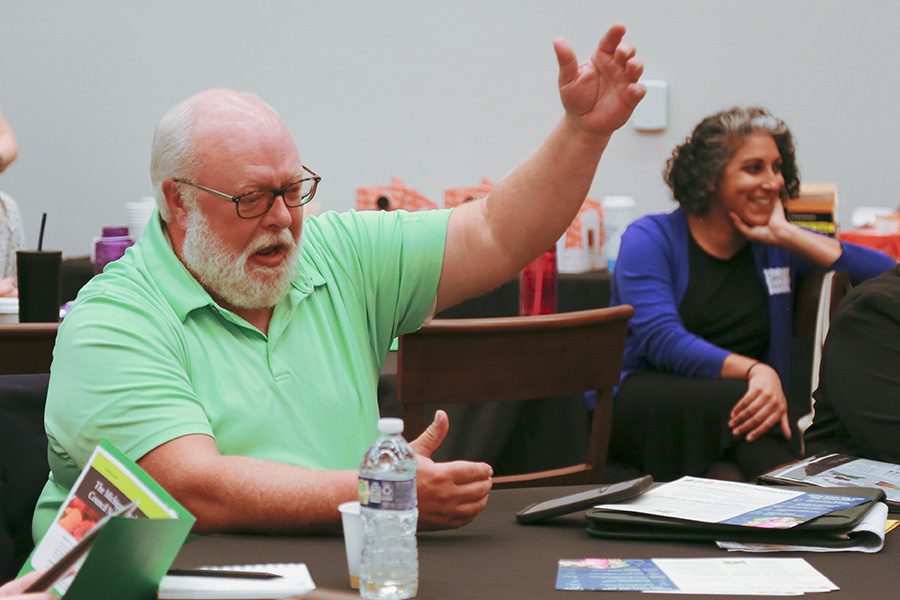 "Participating in the legislative conference sponsored by MLFCN, provides an opportunity to interact with legislators or their staff to educate, advocate and ask for support of specific projects," said Joe Bixler, founding board member of the Southside Initiative and President and CEO of the Thumb Food Policy Council. "As a local food council, we appreciate this coordinated effort by MLFCN. Our local food council has received great feedback and support for our efforts from our legislators."
Through peer-to-peer learning, hands-on training, and networking opportunities, MLFCN equips these councils with the tools and knowledge needed to make an impact. More experienced councils in attendance were a valuable resource for newer groups still building skills in this space.
"Working with the MLFCN, there is always a connection to be made or something new to learn. I have participated in cohorts and committees, and now the Legislative Day through this network," said Tina Swanton, CEO at the Saginaw Community Food Club and Kitchen and member of the Food Access Collaboration Team of Saginaw (FACTS). "Based on the knowledge and resources gained through the network, FACTS has been able to do a great deal of local work."
Beyond Policy: The Power of Relationships
MLFCN facilitators understand that effective advocacy goes beyond crafting policies; it's about building relationships. During the Legislative Education Day event, Stephanie Glidden, with Capitol Services, spoke to the attendees. She emphasized skills like message crafting, elevator pitches, and recognizing the importance of every legislative staff member. Council members were empowered to make their voices heard by sharing their unique local expertise with state-level representatives.
"MLFCN is excited to see more and more councils developing relationships with lawmakers," said MLFCN Grassroots Organizing Fellow, Jordan Lindsay. "This was the first step for some councils and community partners in developing these kinds of relationships and we're excited to see what ongoing follow-up and conversation can lead to in terms of food systems transformation in Michigan."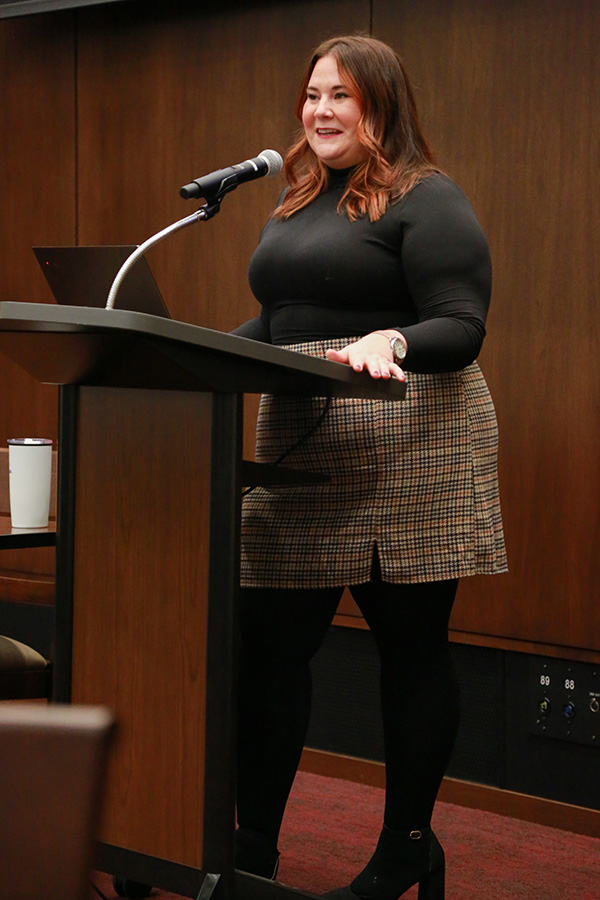 Megan Blue, director of government relations for Corewell Health and registered lobbyist, also spoke at the event emphasizing the importance of staff connections. She pointed out that legislative staff members are frequently the primary interface between legislators and constituents, emphasizing the significant role they play in successfully communicating policy objectives. She also explained that legislators often only have a few years of experience in their position and cannot be familiar with the subject matter of every bill brought before them, so are open to learning more from experts. The speakers focused on sharing practical and effective skills for participants to immediately implement. Participants transitioned from workshops to meetings with their representatives, translating soft skills into actionable change. The ultimate goal of the event was to establish lasting connections between legislators and local food policy experts.
Pitching for Progress
Preparation was key for the event. Food policy council members came to the event equipped with concise pitches and one-pager briefs that effectively communicated their strategic goals. MLFCN facilitators organized speakers both in advance and during the event to share their expertise and foster collaboration among council members statewide through virtual Zoom sessions. Liz Gensler, Local Food Council Specialist with CRFS, explained that training and preparation began in mid-summer for the early fall event. "We also aimed to provide ongoing training and space to help participants test out the messages they have created while engaging in other activities," explained Gensler. "We are cognizant of the deep resources our attendees are bringing in with them already. We support and amplify. Many of them came better prepared and trained than I could've ever prepped them!"
The MLFCN's Legislative Education Day event showcased the commitment of Michiganders passionate about their food systems. Attendees were reminded that change begins at the local level, and with the right training and support, those passionate individuals can transform their communities and their state.
"Legislative Education Day was one of the most exciting and impactful activities that we've completed as a team (and possibly that I've participated in during my career)," said University of Michigan Associate Professor, Kate Bauer. "I was nervous going into the day — 'Would our messages make sense? Would legislators care about our issues? Would I know how to respond to their questions?'"
Dr. Bauer attended the event as part of the Feeding MI Families project from the University of Michigan. Feeding MI Families works to build new ways for families facing food insecurity to access food with ease, dignity, and respect. Dr. Bauer said, "In retrospect, I had no reason to worry. MLFCN leadership and Stephanie Glidden prepared us so well for our conversations and the legislators' interest in our work validated why we are putting countless hours into Feeding MI Families. I came out of the day with a long list of follow-up tasks and information that I need to get to the Representatives and Senators. The day was just the beginning of a conversation about improving healthy food access for Michigan families."
As Michigan progresses toward a more sustainable, equitable, and resilient food system, the MLFCN and CRFS will continue to work on the leading edge of these efforts, fostering a network of advocates who are making a difference to local Michigan communities.
About the Michigan Local Food Council Network (MLFCN)
The Michigan Local Food Council Network (MLFCN) is a network coordinated through the Center for Regional Food Systems (CRFS) at Michigan State University. The MLFCN supports local food councils across Michigan in their efforts to build stronger, more equitable food systems through education, training, and advocacy.
About the Center for Regional Food Systems (CRFS)
The Michigan State University Center for Regional Food Systems advances regionally-rooted food systems through applied research, education, and outreach. We do this by uniting the knowledge and experience of diverse stakeholders with that of MSU faculty and staff. Our work fosters a thriving economy, equity, and sustainability for Michigan, the nation, and the planet by advancing systems that produce food that is healthy, green, fair, and affordable. Learn more at foodsystems.msu.edu.