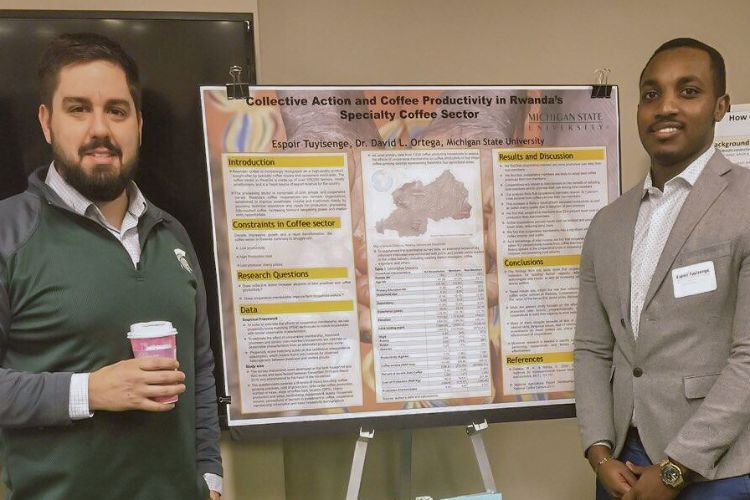 Three Department of Agricultural, Food, and Resource Economics (AFRE) students participated in this year's University Undergraduate Research and Arts Forum at Michigan State University, and Food Industry Management senior Espoir Tuyisenge won first place in the agriculture and animal science poster presentation competition for his research on, "Collective Action and Coffee Productivity in Rwanda's Specialty Coffee Sector."
Along with Tuyisenge, Environmental Economics and Management senior Joshua Knolls presented his poster, "Angeles National Forest: Characterizing Recreational Use and Users," with the mentorship of AFRE professor Frank Lupi, and AFRE graduate student Braeden Van Deynze and professor Scott Swinton provided guidance to Economics freshman Alison Ferer with her project, "What Makes a Farmer Willing and Able to Adopt No-Till Farming?"
Nearly 1,000 students presented their research and creative scholarship at the 20th edition of the forum. As a first place winner of a poster session, Tuyisenge was awarded $100 and the opportunity to be considered for the overall first place forum prize.
"I gained a lot from presenting my research at UURAF," said Tuyisenge. "Talking with others about my work made me realize just how significant this research could be." Tuyisenge continued, "I am thankful for the university for the opportunity to expand my knowledge into the research field, and for Dr. David Ortega's guidance and advice throughout the project. He is such a dedicated mentor and advisor who always challenged me to be as great as I can be. He inspired me a lot with his work ethic."
Under the mentorship of assistant professor David Ortega, Espoir Tuyisenge researched how cooperatives in his home country of Rwanda affect coffee farmers, their productivity, and their livelihood.
"It has been really neat to see Espoir grow as a scholar through this program," said faculty member and project mentor David Ortega. "He is very talented, and passionate about doing research to help the important agricultural sector of coffee in his home country."
Through quantitative data collection using a sample of more than 1000 farmers, Tuyisenge concluded that coffee cooperatives in Rwanda significantly increase farmers' use capacity of best practices, and therefore increase coffee plant productivity, farmer profitability, and overall welfare.
"The process of developing and executing this research project has had a big effect on my career path," said Tuyisenge. "I've always had plans of going back home to Rwanda to work in the agriculture field, but this project got me interested in extending my research work, to understand the problems that industry is facing."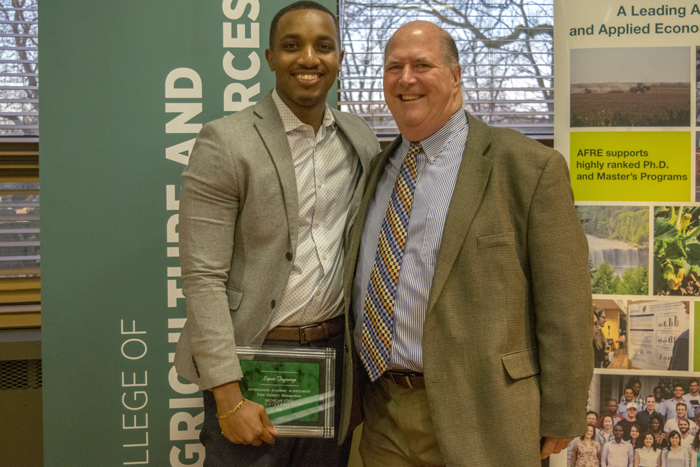 After graduation in May, Tuyisenge will spend the summer in Rwanda interning in the agriculture field before returning to North America, to start his graduate studies at the University of British Columbia. A Mastercard Foundation Scholarship recipient at MSU, Tuyisenge also received a Mastercard Foundation Scholarship while he earns his MS.
"I'm looking forward to my time in British Columbia — my goal is to take what I've learned from this summer while working in Rwanda, and focus my research on solving the critical problems there."
Tuyisenge also received the Outstanding Academic Achievement Award for the Food Industry Management major, presented to him at the AFRE Awards Night on April 19, 2018.