Essential elements of 4-H: Generosity
Youth learn life skills through helping others and having an impact on their communities.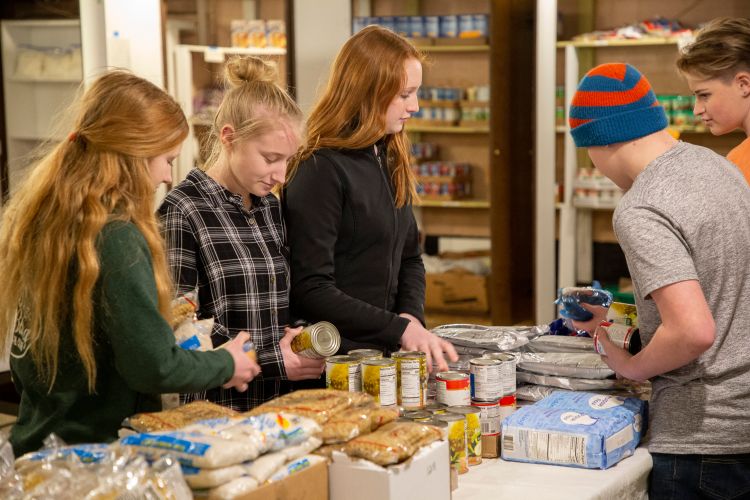 There are many ways to describe how 4-H youth programs work to enhance positive youth development. One way is to think about the essential elements of a 4-H experience, developed by National 4-H Headquarters. The components of mastery, belonging, generosity and independence all interact to provide a positive learning environment for youth. Michigan State University Extension recommends considering how each element can be fostered and improved in various 4-H settings.
Generosity is a concept that can be encouraged at all age levels and in every project area. Youth can use experiences in their project area to engage with the larger community, and in doing so they will feel more connected themselves. Learning how to be helpful to others can take many shapes, from sewing dog toys for a local animal shelter, raising money for charity and to offering help to those impacted by disaster; every level of generosity helps youth see a world larger than themselves and how they can have meaning and purpose in it.
As youth broaden their perspectives, they will be able to see relevance in their project areas to everyday life as well as how concepts and systems are interrelated. This will also help participants understand how we as a community are responsible for each other and can increase their skills in empathy and compassion. As youth learn and practice generosity, they will also naturally increase their abilities in mastery, independence and belonging.
How can we enhance a sense of generosity among our youth? Here are a few ideas:
Brainstorm ideas with members. Let their interests and passions drive the process, and then strive to connect those interests with areas of need.
Plan a community service project or get involved with community projects. This is a great opportunity for students to practice their independence and giving them some structure can be helpful.
Ask organizations what they need. This is often overlooked when people are excited to make something that they are passionate about, but it doesn't take long to find a penguin with too many sweaters.
Support someone youth are already connected to—it can be very powerful. This could be helping with the fundraiser for the student in their community who has been diagnosed with a rare cancer, or helping an elderly neighbor rake their leaves. Help youth see these connections in their everyday lives or have them practice how they might offer help to someone.
Join the Dare to Serve campaign in the spring, which is connected with the National 4-H True Leaders in Service
Find resources on the Michigan 4-H Community Service and Service Learning
Helping 4-H members incorporate generosity into their projects will help them learn more about the world around them, connect them with their community in a meaningful way, and may even affect their career choices.
Michigan State University Extension and the Michigan 4-H Youth Development program helps to prepare youth as positive and engaged leaders and global citizens by providing educational experiences and resources for youth interested in developing knowledge and skills in these areas.
To learn about the positive impact of Michigan 4-H youth leadership, citizenship and service and global and cultural education programs, read our Impact Report: "Developing Civically Engaged Leaders." Additional impact reports, highlighting even more ways MSU Extension and Michigan 4-H have positively impacted individuals and communities can be downloaded from the MSU Extension website.