AFRE faculty members received departmental awards recognizing their outstanding efforts in outreach, teaching, research, and lifetime service at the annual AFRE meeting on May 10, 2019.
Congratulations to our AFRE faculty members who received departmental awards recognizing their outstanding efforts in outreach, teaching, research, and lifetime service at the annual AFRE meeting on May 10, 2019.
Excellence in Outreach: Saweda Liverpool- Tasie
Saweda Liverpool- Tasie is widely recognized in AFRE, across MSU and internationally for her strong collaborative research and outreach to African policymakers, the US government and the foundation development-assistance community. She engages with young scholars on-campus and off-campus across the African continent. Liverpool-Tasie has directly supported over 20 Nigerian researchers and indirectly trained over 200 graduate students as part of a USAID funded project to support Agricultural Policy in Nigeria through evidence-based research. Her program in Nigeria is organized teams composed of MSU scholars, and Nigerian faculty and students. These teams work with stakeholders to identify appropriate research questions. The composition and mode of operation of the teams generates high quality research outputs and stakeholder buy-in with the findings. From research question identification, to research design, data collection, data analysis, and writing for journal publication, Liverpool- Tasie's approach fully engages her mentees throughout the process. Following 2 years of training, mentoring, and apprenticeship as trainers, the 10 young mentees involved in the USAID project have in turn trained over 1000 Nigerians on data collection and analysis. Livepool- Tasie has won two university awards, and is recognized for making a significant impact on the advancement of international scholarship, teaching, and outreach.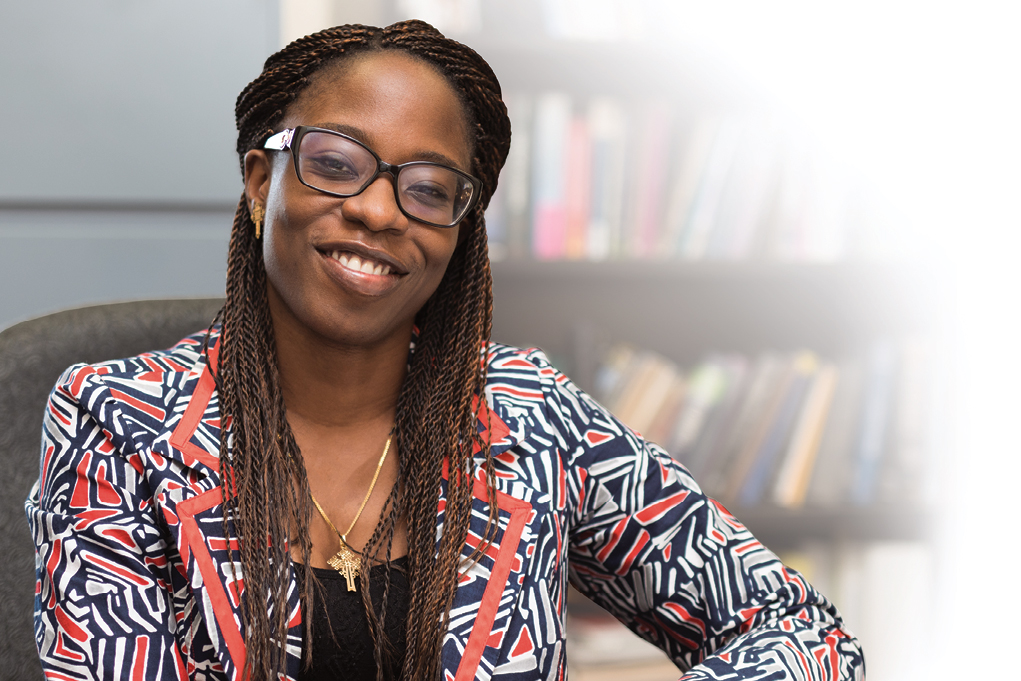 Excellence in Teaching: Nicole Mason- Wardell
Dr. Nicole Mason-Wardell is widely recognized by her students as being very thorough, highly involved and very effective. In the undergraduate course she teaches (ABM 203 - Data Analysis for the Agri-Food System), she is highly regarded by her students. To increase student-instructor interaction, Dr. Mason-Wardell incorporated the Top Hat active learning platform in this course to enable better assessment of students' pre-lecture preparedness and post-lecture knowledge of class material. Students in her class consider her course to be highly organized and very interactive. Since Dr. Mason-Wardell joined the department, she has made the development of the graduate program and graduate students a top priority. In 2018, she served on the graduate committees of 5 M.S. and 6 Ph.D. graduate students, chairing 2 and 3 of these committees respectively. At the graduate level, Dr. Nicole Mason-Wardell teaches two courses, AFRE 802 (Statistical Methods for Agricultural, Food, & Resource Economists) and AFRE 861 (Agriculture in Economic Development). In both, she received excellent student evaluations. By constantly incorporating new examples and infusing relevant journal articles, she has been able to deepen student learning while maintaining a high level of interest.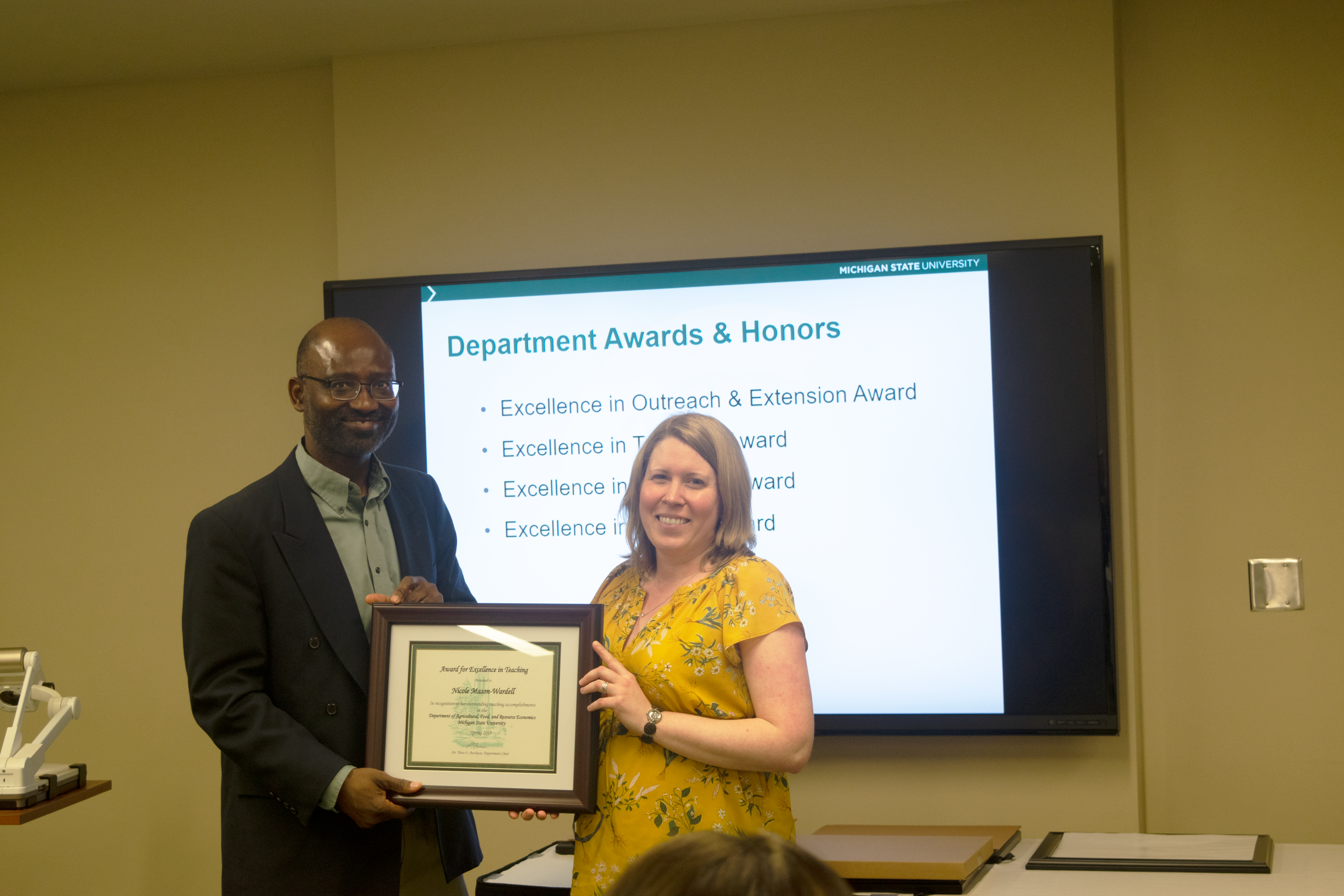 Excellence in Service: Scott Swinton
Scott Swinton has a long and distinguished history of professional service to AFRE, to MSU, and to the agricultural economics profession. Over the past three years, his disciplinary service has occurred at the highest level—as the elected President of the Agricultural and Applied Economics Association. During his tenure, Scott has successfully launched a new journal, Agricultural Economics Teaching Resources, established a mentoring program that matches senior and junior professors, and implemented childcare programs and anti-harassment policies designed to promote greater participation at the annual meetings by faculty with young families. Others, such as encouraging young economists in the AAEA to become more engaged and broadening the appeal of AAEA to new areas, are ongoing but making progress. While making these important contributions to the profession, Scott has also remained an engaged contributor to AFRE's research, extension, teaching and graduate programs. His activities embody the highest service ideals of MSU's historic Land Grant mission.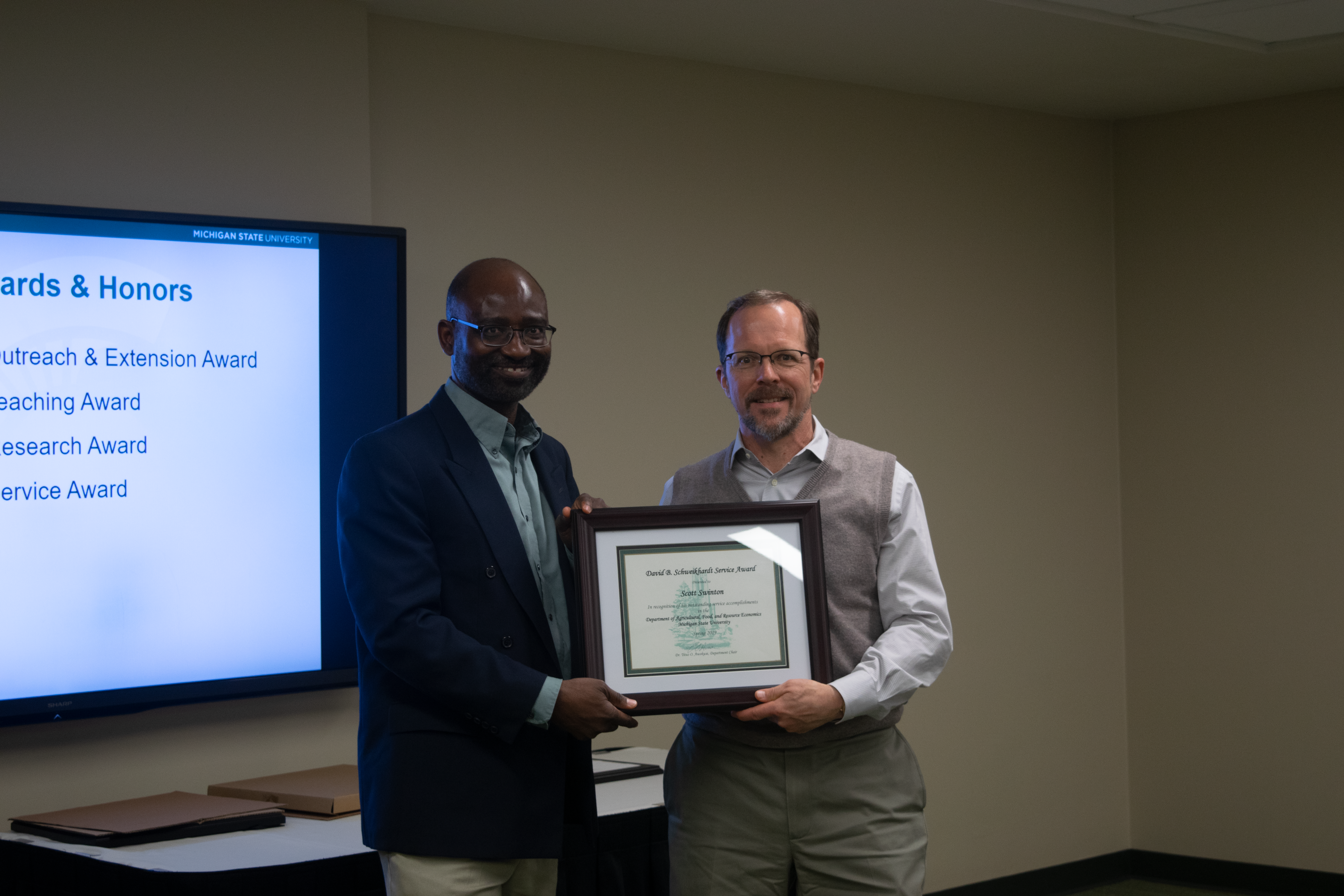 Excellence in Research: David Hennessy
In his role as the Elton R. Smith Chair, David Hennessy's research has focused on production agriculture and its interfaces with finance and risk management, industry organization, food safety, food quality, and the environment. In these arenas, his research emphasizes the integration of microeconomic theory with empirical analysis. Over the past three years, David has been prolific, publishing 16 articles in highly regarded journals such as American Journal of Agricultural Economics, Ecological Economics, Environmental Research Letters, Economic Theory, Journal of Agricultural Economics, Journal of Agricultural and Resource Economics, Journal of Economic Behavior and Organization, and Land Economics. His 2017 article co-written with Xiaodong Du and Hongli Feng "Rationality of Choices in Subsidized Crop Insurance Markets" received Honorable Mention for the Best AJAE article. In 2018, his paper co-written with his student Mary Doige and Hongli Feng "Rationality of Farmers' Weather Predictions and Insurance Purchases" won the AAEA Institutional and Behavioral Economic Section Best Paper Competition. David is known and respected internationally for applying creativity and rigor in his research, and for offering unique and important insights across a range of agricultural and food economics topics.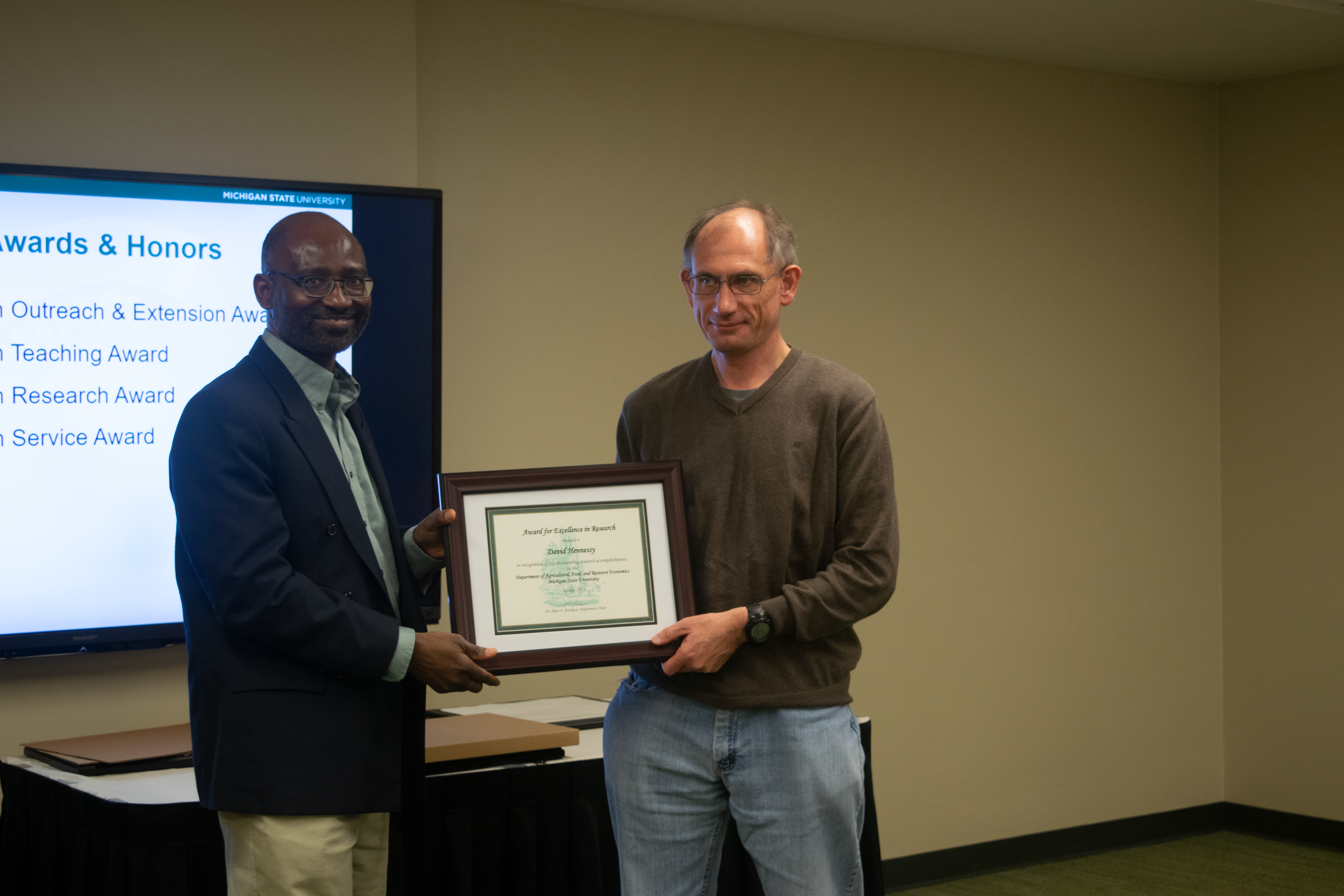 Lifetime Award for Distinguished Service: Jim Hilker
During his long career as a faculty member in AFRE, Jim Hilker has demonstrated a high level of commitment and dedication to service in various roles in support of the academic mission of MSU. Having served as the department's Director of Undergraduate Programs since 2006, Jim is the longest serving leader of AFRE's undergraduate affairs. During the course of his service in this role, he placed high priority on the needs of students, and he was a strong advocate for a holistic student experience. He provided leadership for multiple revisions and improvements to the undergraduate curricula. In addition, Jim also oversaw a period of significant growth in enrollment in AFRE's three undergraduate majors. Beyond his leadership of the undergraduate programs, Jim willingly volunteered to serve the department in many other capacities ranging from participating as member and chair in various ad hoc and standing committees to leading new faculty search committees. Also, Jim is well-known and sought after for his expertise as a leading extension marketing economist. For the past two decades, he has written the monthly articles on commodities outlook in the Michigan Farm News.