Food Bank Council of Michigan's Self-Sufficiency Standard Tool Calculates Income Needs for Residents
What does it take to make ends meet and cover basic needs in Michigan?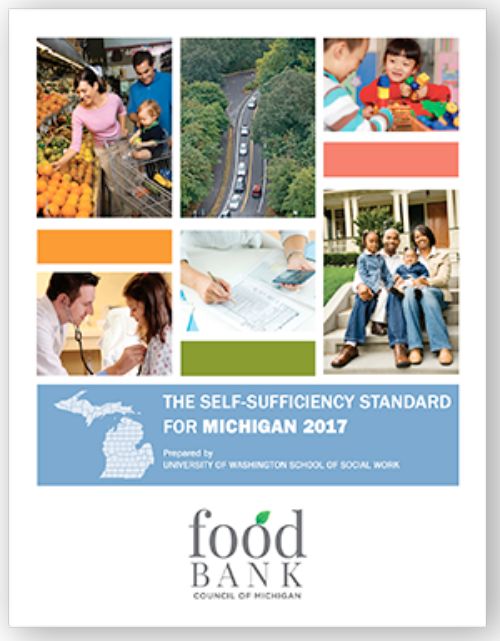 Estimates of the money it takes to cover basic needs vary widely, but one factor remains the same: the amount of money a household needs to survive is underestimated by the current measures.
When discussing poverty, the most readily available data cited is from the U.S. Census Bureau. Some consider this data the best snapshot of the economic status for individuals with low income.
Others, including the Food Bank Council of Michigan (FBCM), do not accept the data as it currently stands.
FBCM sought the assistance of distinguished researchers at the University of Washington who have authored the "Self-Sufficiency Standard" for most states across the nation. This is a much more accurate and up-to-date measure of income sufficiency.
FBCM quickly saw the impact the study can have for Michigan, and joined 38 other states who recognized a need for a more accurate measure of budget adequacy.
The Self-Sufficiency Standard details the wages needed for a person or household to be self-sufficient without the use of public or private assistance. It also takes into account geography and household composition (including age of children), providing a comprehensive baseline of the actual level of need for residents in every Michigan county.
The Standard goes even one step further by outlining how individuals and families can achieve financial independence without any support.
The result is a comprehensive report, The Self-Sufficiency Standard for Michigan 2017, detailing the basic needs budget for 719 unique household types, in each of Michigan's 83 counties. Basic needs include expenses for housing, child care, food, health care, transportation, miscellaneous living expenses and taxes.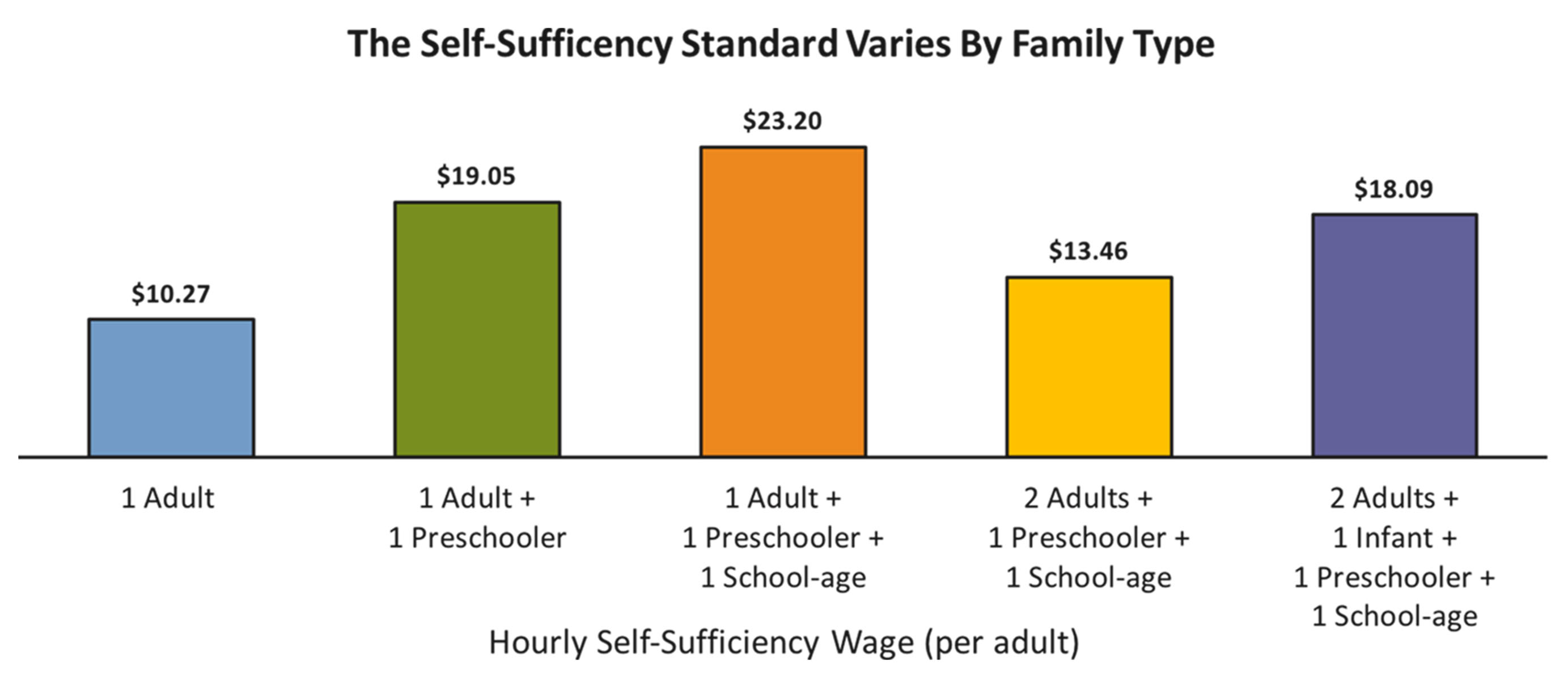 For a family with young children, where a parent(s) are often at the beginning of their career, it can be especially difficult to make ends meet. The cost of housing and child care make up a significantly larger portion of a household budget during this period.
In Ingham County, a household with one adult, one preschooler, and one school-aged child would need an annual income of $48,996 to cover basic needs expenses. If that caregiver's employment pays only minimum wage, it would take 104 working hours per week to meet basic needs.
The Federal Poverty Guideline for a family of three is $20,420. This is less than half of what the Self-Sufficiency Standard measures as needed to make ends meet. Incomes may be above the federal poverty measure, but still significantly lower than what is needed to make ends meet.
After assessing what budget is needed to cover basic needs, the Self-Sufficiency Standard takes into account the work supports that are available to help households fill out their budget. Programs like the Supplemental Nutrition Assistance Program (SNAP), child care assistance, and housing assistance and tax credits like the Earned Income Tax Credit (EITC) can be vital in helping individuals and families move from program participation to self-sufficiency.
Several members of the Michigan legislature have expressed interest in FBCM's self-sufficiency standard, showing their commitment to evaluating policies and practices to ensure that Michigan residents get the work support they need.
The Food Bank Council of Michigan believes that research of this kind will be pivotal to developing policy that significantly improves the lives of Michigan residents. Such research ensures that accurate data is available to help Michigan residents make progress toward economic security and financial independence.
The report, data tables, and an interactive tool can be accessed at www.fbcmich.org/selfsufficiencystandard.
For questions, please contact Kaitlin Skwir, Deputy Director of the Food Bank Council of Michigan at kskwir@fbcmich.org or 517-664-9904.