Food processors that use sesame as an ingredient need to update allergen statements by January 1, 2023
Sesame is the ninth major food allergen and must be identified on food labels, according to the FDA.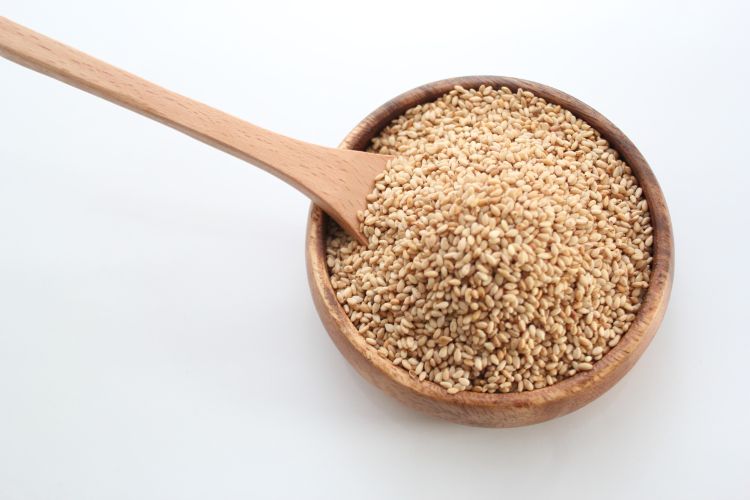 In 2004, the U.S. Congress passed the Food Allergen Labeling and Consumer Protection Act. This law identified eight foods as major allergens: milk, eggs, fish, shellfish, tree nuts, peanuts, wheat, and soybeans. On April 23, 2021, the Food Allergy Safety, Treatment, Education, and Research (FASTER) Act was signed into law, declaring sesame as the 9th major food allergen recognized by the United States. This change will become effective on January 1, 2023.
The Michigan State University (MSU) Extension Product Center encourages food processors to update product labels on items containing sesame before January 1, 2023, to ensure compliance with this new law.
In the early 2000s, the eight major allergens accounted for 90 percent of food allergies and serious allergic reactions throughout the nation. Law requires that foods or ingredients that contain a "major food allergen" be specifically labeled with the name of the allergen source. Congress passed these laws to make it easier for consumers who are allergic to foods and their caregivers to identify and avoid foods that contain major food allergens.
Law states that the name of the food source of a major food allergen must appear in at least one of two ways:
In parentheses following the name of the ingredient. Examples: "lecithin (soy)," "flour (wheat)," and "whey (milk)"; and/or
Immediately after or next to the list of ingredients in a "contains" statement. Example: "Contains wheat, milk, and soy."
Beginning January 1, 2023, this law will apply to sesame in addition to the eight other major food allergens.
Labeling requirements extend to retail and food-service establishments that package, label, and offer products for human consumption. However, labeling requirements do not apply to foods that are placed in a wrapper or container (such as paper or a box for a sandwich) following a customer's order at the point of purchase.
Consumers may also see advisory statements such as "may contain [allergen] or "produced in a facility that also uses [allergen]." These are used to address "cross-contact," which can occur when multiple foods with different allergen profiles are produced in the same facility using shared equipment or on the same production line, as the result of ineffective cleaning, or from the generation of dust or aerosols containing an allergen. May contain statements are common on labels of food products produced in a shared kitchen or incubator kitchen.
For more information on food allergen labeling, visit the U.S. Food and Drug Administration's (FDA) website on food allergies. In addition, food processors can contact the FDA's Center for Food Safety and Applied Nutrition (CFSAN) Food & Cosmetic Information Center for questions about food allergen requirements. Finally, view the FDA's food labeling guide here.
MSU Extension and the MSU Product Center are resources for food processors based in Michigan. The MSU Product Center is an organization that brings together on-campus expertise in the sectors of food, agriculture, and natural resources to help entrepreneurs define and launch businesses and products. Field-based innovation counselors advise entrepreneurs on business planning, regulatory requirements, and product development needs. To access business development assistance, select the "Become a Client" button on the MSU Product Center website or call 517-432-4608.