FoodCorps Expands the Food World for Michigan Kids
FoodCorps teams are hard at work in six Michigan schools, helping kids learn where their food comes from, how it's grown and how to make healthy food choices. FoodCorps is an AmeriCorps service organization that connects kids to healthy food in school.
August 4, 2017 - Author: Andrea King Collier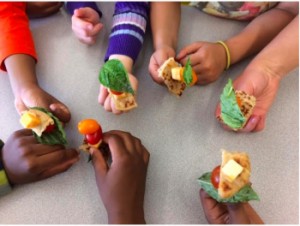 By: Andrea King Collier, Freelance Journalist and Author



It's not always easy to change the way school-aged children think about what they eat, and how it links up to their health and to their communities. But FoodCorps is creating awareness and change, one school at a time.
Daniel Marbury, the FoodCorps Central and Southern Regions Program Manager says,
"our goal in Michigan, like in the other states where we work, is to help kids grow up healthy and to help them build a relationship with healthy food." In Michigan, FoodCorps is active at six school sites, working in the classroom, in the garden and through engagement in the community.
Much of the transformative work that the FoodCorps members do is connecting kids with healthy food, starting in the school cafeterias. Marbury says, "half of many Michigan students' daily and weekly calories come from the food they eat at school."
The FoodCorps members assigned to schools work closely with the cafeteria staff and district administrators to help ensure that school-age kids are eating fresh and healthy food every day. Marbury says it is a true partnership where they work with the administrators, teachers, kids and their parents to create the healthy school food environment. He says, "the work of engaging the students in gardening and growing healthy food has helped to garner support for the work happening in schools and create new levels of volunteerism within the communities where there are FoodCorps programs."
The FoodCorps members across Michigan are creating the healthy food environment in the cafeteria, but are also working to shift the thinking around food and snacks at school celebrations and community events after school. "We spend a lot of time with parents and the Parent Teacher Organizations on ways to work together to support this," Marbury says.
In addition, FoodCorps members offer students a hands-on learning experience in the classroom and the school garden. Marbury says, "they have a lot of questions. They want to know why this food is good for you, and how to prepare the foods they grow." He adds that because of their experiences, the students are making their own decisions on eating healthy, based on what they learn.
"We work hard to connect the students to growing food, cooking it and meeting local farmers who are a part of the community," Marbury says. Over time, the students become actively engaged in the food process, by acting as kitchen leaders, taste testers, and making sure there are healthy choices on the salad bar in the school cafeteria. "After working with FoodCorps members, the kids themselves become our biggest fruits and veggies cheerleaders," Marbury says.
When FoodCorps launched nationally in 2011, they targeted bringing the program to schools in ten areas around the country, including Detroit, through a relationship they forged with Detroit Public Schools (DPS). Now, there are six Michigan locations including two Detroit sites, and locations in Northwest Michigan, Traverse City, Muskegon, and Flint.
Back in the early days in Flint, Marbury says there was just one FoodCorps member, "but we have been able to show what this kind of program can do for our kids." FoodCorps has drawn interest from other schools in the area, and "now we have six members working across Flint," Marbury says.
Part of the added interest has been in response to the Flint water crisis. "People wanted to be proactive about bringing fresh healthy foods to children in the district, especially now," Marbury says. "We know it is not the total solution, but we have been able to rally the community together to create a school garden committee, and build a sustainable direction moving forward."
Over time, the FoodCorps team has seen the benefit of recruiting and working with members who are already connected to the community where he or she will serve. "We have FoodCorps members who work in the program where they went to school," says Marbury" In fact, Marbury started his career with FoodCorps, as a member, working at a school site in his community.
FoodCorps is a part of the AmeriCorps Network of Service. Selected members are eligible for a stipend, tuition and student loan forbearance, health insurance and partial child care reimbursement. Marbury says that because of the college tuition benefits that the AmeriCorps network offers members, many people think that FoodCorps will only work with young college students. But he says that they look for all types of diversity, and recruit a variety of members from a host of ages and stages in their lives.
Marbury encourages people interested in working as a FoodCorps member in Michigan to check out their application process. For more information on the FoodCorps program and how it works, go to www.foodcorps.org.