From Growing to Selling: Flint Farmers Open Store of Michigan Products
Hear Erin Caudell and others from Flint speak about the Good Food movement in their community in a new video premiering at the Summit! Register today!
October 13, 2016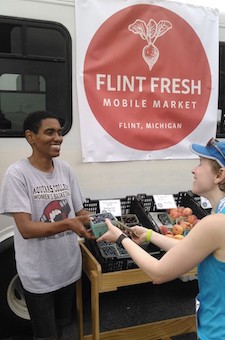 By Rachel Kelly, Center for Regional Food Systems


The Local Grocer is a Flint-based grocery store that sells foods grown and produced in Michigan. It is co-owned by partners Erin Caudell and Franklin Pleasant.

The story of the grocery store begins in Erin and Franklin's front yard, which they dug up in order to grow vegetables to sell at neighborhood markets. They named their farm the Flint Ingredient Company. Not long after, Erin and Franklin applied for a grant from Michigan Farmers Market Association's (MIFMA) "Hoophouses for Health" program, and received funds to build their first hoophouse. They purchase over nine acres of land from the Genesee County Land Bank in Beecher to expand the farm. They became vendors with another couple—also new farmers—at the old Flint Farmers Market under the name The Local Grocer. They soon learned that having value added products helped fill in for the times they didn't have a lot of produce. Erin and Franklin moved The Local Grocer to the new Flint Farmers Market location in 2014 and they started working with other local food growers and producers to sell on their behalf. They purchased produce directly from beginning farmers and carried a variety of locally produced food items, including many that were made in the Flint market's own commercial kitchen, Flint Food Works. This collaborative arrangement was helpful for producers who were unable to be at the farmers market on a regular basis, and ultimately created the foundation for Erin and Franklin's next step—The Local Grocer, a stand-alone grocery.
The Local Grocer is a full-service grocery store with a commitment to carrying foods grown or made in Michigan. Erin and Franklin sell a wide variety of produce from their own farm, where they favor organic production methods and grow heirloom breeds of fruits and vegetables. Other farms supplement the store's supply of produce in order to meet growing customer demand. The Local Grocer also has a Community Supported Agriculture (CSA) program, where customers can sign up for a share of the farm's produce during the summer months. Other popular store features include a "farm-to-table deli," Saturday and Sunday brunch, and grab-and-go healthy meals. The Local Grocer has helped small-scale Michigan farmers and food processors by giving them a consistent place to sell their products. In turn, these producers help The Local Grocer meet Flint's growing demand for healthy, fresh, local food. Erin is optimistic about the food scene in Flint and sees many opportunities for growers and food entrepreneurs. She says,
Local food is one of the most complex yet rewarding ways to change the system and really bring all these pieces and parts of the food system together that usually don't talk to each other…Everyone has opportunity to either grow [food] for sale or be on the other end of it and make changes in how you purchase food. [There are] lots of places to enter in and make changes and do what your community needs.
In late August of 2016, The Local Grocer partnered with several other local organizations to create Flint Fresh, a mobile market that brings fresh, healthy foods into Flint communities where access to such foods is limited. For further information on The Local Grocer, recipes featuring seasonal produce, and exciting food news, visit The Local Grocer's website and sign up for their mailing list. You can also follow The Local Grocer on Facebook. To receive updates and notifications about Flint Fresh mobile market, sign up for their newsletter.