Good Food Life: Jill Plesko
Marketing Coordinator, Greater Lansing Food Bank - Lansing Roots Farm, Lansing/Mason, MI
October 7, 2014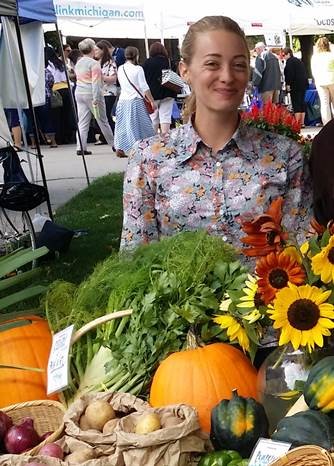 What is your role at Lansing Roots Farm?
JP: At Lansing Roots, my role is to help beginning, refugee, and historically under-served farmers develop and execute diversified crop production plans, and then coordinate markets that support said production. Most of this is with our Multi-grower Community Supported Agriculture program (CSA), a direct farm to table program that supplies families with a weekly box of fresh and healthy produce. I also work with the farmers to coordinate the sales of their produce to restaurants, grocery stores and at various special events.
How does Lansing Roots Farm work toward the goals of the Good Food Charter?
JP: By providing the land, equipment, technical assistance, and marketing opportunities for beginning farmers, we are able to reverse current trends of social and economic inequality by: improving economic livelihood for low-income individuals and families through farming, increasing the number of small-scale vegetable farmers, and improving food security for our community.
What do you find most exciting or inspiring about what you're doing?
JP: I am very excited and inspired by the current achievements and future possibilities of our incubator farm. Every day, meaningful connections are made. They occur when aspiring farmers learn new skills and have the opportunity to become a steward of the land, and when people's senses are enlivened by fresh and healthy produce that nourishes their bodies and souls. To me, this is what it's all about.
What opportunities do you see for moving towards the goals of the Michigan Good Food Charter and where do you see those leading in the next five to ten years?
JP: There is endless opportunity for creative marketing and consumer education. In the next five to ten years, beginning and established farmers, consumers, and Michigan as a whole will be stronger for having made the investment and commitment to these endeavors.
What is one thing you've learned through your experience with working towards the goals of the Good Food Charter that you'd like to share with others?
JP: There is a lot of untapped potential between food producers and consumers. From my experience, the only way that we will continue to grow is by directly supporting each other as we build these systems to promote the goals of the good food charter: thriving economies, sustainable communities, and equality for all.