Good Food Life: Olivia M. Rebanal
Olivia M. Rebanal, Director of Loan Programs, Capital Impact Partners - Capital Impact Partners is the Fund Administrator of the Michigan Good Food Fund.
June 28, 2016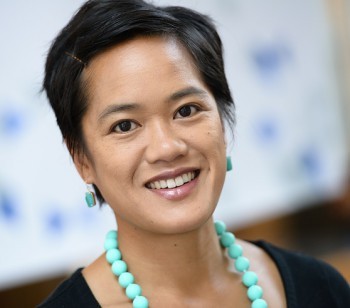 What is your role at Capital Impact Partners?
OMR: As Director of Loan programs for Capital Impact Partners, the fund administrator for the Michigan Good Food Fund (The Fund), I work in close collaboration with core partners Michigan State University's Center for Regional Food Systems, W.K. Kellogg Foundation and the Fair Food Network. Together, we implement The Fund.
How does Capital Impact Partners work towards the goals of the Good Food Charter?
OMR: The Michigan Good Food Fund is a healthy food financing arm of the Michigan Good Food Charter. Where the Charter envisions a thriving food system by 2020, the Fund is one way to advance the Charter's goals. The Fund provides financial and technical assistance to a variety of enterprises in the food system to strengthen and sustain and support their growth. The Fund directly works to fulfill the Charter's goal that strives for eighty percent of our residents to have easy access to affordable, fresh, healthy food. The Fund is a financing program making $30 million available to Michigan businesses to make progress toward that goal. Our goals are to improve access to healthy food as well as to drive economic development. All the while, The Fund has a particular lens toward equity, environmental stewardship, and local sourcing.
What do you find most exciting or inspiring about what you're doing?
OMR: The partnerships across so many stakeholders in the Michigan food system make this work inspiring and fun. Our peers in this work are so driven and passionate about making sure every Michigan resident has equitable access to food that is healthy, green, fair and affordable. I find working across this team the best part of this work.
What opportunities do you see for moving towards the goals of the Michigan Good Food Charter and where do you see those leading in the next five to ten years?
OMR: The Michigan food economy presents a huge opportunity. With this sector already contributing over $101 billion to our state economy, we want to ensure that we provide resources to food enterprises to make sure these businesses are healthy and financially sustainable. Through technical support assistance, like training sessions or business boot camps offered by The Fund, and through financial support, like a range of financing options offered by The Fund, we are invested in the food economy to make it even stronger.
What is one thing you've learned through your experience with working towards the goals of the Good Food Charter that you'd like to share with others?
OMR: There are so many of us working toward a common vision. Through this Good Food network, we can accelerate our work. I welcome the opportunity to learn more about the different facets of the Charter so I can advance that work in the sector where The Fund focuses on growing good food businesses through financial and technical assistance. I believe that a collaborative working spirit will help us reach and even exceed our goals by 2020.
For more information on Capital Impact Partners, please visit http://www.capitalimpact.org/ and for the Michigan Good Food Fund please visit http://migoodfoodfund.org/.