Congratulations to our many excellent graduate students who were honored at the AFRE Student Awards night on April 19, 2018, at the Kellogg Center.
Congratulations to our many excellent graduate students who have won awards and recognition for their outstanding research efforts, involvement in internal organizations, and success at national competitions.
These students were honored at the Department of Agricultural, Food, and Resource Economics Student Awards night on April 19, 2018, at the Kellogg Center at Michigan State University.
View photos from the event on the MSUAFRE Facebook album, and learn more about our undergraduate awards.
Outstanding Doctoral Dissertation Award: Joey Goeb
Dissertation Advisor: David Tschirley | "Information, Knowledge, and Demand for Substitute Health Inputs: Experimental Evidence of Pesticide Use in Zambia "
Joey was born and raised in Grand Rapids, Michigan. He received a bachelor's degree in economics from Hope College in May 2008 and started his Master's degree at MSU the following fall. In February 2010 – 5 days after defending his Master's thesis – Joey moved to Zambia to be an agricultural extension volunteer with the Peace Corps. His time in Zambia was transformational; he worked with and learned from some incredible farmers. He returned to MSU in 2012 to begin the AFRE Ph.D. program. In 2015, Joey went back to Zambia with his wife and 6‐month‐old son to collect data for his doctoral dissertation entitled "Information, Knowledge, and Demand for Substitute Health Inputs: Experimental Evidence of Pesticide Use in Zambia." His time in the Peace Corps provided the context and motivation for his research. He graduated from MSU in May 2017 and began working at Ford Motor Company in June. Joey likes to spend his limited free time outdoors playing sports or fishing, but more than anything, he loves spending time with his two children, Stephen and Clara, and his wife, Joy.
Outstanding Master's Thesis Award: Elena Dulys‐Nusbaum
Thesis Advisor: Scott Swinton | "Timber Residue Supply for Bioenergy in the Northern Tier of the Great Lakes: Determinants and Availability "
Elena Dulys grew up in Virginia, where she studied Environmental Policy & Planning at Virginia Tech. After graduating, she spent two years coordinating recycling, local food procurement, and commercial composting for the 30,000 meal/day dining program at the university. Working on impact analyses for dining centers' energy programs switched Elena's focus to quantitative work and she began her M.Sc. studies at Michigan State in August of 2012 as a Peace Corps Masters International Fellow. After a year of studies at MSU, she moved to rural Panama where she worked as a coffee extension agent and math teacher in a village of 100 people. Returning in 2015, she began work on her new Master's thesis after the contamination of her original field experiment in Panama, switching focus from organic management of the coffee borer beetle to timber biomass energy markets in the Northern Tier of the Great Lakes. While finishing her thesis, she began work analyzing energy efficiency programs for The Cadmus Group. In the middle of 2016, she moved to Boulder, Colorado to work for Simple Energy analyzing the efficacy of their behavioral energy efficiency programs. After a lot of late nights and early mornings, she finished her thesis in April of 2017. Elena is a proud dog mom of two rescue mutts from Panama and discovered a love of competitive ultra running in the Rocky Mountains. She has graduated to Data Scientist at Simple Energy and in addition to performing econometric work around impact analyses, now leverages machine learning to predict energy consumption and buying behavior for millions of people across the country.
---
Competition Teams
The International Food and Agribusiness Management Association (IFAMA)
First Place – 2017 International Student Case Competition, Intermediate Graduate Division. 27th IFAMA Forum Symposium and Case Competition. Miami, FL, June 18 – 21, 2017.
Graduate Students: Brian Bartle, Carolina Vargas, Stephen Morgan, and Samantha Padilla
Faculty Advisor: Brent Ross
The Agricultural & Applied Economics Association (AAEA)
First Place – Graduate Student Case Study Competition In Recognition of Superior Achievement in Agricultural & Applied Economics. Chicago, IL, July 31, 2017.
Graduate Students: Ryan Vroegindewey, Samantha Padilla, and Stephen Morgan
Faculty Advisor: John Kerr
---
Best Presentation Awards from AFRE Graduate Research Symposium, March 29‐30, 2018
Development Economics: Stephen Morgan: "Do Different Extension Approaches Affect Smallholder Farmers' Willingness‐to‐Pay for New Agricultural Technologies? Experimental Auction Results from Tanzania" (Advisor: Mason)
Applied Economics: Samantha Padilla: "Persistent Poverty in the United States: Is it a Poverty Trap? " (Advisor: Liverpool‐Tasie)
Environmental & Natural Resource Economics: Nathaly Rivera: "Is Mining an Environmental Disamenity? Evidence from Rental Prices in a Developing Country" (Advisors: Herriges, Loveridge, Lupi)
Consumer Choice: Wen Lin: "Effects of Personality on Demand for Genetically Modified Animal Products: A Cross‐Country Investigation" (Advisor: Ortega)
Agricultural Production & Risk: Asa Watten: "Insurance and Inter‐Season Cropping Decisions in an American Options Framework" (Advisor: Hennessy)
---
Committees
AFRE Graduate Student Organization Leaders and Graduate Policy Committee Student Representatives
Joshua Gill: President
Asa Watten: Vice President
AFRE Graduate Student Organization Officers: Tanner Cannors, Evgeniya Moskaleva, Danielle Kaminski, and Aakanksha Melkani, Asa Watten, Angelos Lagoudakis, Sean Posey, Sophia Tanner, Mary Doidge, Joshua Gill, and Christine Sauer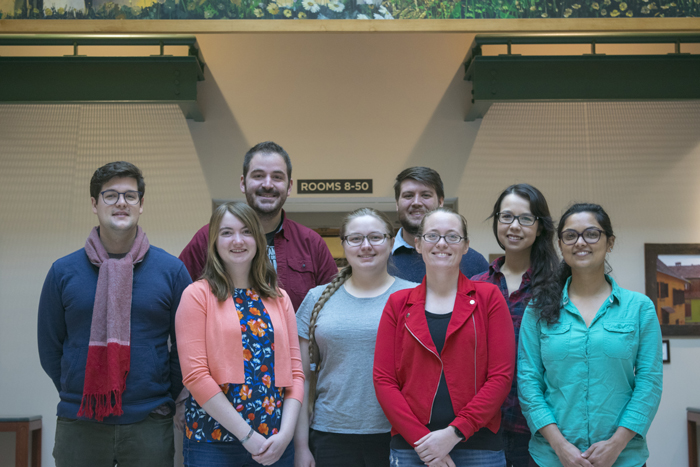 Did you find this article useful?
---