Graduate student looking forward to graduating and continuing urban tree research and outdoors lifestyle
Master's student, Riley Rouse, is finishing up her program and looking forward to continuing her work on urban trees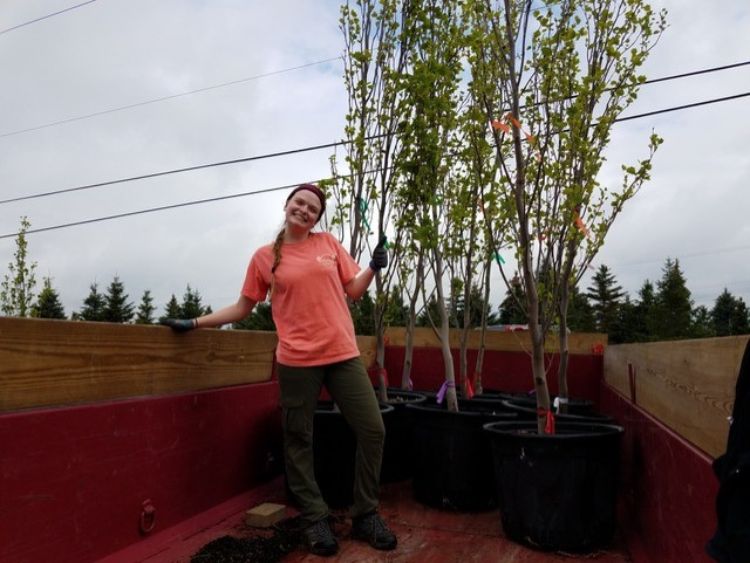 Master's student Riley Rouse cites the beginnings of her interest in plants when an undergraduate professor of hers stated that plants not only lack mitochondria but also do not perform cellular respiration. After a civilized proving of said professor wrong, Riley's passion for plants began to grow. She followed this interest as an intern at Frederik Meijer Gardens & Sculpture Park, identifying and mapping the trees of 80 acres of newly-obtained park property.

After completing her B.S. in Natural Resources Management at Grand Valley State University, Riley held several jobs including working for the Parks and Recreation Department of Grand Rapids as a ­­­Geographic Information Systems intern and as a greenhouse supervisor growing plant material for the biology department at Grand Valley. With a continued desire to learn more about forestry and horticulture, Riley pursued graduate school and found a match with Dr. Bert Cregg.

During her time at MSU, Riley has been researching means to remediate root defects of container-grown landscape trees. Many container-grown trees develop malignant root conditions in the nursery, such as circling or deflected roots, that can impact not only the health of the tree but may also decrease tree stability, making it more prone to falling. To evaluate various mechanical root pruning techniques that are currently being promoted in the arboriculture industry, Riley planted and managed 123 trees of three common landscaping species. After measuring growth and physiological responses for two growing seasons, 42 trees were excavated and had to be extensively graded for root quality and health. This tedious and labor-intensive study has yielded good results to aid an otherwise unstudied aspect of tree care. Riley's work suggests that each species responds differently to the various methods of manipulating the roots for transplanting, thus Riley and Dr. Cregg are working on a recommendation guide to assist arborists and urban foresters.

Riley has found that her most rewarding experiences while at MSU include attending the Landscape Below Ground Conference at the Morton Arboretum as well as presenting talks at both the International Society of Arboriculture's (ISA) Annual Conference and to Bartlett Tree Research Laboratories in Charlotte, NC.

With her graduation slated for this summer, Riley is finishing up her research projects and is training to be an ISA Certified Arborist. Looking forward, Riley desires to continue performing urban tree research while keeping up an out-of-doors lifestyle.