With a new format, AFRE hosted its annual Graduate Research Symposium to showcase graduate student research presentations.
The Department of Agricultural, Food, and Resource Economics held its new format annual Graduate Research Symposium on March 28 - 29, 2019. The new format featured graduate student presentations on their research paper requirement, a new requirement replacing their old written exam in their major field. Together, the paper and presentation now constitute the students' comprehensive exam.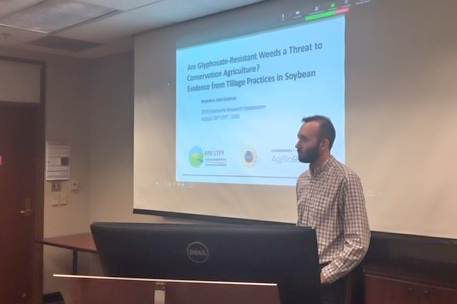 "The new format symposium was a great success with seven excellent papers presented, lots of faculty and graduate student participation, and some spirited discussion and question/answer periods," said Robert Myers, director of the AFRE graduate program. "It's clear the new paper requirement is going to achieve its goal of putting students on the research and publication track earlier in their programs."
The 2019 participants and papers were:
Christine Sauer: Processed Food Penetration into Urban and Rural Tanzania: Insights on Nutrition and Convenience

Josephat Koima: Impact of School of Electrification on Academic Outcomes: Evidence from Rural Electrification in Kenya

Takashi Miyahara: Aging, Generational Structure and Economic Growth in Japan

Yuyuan Che: Recent Events and Participation in U.S. Federal Crop Insurance Programs

Asa Watten: Crop Options: The Effect of Insurance on Intraseasonal Abandonment

Braeden Van Deynze: Are Glyphosate-Resistant Weeds a Threat to Conservation Agriculture? Evidence from Tillage Practices in Soybean

April Athnos: Underground Lemons: The Effect of Time of Sale Regulations on the Housing Market.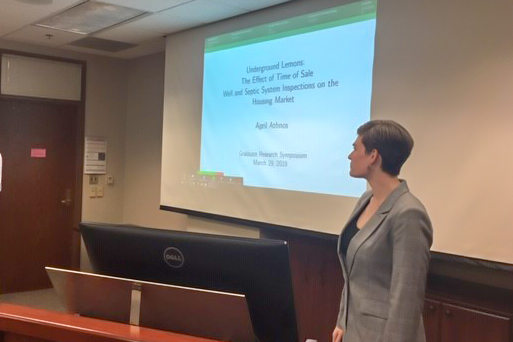 Thanks to the faculty and graduate students for supporting this inaugural event, and to our Academic Program Coordinator, Ashleigh Booth, for the flawless organization and execution.
Learn more about AFRE's graduate programs and take a look back at the 2018 symposium.