Helping Michigander's Littlest Eaters Bite into Good Food!
This is National CACFP week - a week to raise awareness of how federal funding helps bring healthy foods to adults and children in day care settings.
March 17, 2017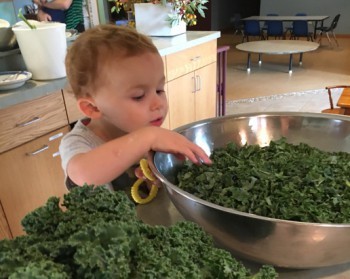 By: Abby Harper, Farm to School Specialist, MSU Center for Regional Food Systems


This is National CACFP week – a week to raise awareness of how federal funding helps bring healthy foods to adults and children in day care settings.

In 2016, over 100,000 Michigan children benefitted daily from receiving nutritious food through the Child and Adult Care Food Program (CACFP). That's a big opportunity to get fresh, local food to some of the country's most vulnerable children. What better way to support access to healthy food than serving local food to our littlest eaters through early childhood meal programs?
Earlier this month, leaders from Michigan and across the country met at the National CACFP Leadership Forum in Washington, D.C. to learn about changes to CACFP and opportunities to help young children start good lifelong food habits. The goal of the new CACFP meal patterns, which will go into effect October 2017, is to improve the quality and nutritional value of snacks and meals served to young children and adults in day care settings. Purchasing and serving local foods is one tool for meeting these requirements and enhancing program quality.
In the new meal patterns, local food sourcing is labeled as a best practice for meeting the nutrition requirements. In addition to being a best practice, sourcing local food can help providers meet the meal pattern changes. The new meal patterns place a greater emphasis on fruits and vegetables. Specifically, fruits and vegetables are now separate requirements rather than one combined requirement, and there is a limit on the amount of juice allowed each day.
Many programs may be introducing their children to new fruits and vegetables in order to meet this requirement. So, local sourcing can be a way to find an increased variety of fruits and vegetables that are unique to Michigan. Programs can use Farm to Early Care and Education (ECE) activities, such as food education and gardening, as creative ways to introduce children to these new foods in a variety of forms. Indeed, Farm to ECE has shown to increase children's willingness to try new foods.
Reducing the amount of sugar that children are exposed to is another focus of the CACFP changes. The new pattern limits the amount of sugar in yogurt and no longer counts grain-based desserts toward the CACFP grain requirement. Both changes are opportunities to use naturally sweet and flavorful local fruits to add flavor and nutrition.
Early Childhood Programs across Michigan are leading the way in connecting their children with the benefits of local foods in a variety of ways. The Baxter Child Development Center in Grand Rapids and The Haven Good News Childcare in Battle Creek are purchasing from local food hubs. The Leelanau Children's Center in Northport, Adventures Learning Center in Portage, and Farmington Community Schools Early Childhood Programs are purchasing direct from local farmers. Programs in Detroit like A&W Daycare and Jude Family Child Care are even producing some of their own food through on-site gardens, which double in providing opportunities for experiential education. These are a few examples of the many ways for Early Childhood Programs to find local food.
The MSU Center for Regional Food System's Farm to Early Childhood Programs Guide provides detailed, step-by-step guidance and tools for early childhood programs interested in purchasing and serving more local foods in their meal programs.

Are you familiar with an early childhood program that is purchasing local food to serve in their meals and snacks? Send your story to harperab@msu.edu!