InBooze Cocktail Kits Wins 2020 Minority Business Award from the Michigan State University Product Center
Some Michigan food businesses have been able to adapt to survive during the pandemic.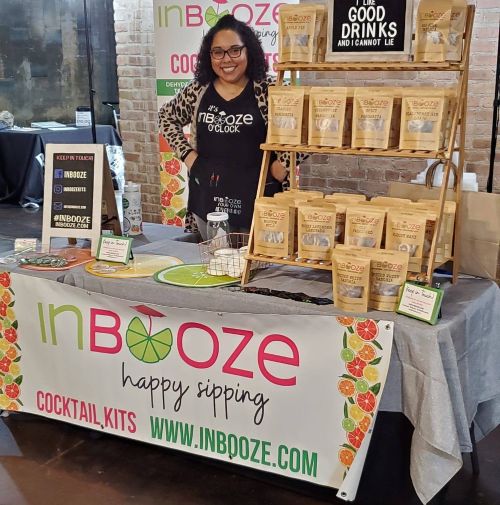 On November 12, Ashleigh Evans, owner of InBooze Cocktail Kits based in Grandville, received the 2020 Minority Business Award from the Michigan State University Product Center during their Cook, Share & Prosper online summit. This award recognizes an emerging or established MSU Product Center minority owned business that has demonstrated excellence, innovation, and growth during this challenging year.
"I am honored to receive this award from the Product Center," says Evans. "This has been a challenging year in so many ways. I am grateful to all of my customers for supporting my business. It is not easy being a mom of four small children, while managing all aspects of InBooze. I appreciate being recognized and I am excited to see what 2021 will bring."
Evans launched InBooze in 2018. She was inspired by the desire to enjoy cocktails at home but didn't want all of the sugar that traditional cocktail mixes usually contain. "I dehydrate fruit and herbs so the alcohol can be infused with natural flavors," explains Evans. "Each InBooze kit contains all the ingredients and instructions to make great tasting cocktails at home for you as well as for your friends and family."
InBooze Cocktail Kits can be found in over 20 stores in Michigan and Evans regularly attends events in the Chicago area to promote her products. She is fulfilling over 500 orders per month and has some great holiday specials planned. In 2020, she began partnering with corporations to provide their employees and online conference participants with kits as a creative stay-at-home gift.
I serve as an MSU Product Center Innovation counselor in the Grand Rapids area and have worked with Evans. She is a great example of a passionate entrepreneur. She builds on her strengths, which include social media, marketing, and the culinary arts, and is willing to put in the hours and drive time needed to get her product in front of as many people as possible. It has been a pleasure watching her business grow. I would encourage everyone to check out her product at www.inbooze.com and follow her social media pages on Facebook and Instagram.
Many food and agricultural businesses across Michigan have been working long hours adapting to the pandemic to survive. The MSU Product Center team feels many businesses deserve recognition for their hard work and creativity during this difficult time. Four awards were granted by the MSU Product Center this month. Award winners include: Coveyou Scenic Farm Market in Petoskey for Best COVID-19 Pivot; Radical Plants, LLC based in Mt. Clemens for New Product Development; InBooze Cocktail Kits for the 2020 Minority Business Award; and Harwood Gold based in Charlevoix received the Innovation in Marketing Award.
Michigan State University Extension and the Michigan State University Product Center help entrepreneurs and businesses to develop products and service ideas into the food, agriculture, and bioenergy markets. Its team of experts consults with clients on a one-on-one basis, helping new entrepreneurs navigate from concept development to launch. The MSU Product Center also offers specialized services such as labeling, packaging, and nutritional analysis. If you are interested in business counseling from the MSU Product Center, please complete visit our website at www.canr.msu.edu/productcenter or call (517) 432-8750.