Interior design alum provides leadership gift for Give Green Day
Michigan State University (MSU) alumna Valerie Wright, '89 interior design, together with two additional alumnae gave a collective $10,000 in leadership gifts to double the impact for students on Give Green Day.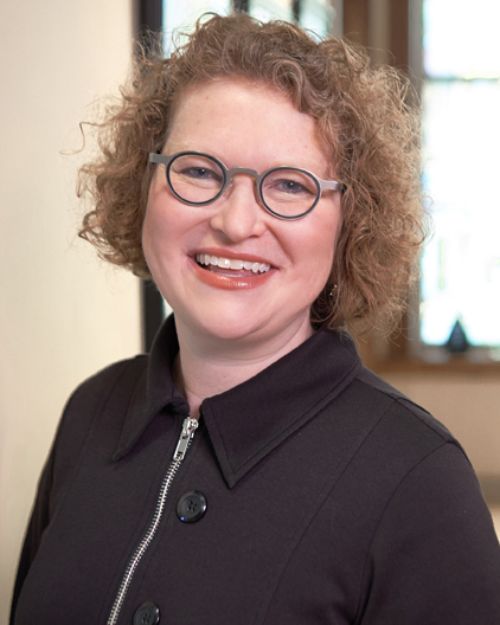 Michigan State University (MSU) alumna Valerie Wright, '89 interior design, together with two additional alumnae gave a collective $10,000 in leadership gifts to double the impact for students on Give Green Day.
As a College of Agriculture and Natural Resources (CANR) Alumni Association board member, Wright has felt a responsibility to give back, and as such, has made leadership gifts for the past three Give Green Day campaigns.
"As leaders and Spartans, part of how we show our support for students, the faculty, for our college, and for our fellow alumni, is by making a commitment to our students today," Wright said. "My professional job every day is designing environments that allow people to heal, to learn, to worship, to work, and to play. I will never meet the people that are impacted by spaces that I design but that doesn't matter. It is this very hopeful act of not meeting the people you impact but knowing and hoping you will that motivates you. This is a pretty good metaphor in thinking about the lead gifts for Give Green Day; I am hopeful that my gift and the gifts of others will make an impact in some way, and I don't need to meet or know who to motivate this sense of care and commitment to the students."
"I am also convinced that giving is a circle. The students we are helping today will be the alumni who will remember this and give when they have an opportunity," Wright added. "Once you know and understand what and where the needs are, it is hard to ignore. We must do what we feel comfortable doing in helping each other, especially our students. Someone ahead of me gave so that I can give now so that someone behind me can give and so on. We are connected by this invisible link forward and behind us."
Give Green Day is Michigan State University's annual day of giving – 24 hours to give and make a difference to impact current and future Spartans. The 2023 CANR Give Green Day helped to grow the CANR Whole Student Success Fund. This fund helps CANR students facing personal and/or academic emergencies, such as food and housing insecurity issues, technology gaps for unexpected emergencies, funding gaps for graduate studies when circumstances delay research projects they have been working on for years, and other times of crisis that may arise and completely derail a students' academic progress.
"When I reflect backward and then think forward and acknowledge that I have been the recipient over many years from the generosity of others, I want to be a part of providing some type of ease on a student's finances which in turn allows them to focus on being a student," Wright said.
Fellow alumna and board member Cassaundra Edwards and CANR dean, also a CANR alumna, Kelly Millenbah, Ph.D., joined Wright in contributing a collective $10,000 in leadership gifts to inspire fellow Spartans to participate on Give Green Day.
"Students choose to come to MSU to pursue higher education – they are the reason we can carry out the mission of this great institution. Ensuring that our students receive whole-person support allows them to succeed, and I cannot imagine more important work than caring for them," Millenbah said. "I am grateful that two incredible CANR alumni board members joined me in making leadership gifts to support our students through this fund."
During 2023 Give Green Day, CANR Spartans, generously gave $20,030 to the CANR Whole Student Success Fund. With an additional $1,700 in university matching funds and bonuses, more than $21,000 was raised in the 24-hour period to support CANR students.
When asked why giving back and supporting CANR students is so critical, Wright replied, "Knowing that we can help as CANR alumni sets the bar for who we want to be in this world. We want to be the people who help those who are and were us. This is a way for students to see us recognizing their needs and being invested in their lives now,­ and in the future. With the layers that the pandemic produced and now with the current tragedy, the critical time to support students as a whole; the time is now more than ever."
What does Wright enjoy most about MSU?
"It is not one thing, and it is everything. For me, MSU, the College of Agriculture and Natural Resources, the School of Planning, Design, and Construction, and Interior Design as a major, are all part of MSU as a sense of place…It is being on campus as an adult and still feeling that certain feeling in your heart and in your head that has been a part of you since you were a student."
She added, "Serving on the MSU CANR Alumni Association board has been kind of a life game changer for me. I have always held the knowledge, deeply rooted, that MSU is my heart home – along with where I grew up with a strong and supportive mother and father – but, serving on a board where I get to see the direct impact we can have on our students and fellow alumni has only reinforced and deepened a fierceness to step up and step out. Even when my time serving on the board has been completed, my connection to MSU CANR will continue."
Wright, of Kalamazoo, earned a bachelor's degree in interior design from the School of Planning, Design, and Construction, where she currently serves on the Interior Design Alumni Advisory Board. She is the CANR Alumni Association past president and represents the CANR School of Planning, Design and Construction on the alumni board. She has served as a principal for over a decade and is the senior interior designer at Diekema Hamann Architecture. Diekema Hamann is a multi-dimensional architecture and engineering firm focused on creating spaces that help people lead healthier, more fulfilling lives. Wright is active in her local community and served 13 years as a Kalamazoo Public Library trustee.
Give Green Day began in 2016 coinciding with the global day of giving, Giving Tuesday, just after Thanksgiving. In 2021, MSU moved the campaign to March.