Investigating the impact of heatwaves on natural and agricultural ecosystems
Michigan State University entomology assistant professor Will Wetzel and his lab analyze how extreme weather events and climate variability can influence interactions between insects and plants.
Will Wetzel, assistant professor in the Michigan State University (MSU) Department of Entomology, is researching how extreme weather events, such as heatwaves, impact various ecosystems in Michigan. A major focus of his work is on the effects of temperature variability, or the pattern of change throughout a growing season.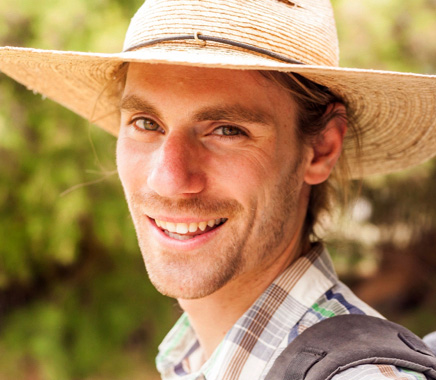 "We currently don't have a good understanding of how extreme weather will disrupt important interactions that basically provide free pest control services in agricultural ecosystems," Wetzel said.
Wetzel notes that most biological research looks at the difference between means, because it's simpler.
"We've learned a ton that way, and it's given us most of what we know about biology, but it overlooks the thing that inspired me to become a biologist in the first place, and that is the variability itself," he said.
"Most of the work in my lab focuses on the causes and consequences of different levels of variability, especially when it comes to weather and variability in the timing of that weather, and asks about the consequences of that."
Will Wetzel and Zsofia Szendrei: Heatwaves and potato pests
Wetzel and fellow MSU entomologist Zsofia Szendrei were recently awarded a four-year, $455,000 grant from the U.S. Department of Agriculture National Institute of Food and Agriculture (USDA-NIFA) to study how heatwaves influence pest management in potatoes.
Potatoes are a valuable crop for Michigan. According to the Michigan Potato Industry Commission, the industry contributes about $1.24 billion to the state's economy.
"The overall goal of the grant is to lay the groundwork for a foundational understanding of how extreme weather events, like heatwaves and floods, are going to influence the ecology of agricultural systems in an effort to improve how we use ecology to manage pests," he said.
Wetzel and Szendrei's work will focus on the Colorado potato beetle and aphids, small bugs that suck fluid from plant leaves.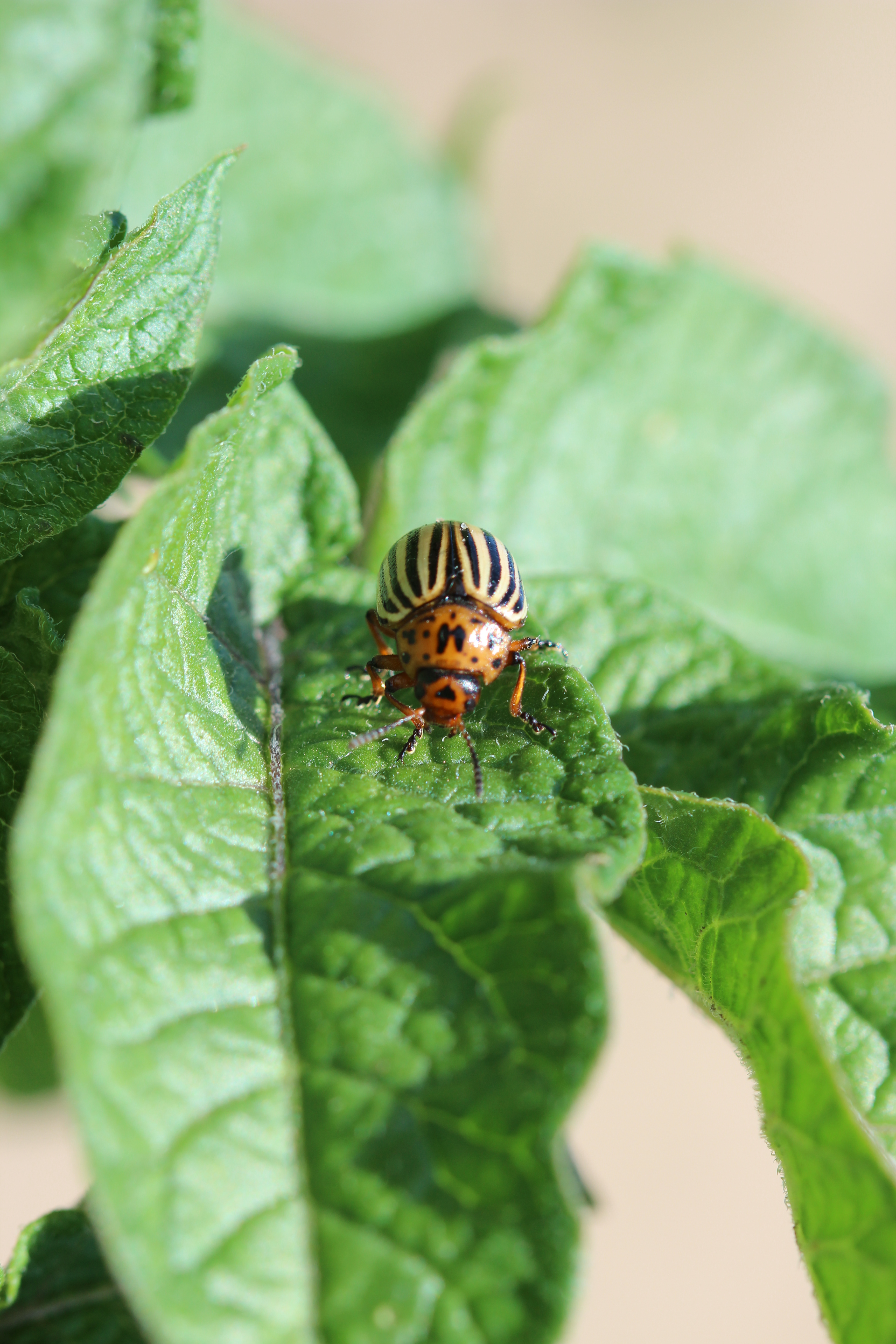 "The Colorado potato beetle is famous for evolving resistance to pesticides very quickly. We have some pesticides that work against it, but some of them are very damaging environmentally," Wetzel said. "There is a great need for strategies for managing the Colorado potato Beetle ecologically, rather, than with synthetic pesticides, so that's one big reason that it's important to work in this system."
Developing ecological management strategies for the Colorado potato beetle and aphids will be important to Michigan's potato growers.
"We're hoping to produce a calendar of when potato plants might be most vulnerable and when pests might respond most strongly to a heatwave event," Wetzel said. "When it gets warmer, insects grow faster, and so a burst of high temperatures, at a particular time in the growing season, could unleash pest problems. A grower might really want to pay attention to a heatwave at that time.
"However, other times, insects are actually very vulnerable to high heat. If a heatwave occurred when the insect pests were eggs, for example, that might actually be a good thing and the grower might not have to worry about pest control as much."
This project is set to begin in 2021. The majority of research will be conducted at MSU's W.K. Kellogg Biological Station (KBS), where Wetzel has already developed a technique to generate heatwave conditions in the field.
Josh Snook: Preliminary research on potato plants and pests
Josh Snook, a recent entomology master's graduate, completed most of the preliminary research for the potato pest grant with funding from Project GREEEN and the Michigan Potato Industry Commission.
"Josh was the one who was out there in the field doing these first experiments that gave us the strong preliminary data showing that heatwaves are influential and that their timing matters," Wetzel said.
To gather this data, Snook used greenhouse plastic to create open-top chambers that trapped sunrays during the day and were equipped with electric ceramic heaters to increase temperature at night.
He also conducted a series of experiments in the chambers exposing the plants and the Colorado potato beetle to a four-day heatwave that mimicked a heatwave in Michigan. The results were analyzed against a group of control plants.
Snook is happy to have played a role in research that helped provide Wetzel and Zsendrei with the funding to further study potato pests and heatwaves.
"This research is important, because it's looking at futuristic conditions that farmers and/or any kind of resource managers will have to deal with, in terms of their management decisions that they make," Snook said.
Elizeth Cinto Mejia: Plant communities
Elizeth Cinto Mejia, a Ph.D. candidate in Wetzel's lab, takes a more holistic approach to the applications of climate change and variability by looking at how plant communities, or all plants that grow in a specific area — a natural garden, of sorts.
Plant communities offer so many services for humans, but also for insects, other animals and the soil. Every plant community is so complex with so many interactions going on," said Cinto Mejia.
"Any place you go to, whether it's Michigan or Moscow, you have all these organisms that are living somewhere, and most of them are depending on whatever happens to this plant community. They are an important base of the pyramid that supports many, many organisms involved."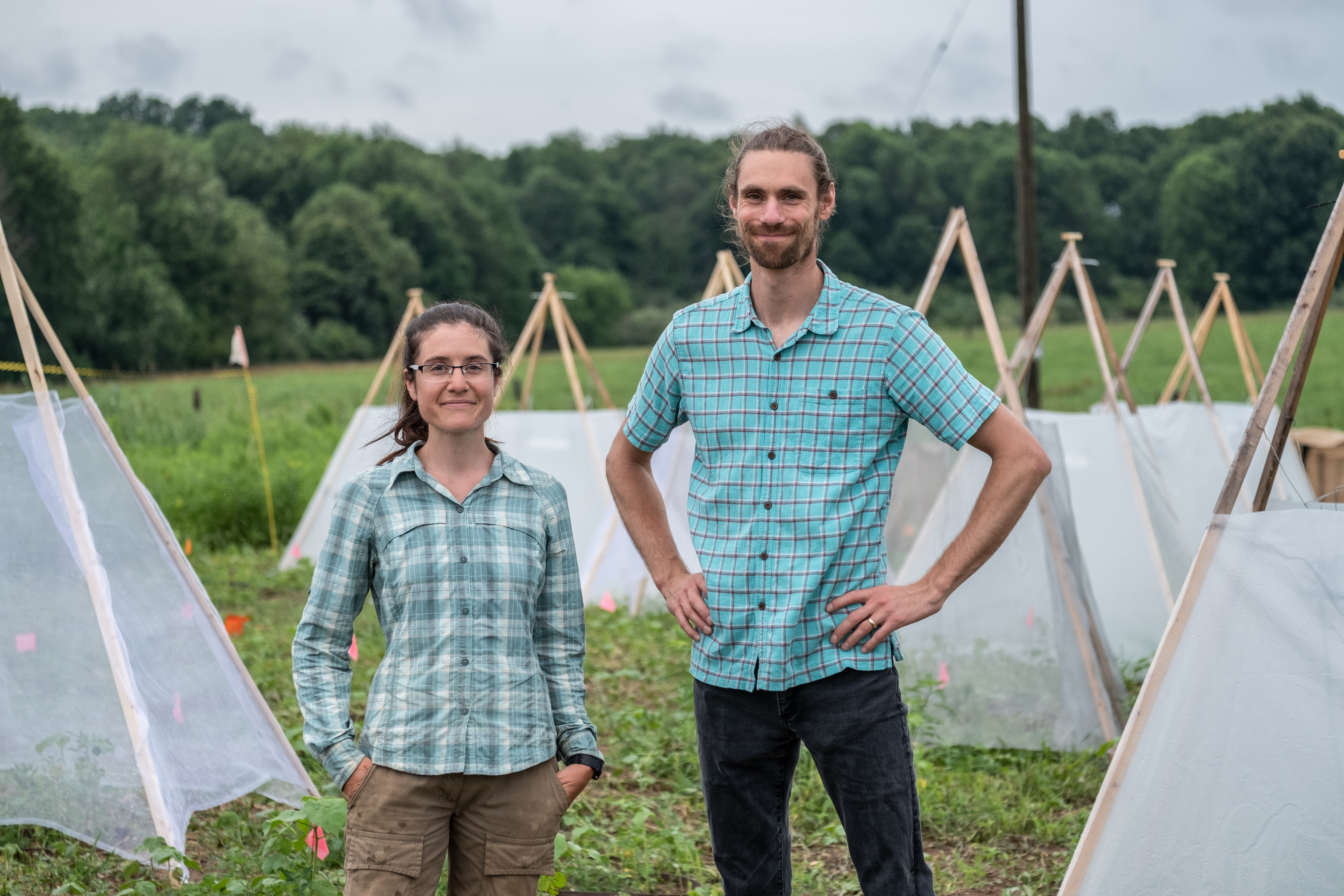 Cinto Mejia is studying how heatwaves affect a plant's ability to flower and reproduce, with a particular focus on old field communities in Michigan. These plant communities contain milkweed, goldenrod, echinacea, and a mixture of grasses and other flowering species, and are home to butterflies and a variety of other insects.
"Heat can sterilize a plant, so if a heatwave comes in June when one set of plant species is flowering, that set of plant species could be sterilized, or at least reproduced poorly. Then, in the following year, we'll see fewer of that set of plant species, whereas if the heatwave came in August, when a different set of plant species is flowering, then the whole community could be set off on a different trajectory," said Wetzel.
"It's a really exciting hypothesis that people haven't looked much into yet—that slight variation in the timing of these extreme events could completely alter the trajectory of the whole plant community."
This research will take place at KBS and use open-top chambers to simulate a heatwave for four days. Cinto Mejia will track the impact on her plots of plant communities in the field.
"We know that intense heat can have different effects during different life stages of many organisms like insects," she said. "Why not the stages of plant communities, too?
"Looking at plant communities in the beginning of the summer versus late summer, we can observe differences in growth and phenology, or the plants' life cycle. Knowing that communities change over time within and among years, it is very important to know how the timing of a heatwave can alter changes for specific plant species and in the community."
Olivia Cope: Milkweed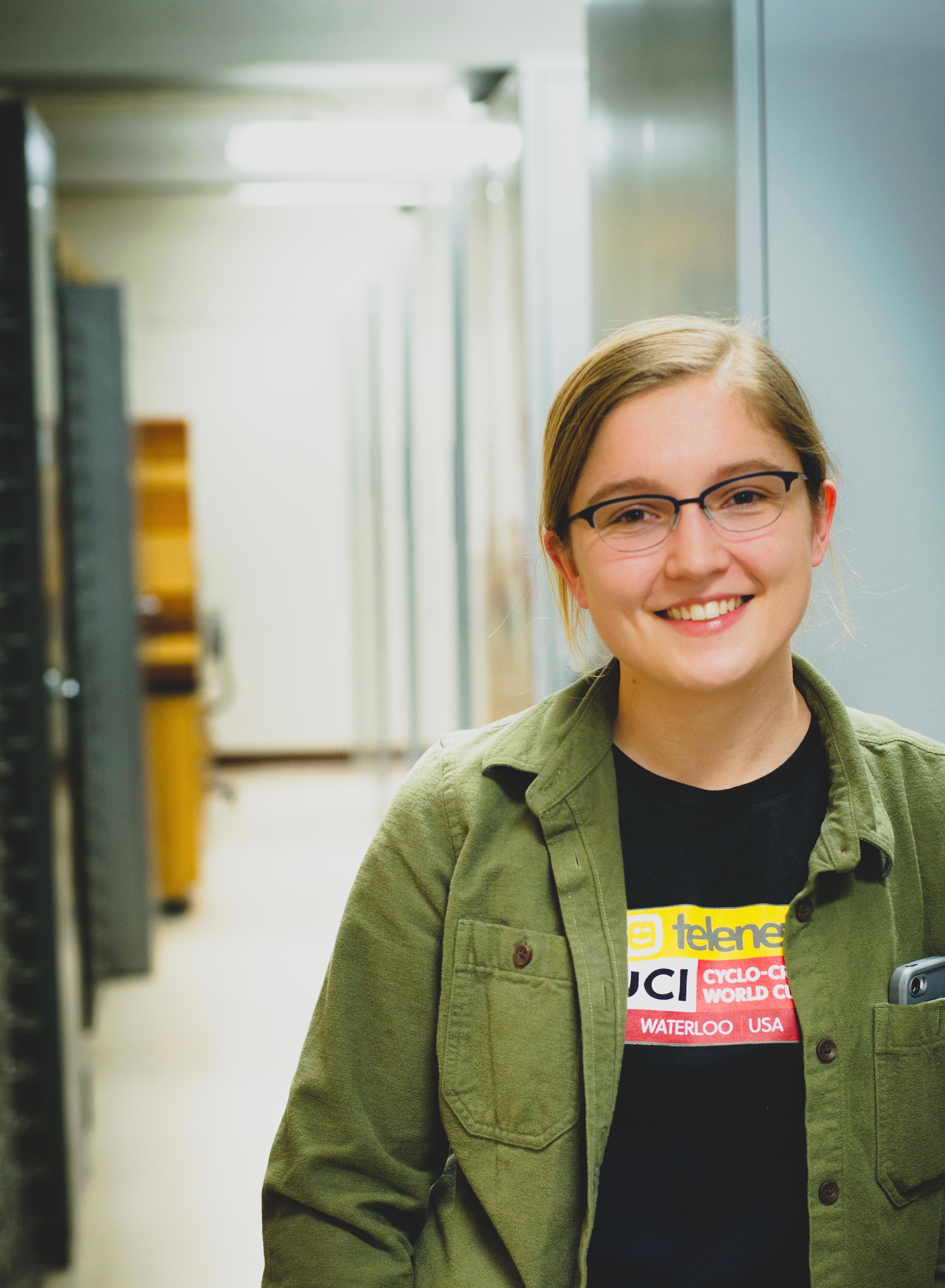 Olivia Cope, who joined the Wetzel lab on a National Science Foundation postdoctoral fellowship after completing her Ph.D. at the University of Wisconsin, will focus on how early spring thaw impacts milkweed emergence and the insects that depend on the plant.
"The Wetzel lab has been working on heatwaves, which is one aspect of temperature variability in the summer, but there's also the equivalent kind of early spring thaw, basically a spring heatwave. Those are increasing in frequency under climate change," she said.
Of particular interest is the monarch butterfly, which needs milkweed to complete its lifecycle. Understanding more about how climate change influences milkweed can aid in monarch conservation.
"The big focus of the project is on the timing of plant-insect interactions. Basically, 'how old are the plants when insects encounter them and how does that affect the interaction?'" Cope said. "We know that plant emergence and development can be affected by both weather patterns and the genetics of the plants. We're trying to better understand that timing in milkweed, specifically when it comes to variability in spring temperatures and freeze/frost cycles. Ultimately, we want to know how changes in the timing of plant development could affect the insect community."
Preliminary research shows that even brief heatwaves, like spring warming events, can have a long-term impact on milkweed and its associated ecological systems.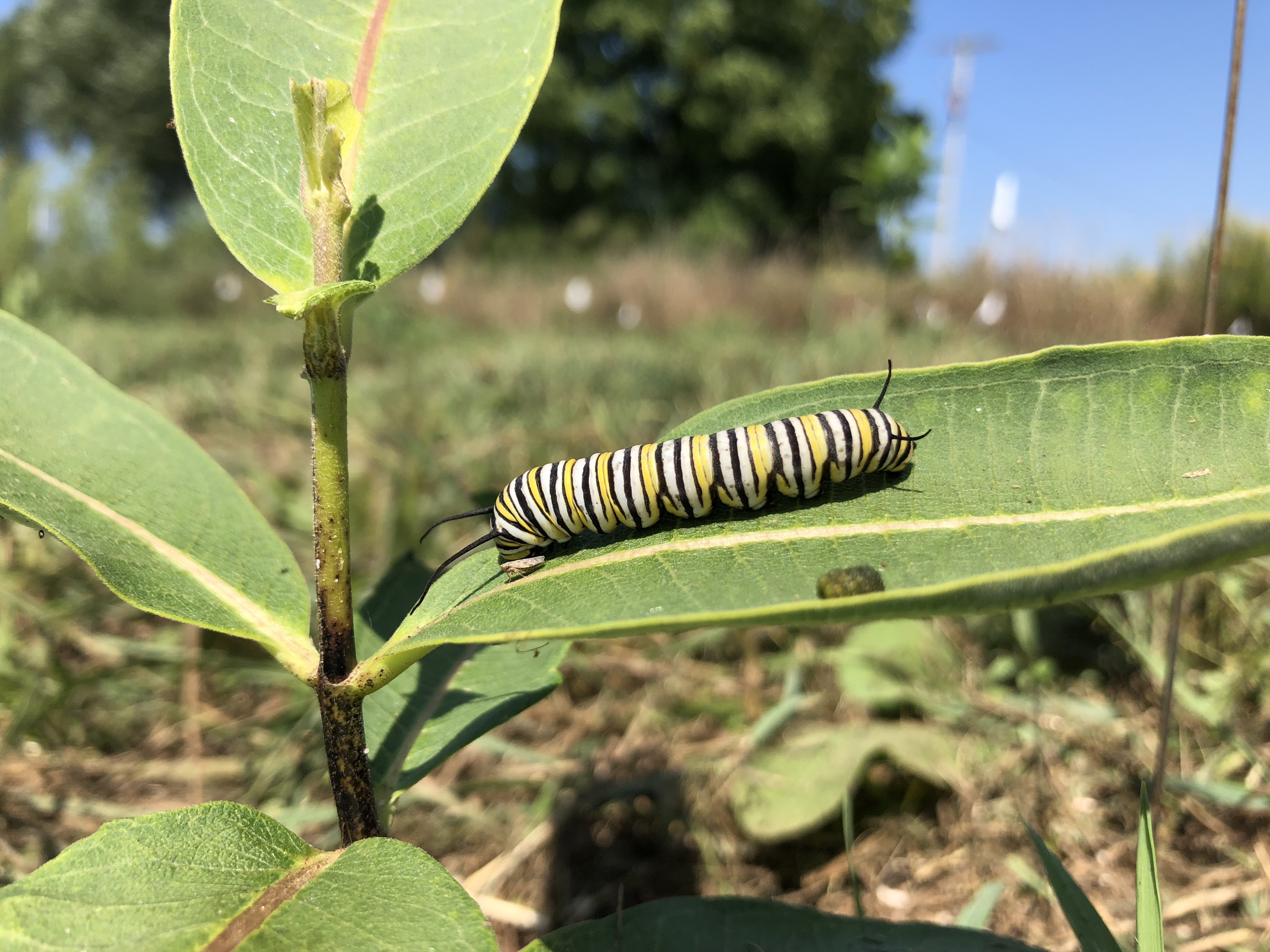 "We've seen that just four days of these hot temperatures can change these milkweed plants and the insects that feed on them up to two years," said Wetzel. "One of the messages from that work is we have to pay attention to these brief, but extreme, events. Even though they seem fleeting, they can have lasting consequences."
Wetzel notes that this doesn't apply quite as much to potatoes or other annual cropping systems since they are replanted each year.
"What we're trying to figure out is how do heatwaves affect the timing of plant emergence," Cope said. "Do they slow them down or knock them back? Does it make all different plants more similar to each other, or is there more variability because some plants are more sensitive to heatwaves than others?"
A new perspective on climate change
The lab's research on heatwaves and variability takes a different approach to studying the impacts of climate change — something Wetzel finds exciting.
"One of the reasons I think these projects are so exciting is because they flip current thinking on its head. Much work has focused on how climate change is altering the timing of biological events, like spring emergence or flowering. Our work is showing that the timing of climate change itself, that is when extreme events like heatwaves happen, influences biology," he said. "Timing matters in both directions."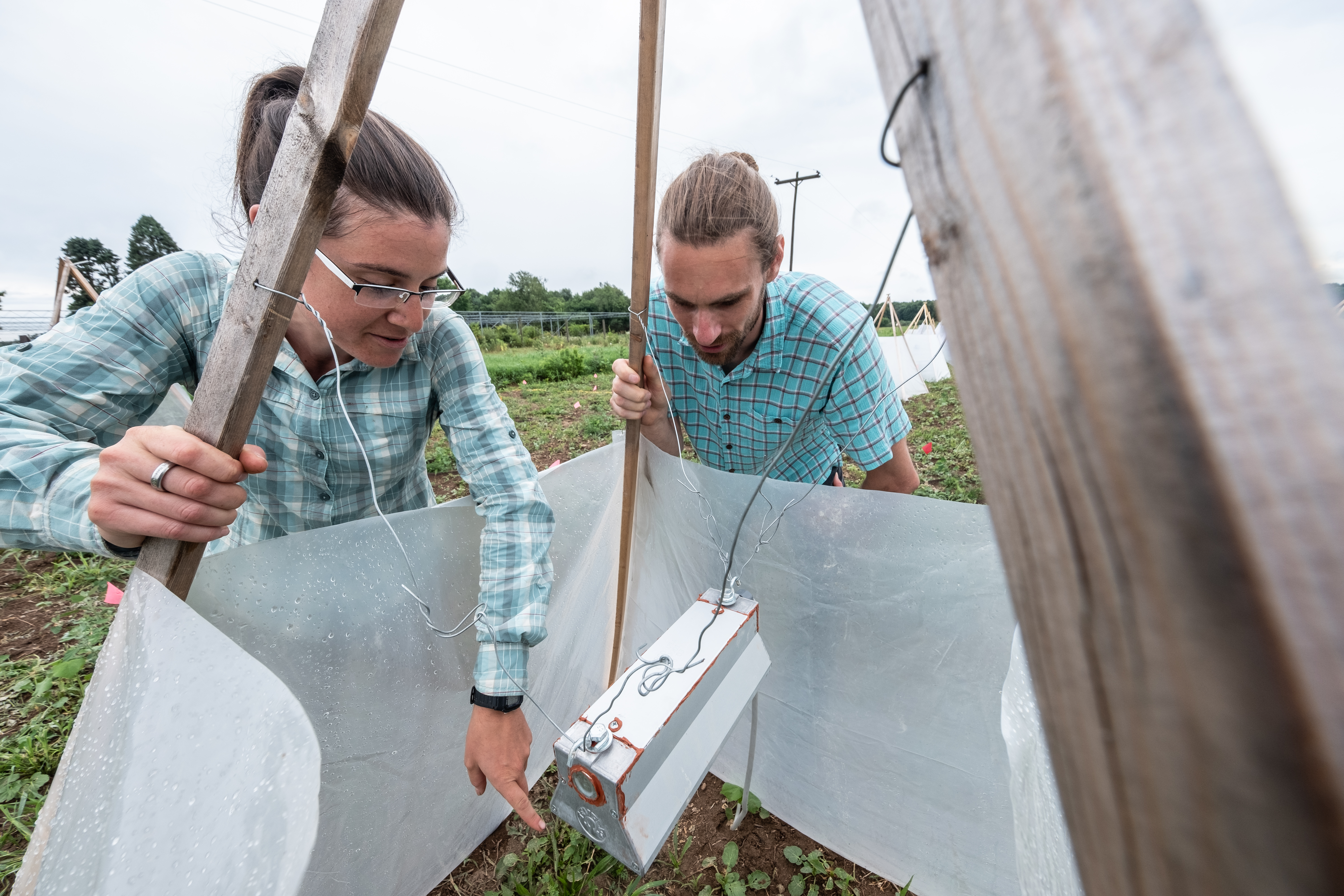 Variability has interested Wetzel since grad school, and he's eager to see the difference it can make in studying ecosystems.
"I find it fascinating to think that slight variation in when temperatures happen within a growing season could alter the ecology of the system in a lasting way," he said. "It's not too often we show up and look at a set of plants and insects and ask, 'could what I see right now in front of me, today — the plants growing and the insects flying around — be a product of simply three or four days of high temperatures that happened at a particular time a couple of years ago? If that's true, as our preliminary evidence suggests it could be, it really will change our perspective on how climate and weather influence ecology."
And getting to do this meaningful work with talented emerging and career scientists is an added bonus.
"Working with our community members — our students, the postdocs, all of these early career scientists who are going to go on to do amazing things and change the world — that's my favorite part of the job," he said.