AFRE Job Candidates for Fall 2017
AFRE is proud to announce our MS and PhD job-market candidates for Fall 2017.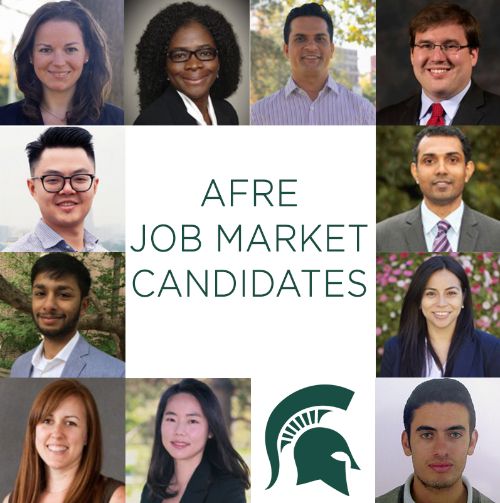 AFRE is proud to announce our MS and PhD job-market candidates for Fall 2017! Find a list of our job candidates on the AFRE Job Candidate web page.
Click through to see each candidate's areas of specialization and links to their personal websites where you can find further information about their interests and qualifications. Our candidates have fantastic skills in economic modeling, statistics, surveys, field experiments, program evaluation, teaching, and extension. Their interests span a wide range of socially relevant fields in applied economics, including agriculture, regional and international development, and energy and environment. These candidates are ready to make an immediate impact in academia, industry, government, and the nonprofit sector.
Please share this page widely among your professional network—and let us know if you are aware of any job opportunities at your institution or elsewhere that would be a good match for our students.
This announcement is just part of AFRE's ongoing efforts to help students move on to high-impact careers where they can apply their research, extension, and teaching skills—and contribute to helping solve the world's most pressing economic and social problems.
"The whole department felt this was a crucial component for our programs," says Melissa McKendree, a new Assistant Professor. "Our students work hard during graduate school. Their ultimate goal is to obtain their dream job—and we're here to help make that happen."
These efforts are coordinated in AFRE by the Graduate Placement Committee: Soren Anderson (chair), Mywish Maredia, Melissa McKendree, and Maria Porter. This committee—established in August 2017 as an action-item on the department's new strategic plan—hosts job-market information sessions for students and faculty, offers seminars on paper writing and presentation skills, connects students with on-campus career services, schedules mock interviews, and facilitates practice "job talks" to help prepare students for the job market.
"We're all excited about AFRE upping its game to help students land high-impact jobs," says committee chair Soren Anderson. "The new, dedicated committee brings extra focus and attention to supporting our job candidates, building on what individual faculty members had already been doing. Students want the help and we—faculty and alumni—have the resources and connections to help them get where they want to go."