David Schweikhardt Remembered at Ag Hall
Over 100 colleagues, friends, and family gathered in Agriculture Hall on October 13, 2017 to honor and remember Dr. David Schweikhardt and his lasting impact on the department and the industry.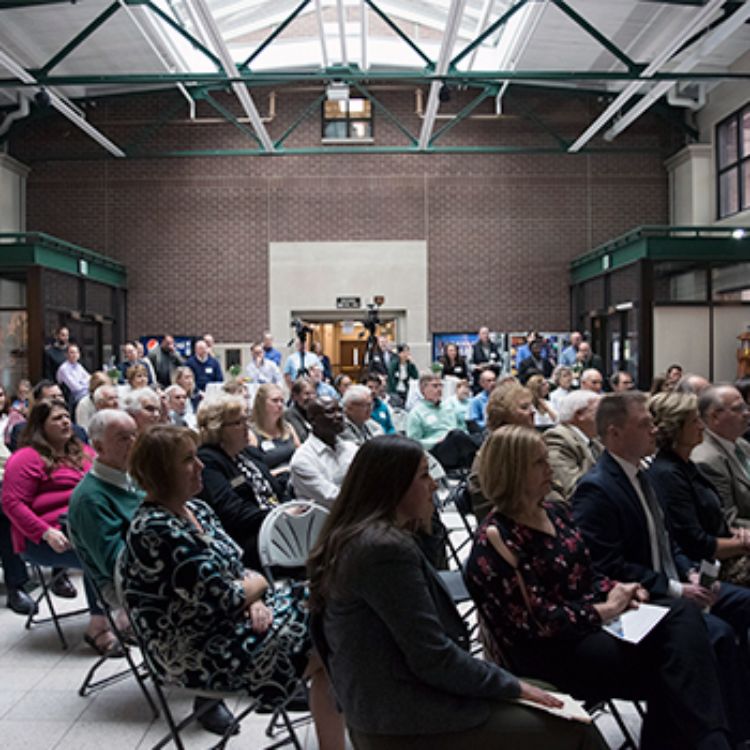 A memorial celebration of the life and career of Dr. David Schweikhardt was held on Friday, October 13, 2017, at Justin S. Morrill Hall of Agriculture at Michigan State University. David Schweikhardt passed away unexpectedly on June 2, 2017. A long-time professor in the Department of Agricultural, Food, & Resource Economics (AFRE), he specialized in agricultural policy, trade policy, and law. His research and extension work focused on the North American Free Trade Agreement (NAFTA), the World Trade Organization (WTO), and issues related to U.S. Farm Bills since 1990.
The memorial event programing featured speakers including Titus Awokuse, AFRE Department Chair, Douglas Buhler, Director of MSU AgBioResearch, Kali Fox, Mid-Michigan Regional Director for US Senator Stabenow, Pat Norris, Guy-Seevers Chair, Rosalyn Brummette, recent AFRE-MSU alumna, Bert Greenwalt, Professor at Arkansas State University, Carl Bednarski, President of the Michigan Farm Bureau, and David Schweikhardt's family members, Sean, Carl, and Doug Schweikhardt.
Michigan Farm Bureau President Carl Bednarski presented an honorific plaque to remember Dr. David Schweikhardt and his commitment to higher learning and improving the future of Michigan Agriculture.
The Schweikhardt family started an endowment in David's name with a starting donation of $50,000 for the department.
AFRE also renamed the annual faculty service award to the David Schweikhardt Service Award.
Thank you to everyone who was able to attend and contribute to the memories of our beloved faculty. Dr. Schweikhardt's commitment to the industry and to learning will continue to impact the department, Michigan agriculture, and farmers around the world.
View all the photos from this event in our AFRE Facebook album, and view a portion of the programming with this Farm Bureau video.