Good Food Life: Lucas DiGia
Board President of Project Grow Community Gardens and performer and organizer of Rap for Food, Ann Arbor, MI
March 3, 2014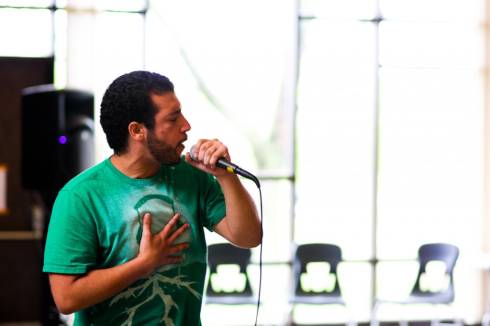 What is your role with Project Grow Community Gardens and Rap for Food?
LD: I am board president of Project Grow Community Gardens. As it is a working board, I recruit and oversee a team of volunteer coordinators and support our educational offerings and outreach events.
Rap For Food is a not-for-profit musical outreach project. My role is as an organizer and performer.
How do these organizations work toward the goals of the Good Food Charter?
LD: Project Grow's mission is to provide the space, education, and inspiration to make organic gardening accessible to all. We provide gardening space and education for the public. We also provide inspiration through our offering of heirloom Tomato seedlings, an annual tomato tasting, and other community building events.
Our mission at Rap For Food is to support localization, sustainable food systems, and youth gardening through the arts. We create music videos, performances at schools and food/agriculture themed events, as well as workshops and fundraisers. We contribute to the goals of the good food charter by supporting events and organizations that are more directly involved in this work. In 2012 Rap for Food performed to open the local food summit, an "energizing event" that seemed to reverberate throughout the day.
What do you find most exciting or inspiring about what you're doing?
LD: The community is by far the most inspiring aspect of the work. I have worked with strong visible communities that believe in peaceful resolution, equality for all, stewardship of the land, and the importance of creative expression. I would never have understood the impotance of strong, visible community without first stepping foot in the garden.
What opportunities do you see for moving toward the goals of the Michigan Good Food Charter and where do you see those leading in the next five to ten years?
LD: I see big opportunities for entrepreneurs to start food businesses. The community is here to support new sources of local food and there are many systems being developed that allow new businesses to reach consumers and "plug in" to the local food movement. I expect to see organizations and individuals working together in new, interesting ventures as the local food economy matures.
What is one thing you've learned through your experience that you'd like to share with others?
LD: What I've learned is that local food is everywhere. In small pockets all over the state and country there are individuals, just like us, working towards solutions for their communities. Through understanding how organizations and businesses interact in a local food economy, it becomes easier to find those same relationships in other cities, particularly when travelling and seeking good food.