Making It In Michigan Conference and Trade Show returned to in-person format for 2023
MSU Product Center hosted the 14th annual conference on April 20, 2023, at the Lansing Center.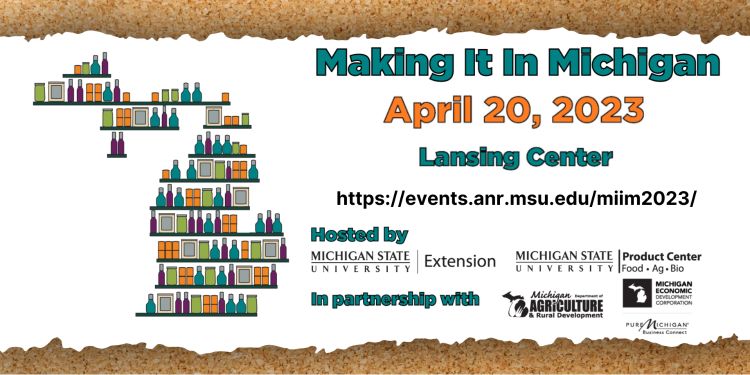 The 14th annual Making It In Michigan Conference and Trade Show was held at the Lansing Center in Lansing, Michigan, on April 20, 2023. The event was hosted by the Michigan State University Product Center and Michigan State University Extension, in partnership with the Michigan Department of Agriculture and Rural Development (MDARD) and the Michigan Economic Development Corporation (MEDC).
The program featured educational sessions, an interactive trade show and a unique buyer-supplier matchmaking program. Numerous businesses and leaders from across Michigan were recognized during the Making It In Michigan event by the MSU Product Center for the following awards:
"We were thrilled to bring the Making It In Michigan Conference and Trade Show back to an in-person event this year," said Mollie Woods, director of the MSU Product Center. "This conference has helped food entrepreneurs scale their businesses for 14 years. We know that the formula of specialized educational sessions and face-to-face interactions with industry partners works."
The educational program featured panels from leading food industry experts in the areas of retail, distribution, co-packing, finance and entrepreneurship. Panelists included innovative doers from across the state who collectively make the Michigan food industry more dynamic, equitable and resilient. This year, the retail panel—a common favorite—hosted representatives from Busch's Market, Meijer, Westborn Market and Kroger. Other prominent attendees included Lipari Foods, Huntington Bank and Hummus Goodness.
The Trade Show offered new and existing businesses an opportunity to find the right customers and buyers to expand their markets. Retailers from large supermarket chains, institutional buyers, independent grocers, specialty food retailers, co-ops, and more attended the trade show to find and source the latest food products in Michigan. This year, there were more than 200 vendors of quality Michigan-made food and agricultural products in the trade show.
As part of the conference, MDARD and MEDC Pure Michigan Business Connect hosted a unique matchmaking opportunity for buyers and sellers. This program brought together purchasers including grocers, retailers, distributors, institutional buyers, and others looking to procure Michigan-made food, with suppliers from around the state connecting in one-on-one virtual meetings, all with one common goal: to strengthen Michigan's food supply chain.
"Our team at the MSU Product Center and MSU Extension has been excited to partner in this event with MDARD and MEDC," said Woods. "Our collective expertise in food and agriculture yielded a dynamic, memorable conference for Michigan entrepreneurs."
MSU Product Center
MSU Extension and the MSU Product Center assist entrepreneurs and businesses to develop products and services in the food and agriculture markets. Its team of experts consults with clients on a one-on-one basis, helping new entrepreneurs navigate from concept development to launch and beyond. The MSU Product Center also offers specialized services such as labeling, packaging, and nutritional analysis. If you are interested in business counseling from the MSU Product Center, please visit the website.