Michigan 4-H volunteer spotlight: St. Clair County's Megan Tomasek
Michigan 4-H volunteers are finding creative ways to continue connecting with Michigan 4-H'ers during social distancing. Read about one these Michigan 4-H volunteers and what she is doing.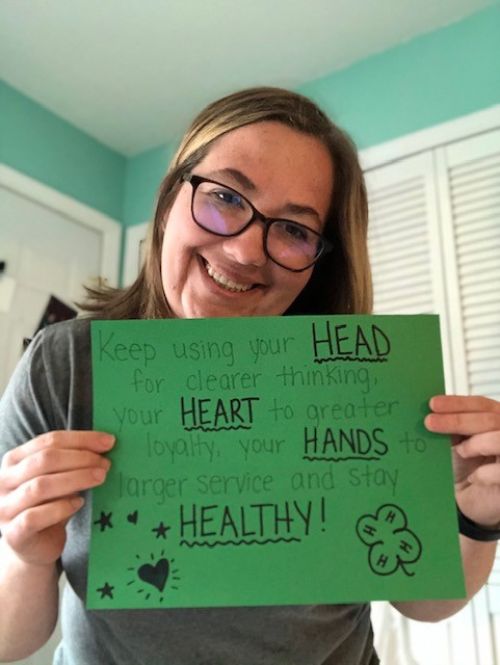 During the unprecedented COVID-19 pandemic and social distancing restrictions, Michigan State University Extension volunteers are finding new, unique and creative ways to reach youth. Michigan 4-H is excited to spotlight a few of these volunteers and their efforts, as well as provide tricks, tips and tools other volunteers can apply in their own support of 4-H youth.
Megan Tomasek has been a St. Clair County 4-H volunteer for nine years, is a St. Clair County 4-H alumni and is highly engaged in many aspects of the St. Clair County 4-H program. She is the club administrative leader for two 4-H clubs focusing on special needs Extraordinaire Explorers and Woodlands Developmental Center in her classroom club. Tomasek is also a co-leader of the Rimrock Acers 4-H club; one of the largest community clubs in St. Clair County with over 100 members. Her involvement doesn't end at the club level, she is also on the 4-H Council, co-chairs or chairs a variety of committees and is a superintendent in two different areas at the St. Clair County 4-H and Youth Fair.
It should be no surprise that Tomasek stepped up during these challenging times to find engaging ways to create opportunities for St. Clair County 4-H'ers. She is helping to spearhead the efforts among volunteers in St. Clair County by setting up a YouTube channel to host educational videos from 4-H members and volunteers she has recruited to create educational videos. These videos will be used long after social distancing is over as a supplement to face-to-face programs. She helps coordinate and lead a Story Time Series where people read to animals and share online for others. She is also leading an online drawing series.
"She brings an energy and dedication to the program that is absolutely inspiring!" says Lori Warchuck, St. Clair County 4-H program coordinator. "The St. Clair County 4-H Program is luckily you have her as part of our team!"
Through all of this, a few of the virtual options have really surprised Tomasek. "In the first week, I did a diaper science demonstration, which got over 200 views and it was me being a lab coat in my house just trying something to see if it would work," said Tomasek. "Another successful live video was when a clover sprout (4-H member who is 5-7 years old) got on to demonstrate how to tell if your chick is a hen or roaster—it reached 1,400 views."
There are two tips Tomasek would like to share with other Michigan 4-H volunteers seeking to connect with youth in the virtual world:
Be a calm, guiding voice for youth in your counties. One thing Tomasek has done to help youth continue to see the faces of St. Clair County 4-H volunteers is to have leaders submit photos to her that she is then sharing on social media. She has found it is helpful for youth to see the faces of their leaders.
Connect with your local partners—they can help share your information with others. Tomasek reached out to her local intermediate school district who is now sharing the different science demonstrations with another group of parents.
Michigan 4-H volunteers play an important role in connecting with 4-H youth during these times. There are many ways that volunteers can connect with youth when they cannot meet in person. Additional resources can be found on MSU Extension's Remote Learning and Resources website.